When the topic of street art in London crops up I always think of Spitalfields but last weekend I discovered the richness of work to be found in Camden. A while back now I went on a street art tour of the Brick Lane/Spitalfields area which I loved – see my blog post about it – so I was excited to be invited to join Nelly from Camden Street Art tours on a 2 hour explore of the back streets of Camden.
It was a gorgeous sunny morning when we gathered at the tube station surrounded by the crowds rushing off to the market. Nelly explained that the company offers tours but also supports artists, for example, helping them find sites to work on. As we walked around, she gave us a great insight into the world of street art as well as information about each piece and the artist.
Here are some highlights:
An anti-capitalist political statement on the side of a bank building by the British male artist Mau Mau. This is an illegal site but it's way up on the wall so it's pretty safe as it would be costly and difficult to clean it off.
These two pieces to remind us of the lost talent of local singer Amy Winehouse. They are by Bambi a British woman artist and the first is a simple stencil work which is easier to put up if a site is illegal as the stencil is prepared in the studio, only needing up to half an hour on site to complete the work. Nelly told us about the early days of street art when most sites were illegal with fines of up to £5,000 and up to 5 years in jail if you were caught! However, now many sites are legal allowing artists to spend time creating the work on site without any concern of being nicked. The second Amy piece helped to bring attention to the addiction charity set up by Amy's parents after her untimely death.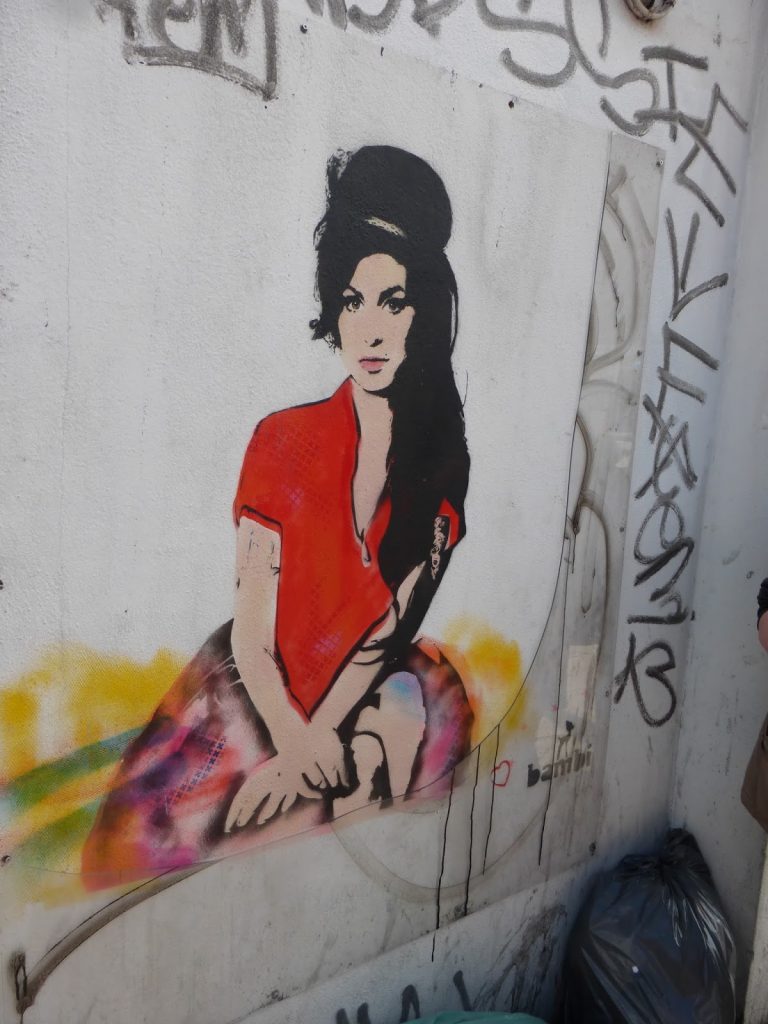 These beautiful paintings are by Alice a high profile Italian artist who was invited to work on these legal sites. She is a staunch Catholic and her work has images empowering women with no sexualised content. Why did she want to work on this site? Because her sister works at the restaurant behind the door!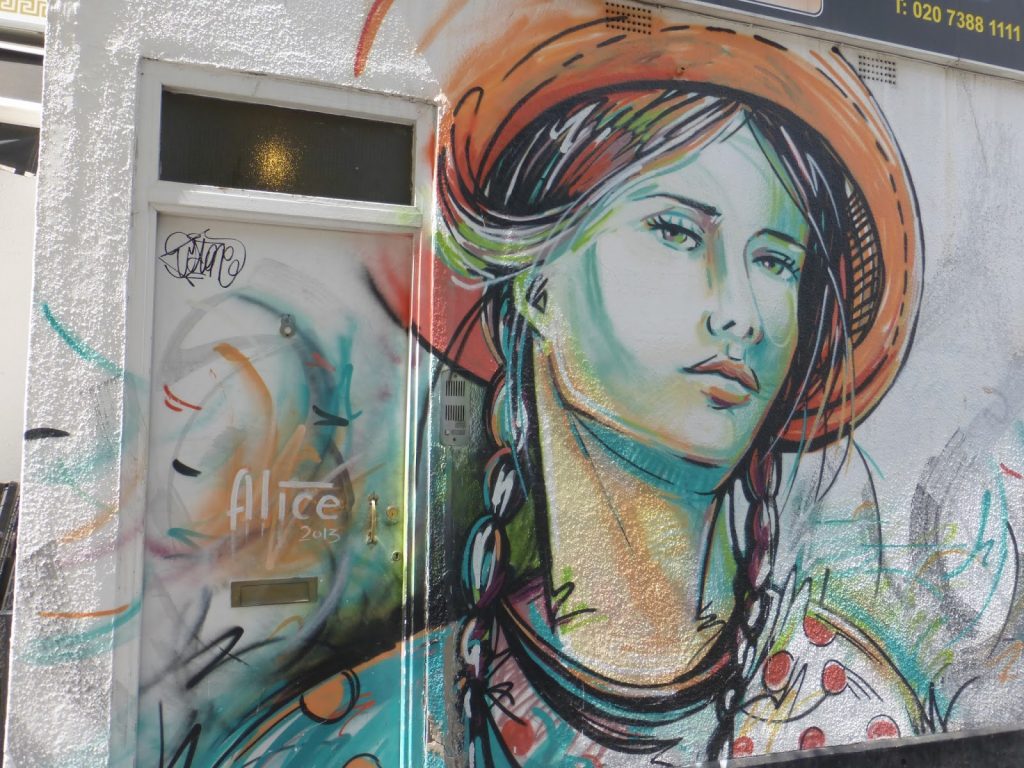 This powerful image is painted without the use of ladders or scaffolding as Dan the artist uses long poles and managed to complete this work in an incredible 45 minutes! More walls in Camden are being used as the established street art areas such as Spitalfields are being taken over by developers so losing a lot of sites.
This one caught my eye although we did not stop to discuss it…
Stickers are becoming more popular in Camden but are far fewer than in Spitalfields. Street art is about reclaiming public spaces, about making an artist's voice heard and London is one of the most popular cities in the world as legal spaces are quite easy to find, especially as organisations such as Camden Street Art tours are there to help them. Artists also find their work stays untouched longer. It is accepted in this world that work can be amended, painted over, tagged etc but the unwritten rule, we learned from Nelly, is that the new work needs to be as good or better than the original, so let's hope they stick to it!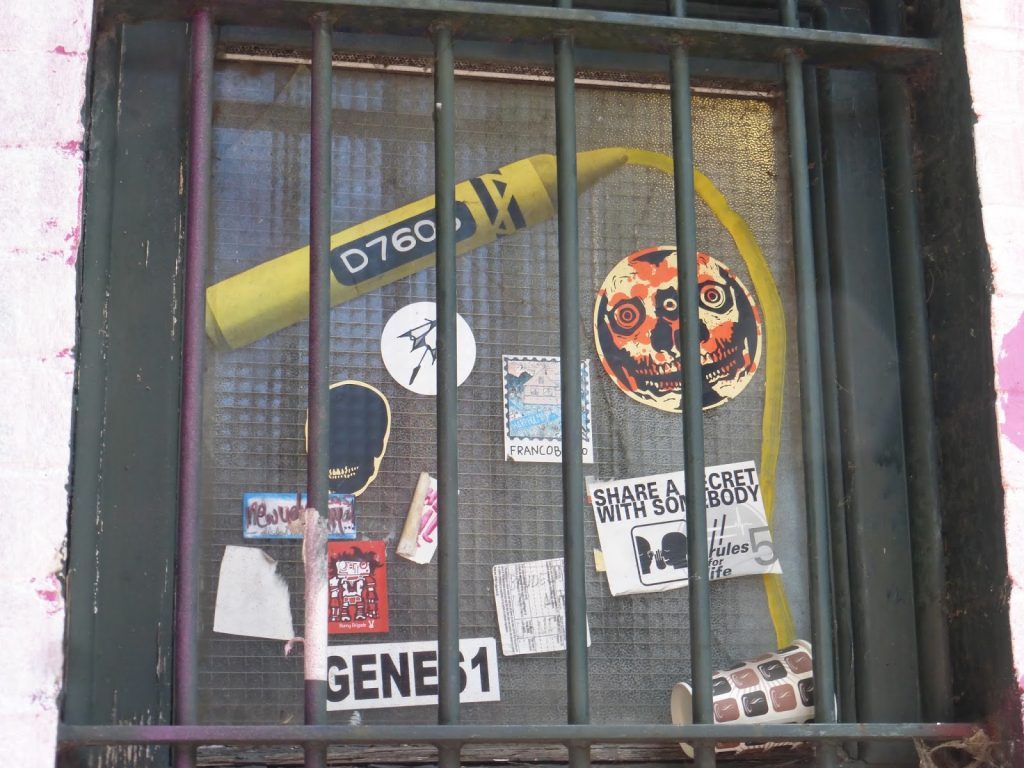 Here are another couple of eye-catching pieces we passed on our walk: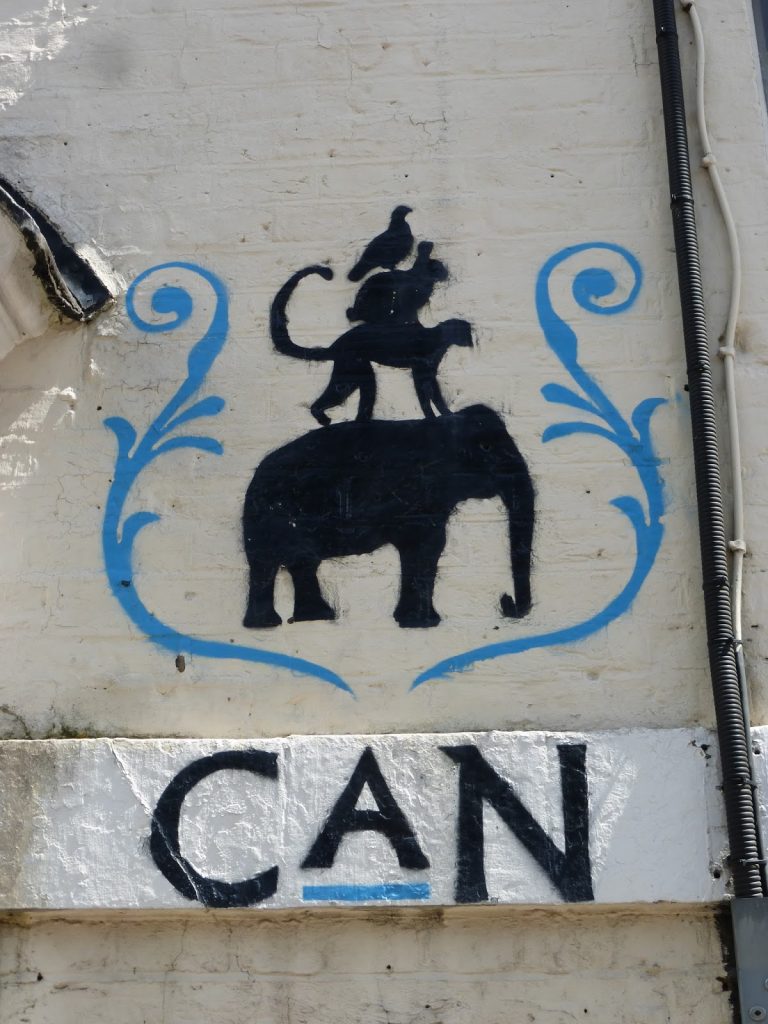 Here's the most famous and most visited piece in all of Camden, the famous John Lennon painting by Gnasher from Norwich. It is wonderful and the attention to detail is impressive as the reflection in his glasses is the building and TV aerials which are directly opposite his gaze.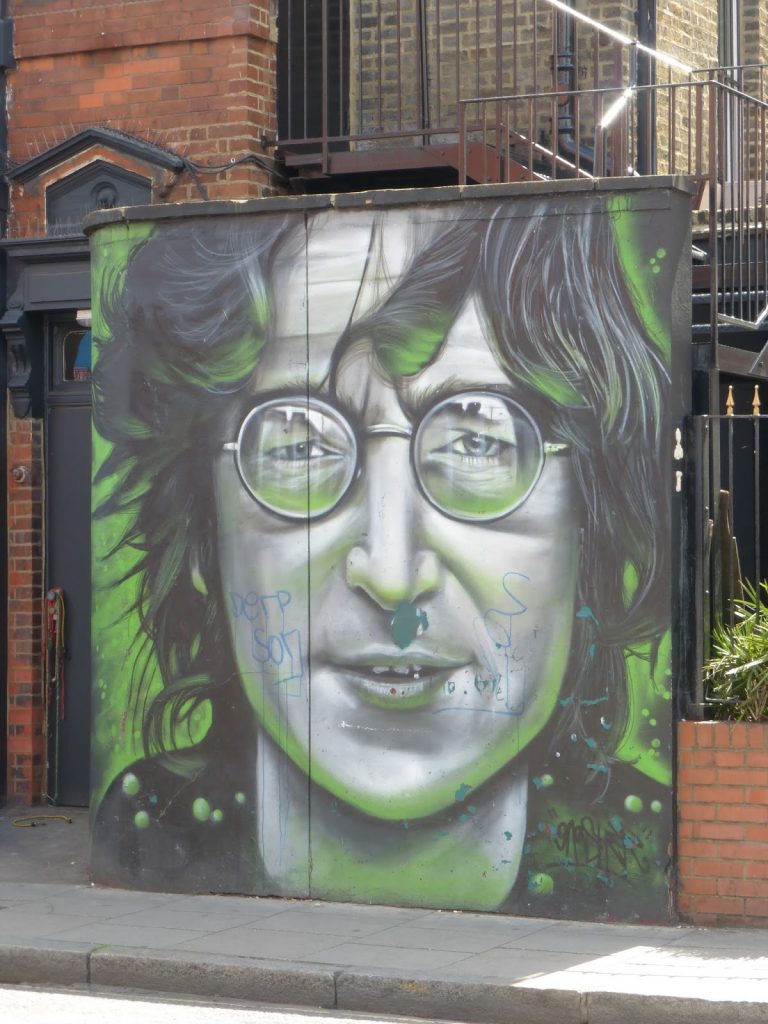 Osch, Otto Schade was an architect who moved into art but couldn't get a gallery to show his work so turned to the streets and now is a big name worldwide with a loyal following. He gives no explanation to his work as the viewer has to make their own interpretation.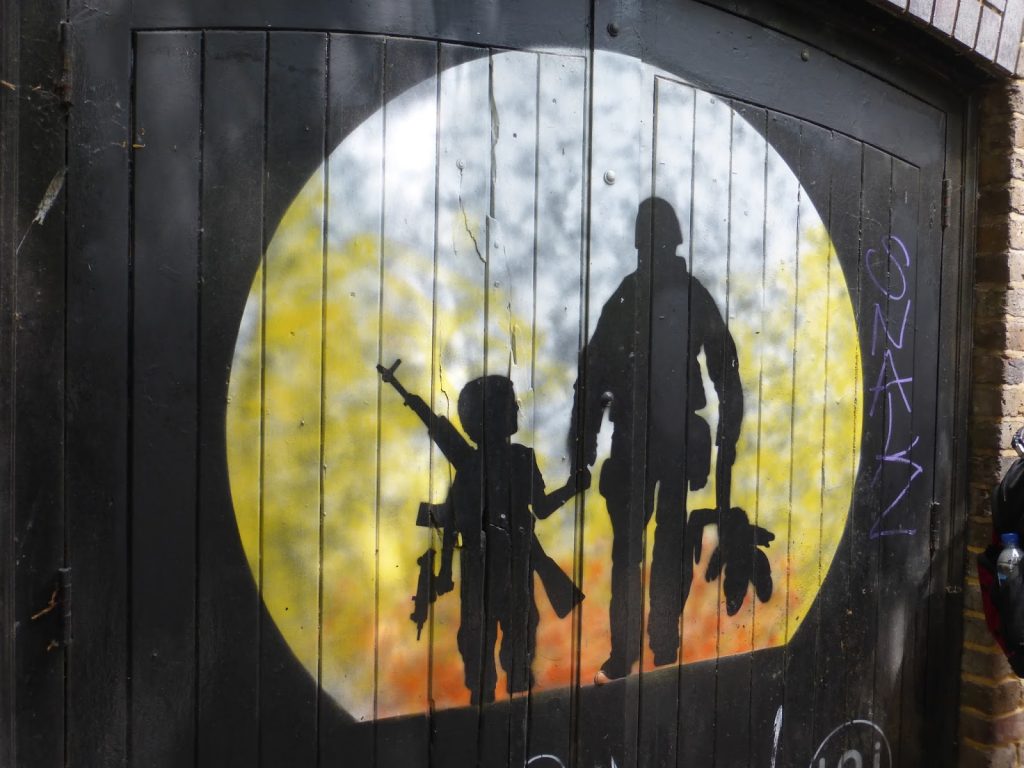 China Girl works, unsurprisingly, in porcelain, making the work in the studio and 'signing' her name within the work – here you can just make it out on the key.
Not all street art is static, this popular work by the Japanese artist Saki and Bitches debunks the world of female representation as you turn the blocks around to get a different combination each turn. She worked in the fashion industry as a makeup artists and her work is a fight back against the skinnies in the industry.
This was one of my favourites for its vibrant colours and brilliant depiction of a rainy night in Camden by Dan Kitchener.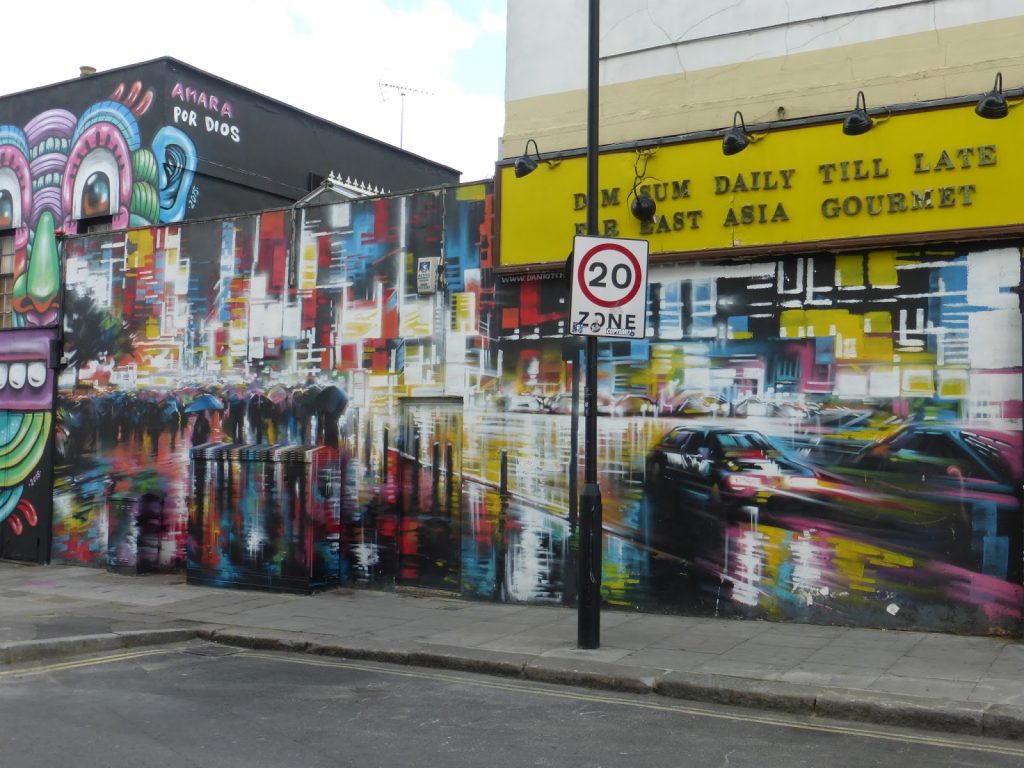 A couple of pieces which appealed to my love and concern for the future of wildlife. The polar bear is by Louis Masai who specialises in animals on the brink of extinction. The rhino, another piece by Otto Schade, is a single ribbon which you can trace through the body of this endangered animal.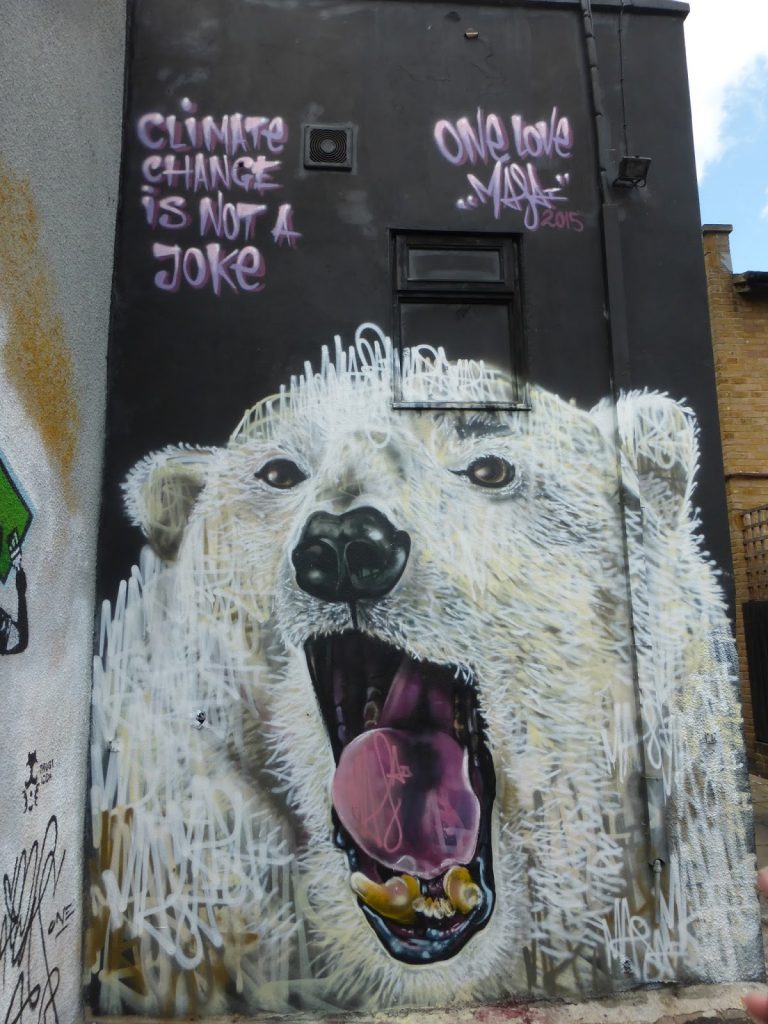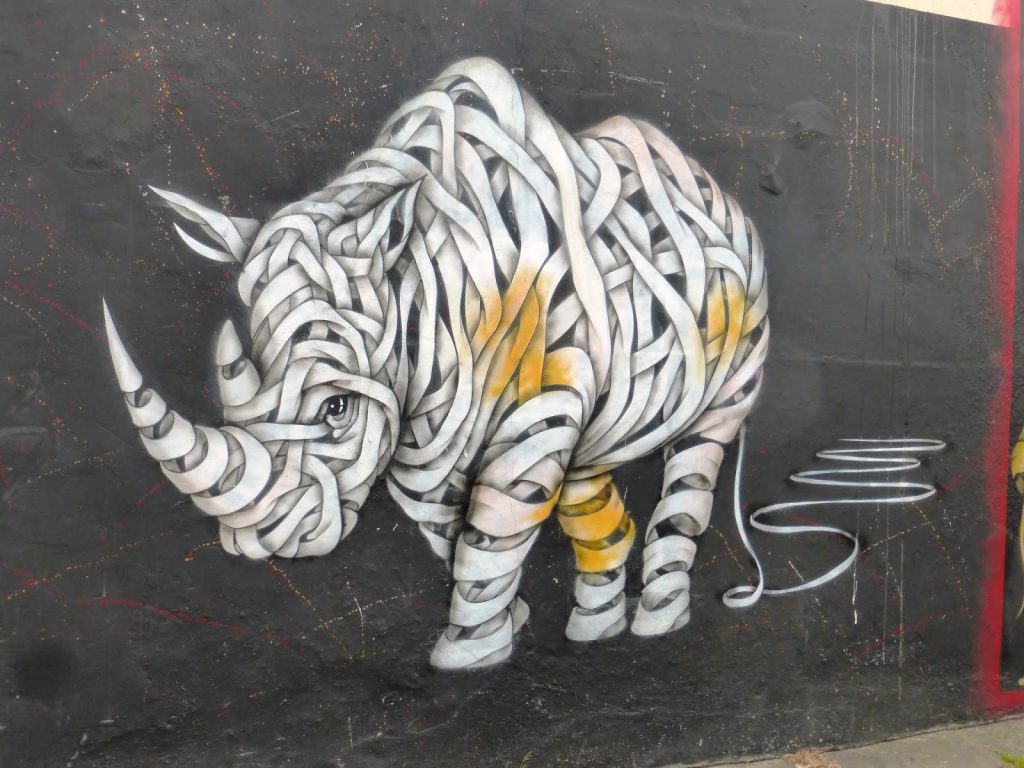 Alice and the policeman by Trust Icon is about lost innocence and is entitled the Last Trip to Wonderland.
Another favourite of mine, and Nelly, is this incredible spray can picture which 2 days to complete in a cold winter's spell! It has been tagged ie added to, but the artist has returned to remove this and restore the work. The artist is Irony and the work is called Burn.
One last nugget for this blog is that graffiti is different from street art as it is about stylised letter based pieces and so here is one to finish off with but I definitely prefer street art and hopefully the pieces above demonstrate the beauty, variety and complexity they offer.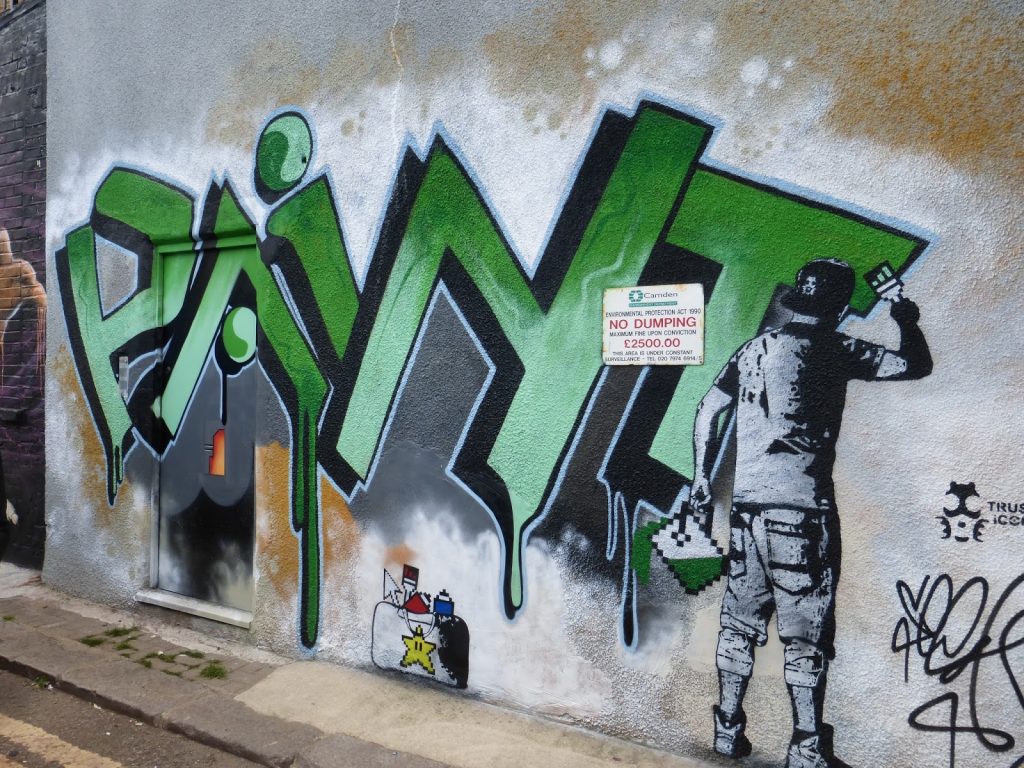 For more information about Camden Street Art Tours and they work click here.
Full disclosure – I was invited by a friend who was invited by the company but I would have happily spent my own money on this tour!