*This post has been updated following lockdown and easing of lockdown.
The Foundling Museum has now reopened its doors following several months of closure due to Covid 19.  Even better news is that their exhibition 'Portraying Pregnancy: From Holbein to Social Media ' has been extended to 23rd August.
Here's the Foundling Museum in case you've not yet visited:
I've not seen any other exhibition exploring this topic and it got me wondering if I had ever seen a portrait in a gallery of a pregant woman.  At the Foundling Museum you can see portraits and more modern media spanning the last 500 years.  They acknowledge that historically representations of bumps are extremely rare as pregnancy was usually concealed or edited out.  They have managed to collect a few, mainly British portraits, to display alongside more modern images when it became more acceptable to show and even celebrate pregnancy.
Here are some of my highlights in chronological order which is how the exhibition runs.  The exhibition curator has worked hard to make sure we understand the context of each work and understand what the artist is saying.
One of the oldest portraits is of Queen Mary from 1554 by Antonis Mor.  The significance of her portrait was that she married Philip of Spain at aged 37and was desparate to produce an heir to continue her catholic legacy.  She had a phantom pregnancy which is when this was painted and although she apparently appeared to be pregnant, this was not shown here.  She never would have a child so her dynastic plans failed.
Mary's sister Elizabeth, her successor, was also a queen who did not have a child.  However during her reign it became more common for pregnancy to appear in paintings and at this time by bearing a child the woman was seen to be carrying out God's work.  This portrait of Mildred Cecil ( later to be Lady Burghley) painted in 1563 shows a highly educated lady, wife of Elizabeth's trusted adviser, in the later stages of her pregnancy when she was to give birth to her only child after losing several children at birth or in infancy.
Another heavily pregnant sitter is an unknown but clearly rich lady judging by her luxurious clothes from 1620.  The artist is Marcus Gheeraerts ll who was the leading court painter in the final decade of Elizabeth's reign and specialised in pregnancy portraits.
A few centuries on we learn about the famous actor Sarah Siddons  who was renowed for her tragic roles in particular as Lady Macbeth. She continued to work throughout her 8 pregnancies, often on stage up to 4 weeks before giving birth even when her appearance was incompatible with the role.  It seems even then 'the show must go on' and she was a major box office draw so these issues were overlooked.  This portrait is from later in her life.
Pregnancy appeared as a topic in caricatures which were very popular in the late 18 and 19th centuries with James Gillray being a master of the art.  In this one, he is making a strong social commentary on the plight of serving women who were at the mercy of their male employers' sexual advances.  A pregnant maid here is being accussed of something – perhaps of getting pregnant – in this 1807 piece entitled 'would'st thou turn the vile Reproach on me?'. a quote from an earlier play by Franklin.
Fast forward to the 20th century, things have radically changed and pregnancy is celebrated in ways that may have shocked but certainly moved representation on a long way.
Demi Moore's memorable Vanity Fair cover in 1991 by Annie Leibovitz was a result of a commission asking Annie to find a fresh approach to celebrity pregnancy.  The result is beautiful and very brave of Demi and caused a furore but had lasting impact across many media and changed attitudes. It is seen to be a watershed moment given the impact a Vanity Fair cover would have.   Leibovitz has replicated this shot with Serena Williams in 2017, provoking comment less about her pregnancy as that debate had moved on but led to more complex remarks about her race and athleticism.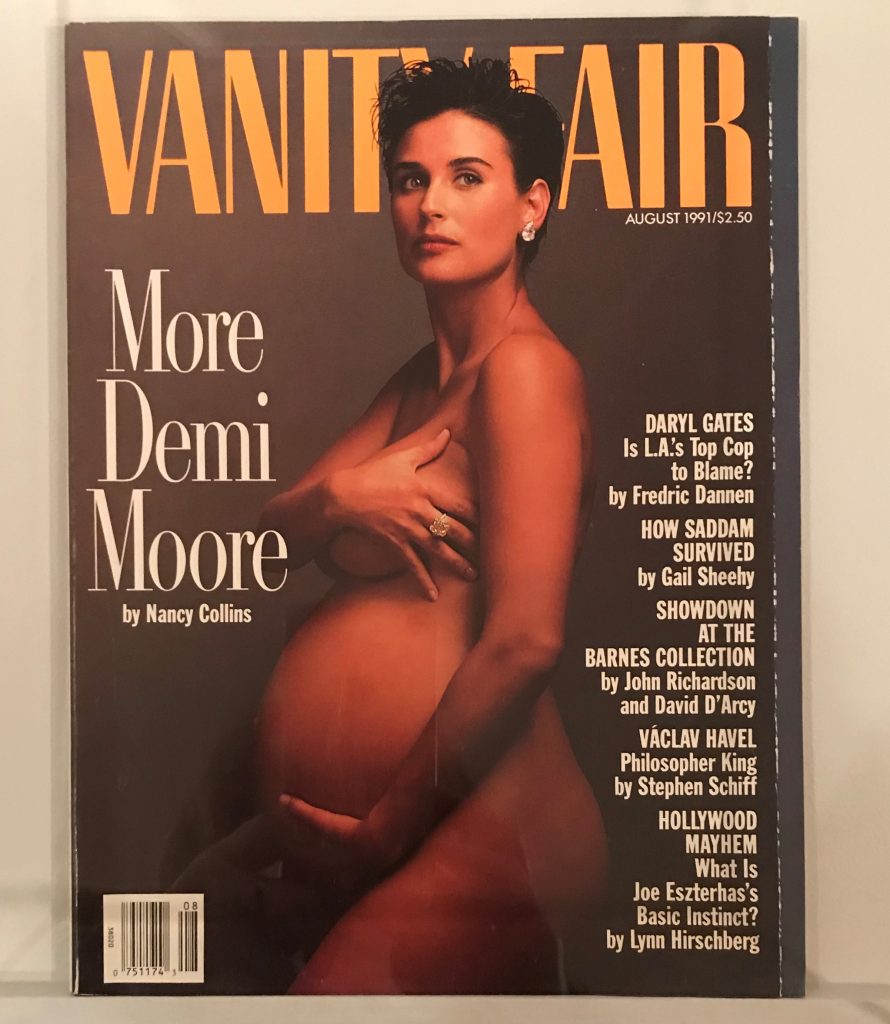 The sculpture of Alison Lapper by Marc Quinn was a ground breaking artwork challenging perceptions of pregnancy and disability and was placed on the empty 4th plinth in Trafalgar Square in 2005 where the other plints are occupied by military men. It also echoes the frequent use of nude female bodies in the neighbouring National Gallery,  It was an unprecedented work which caused huge debate.
Beyonce makes an appearance in a shot from 2017 which she posted on her Instagram account on the first day of Black History Month to announce she was expecting twins.  Beyonce controls her own image so is not at the mercy of any of the censoring, hiding or conceiling that women centuries before her suffered.  This photo is called I have 3 hearts and is packed full of complex allusions which shocked and fascinated viewers and appealed to art historians who could spot all these.
There are so many other great works to be seen in this excellent exhibition as I've only picked out a few examples, so do make a visit if you can to enjoy the rest.
The Foundling Museum has so much else to see on your visit so allow plenty of time to explore the rest of the building.  The other rooms give us an insight to the appallingly hard times that poor mothers and children had to endure and how the Foundling Hospital tried to help even though this meant the separation of mothers from their children.
More information about this wonderful museum can be found at https://foundlingmuseum.org.uk/  
Full disclosure:  I was invited to review this exhibition by the Foundling Museum as is customary in this industry however this has not influenced my views.