The Charles Dickens Museum has reopened!  It's a very special place as it is Dickens's only surviving London home  where he lived from 1837 to 1839 and wrote 3 of his most famous novels:  Oliver Twist, Pickwick Papers, and Nicholas Nickleby.
He moved to 48 Doughty Street with his wife Catherine and first child and this is where his fame grew as well as his family. The museum offers you the chance to see where he lived, entertained and wrote and to top that there is a new special exhibition called Technicolour Dickens: The Living Image of Charles Dickens – more on this further down.
The rooms are beautifully laid out and give you a great insight into Dickens's life. In the basement the kitchens, laundry and wine store are the servants' domain but on the ground floor you can start to feel the presence of Charles and his family.
The DIckenses loved to entertain and the dining room is laid out for a meal with friends, each place setting giving us some background on his guests, often leading literary figures of the day such as Thackeray .  Can you see the grandfather clock at the far side of the room? The museum Director Cindy Sughrue  kindly gave me a brilliant nugget of information that the clock was given by the Pickwick family.  Mr Pickwick run the mail coach to Bristol which Dickens took and he knew Mr Pickwick so we can only assume that the character in his book was based on the real life Mr P.
I love that the Dickens couple were very fond of cheese, particularly toasted cheese – who doesn't love a cheese toasty – as evidenced in Catherine's book called 'What Shall We Have for Dinner?' published in 1851 which features cheese in nearly a third of all recipes!  Guests would treated to plenty of cheese at the many dinner parties.
The study is the centre piece of the house for me as we can stand and look at the desk where Dickens wrote many of his famous novels  as well as penning newspaper articles, short stories and essays as he was a prolific writer.
In the cabinet are drafts of his work, written using a quill pen, including this one of Nicholas Nickleby in Dickens's own hand which is apparently the final version of the text.
The upper floors are full of Dickens memorabilia and show us was a big deal he was, and still is of course.  People collected images of him and he was closely involved in managing his image, understanding its power.  Although he was not a keen sitter,  portraits of him can be seen throughout the house.  We can see rare examples of his clothing including a fine black silk grosgrain waistcoat that has not been on disply for over 100 year.  He was a stylish dresser,  described by the poet Mackay as rather inclined to 'dandyism', possibly due to his love of bright waistcoats and jewellery.    He regularly appeared in the newspapers and this front page refers to a rail crash in 1865 which he was involved in, helping other passengers who were injured and dying.
Sadly we can read the  article published in his own Journal in 1858 in which he announced to the world  his separation from his wife.  They were married for 22 years and had 10 children but Charles met Ellen Ternan through his work in the theatre and fell in love so left Catherine and his family and spent the rest of his life with Ellen.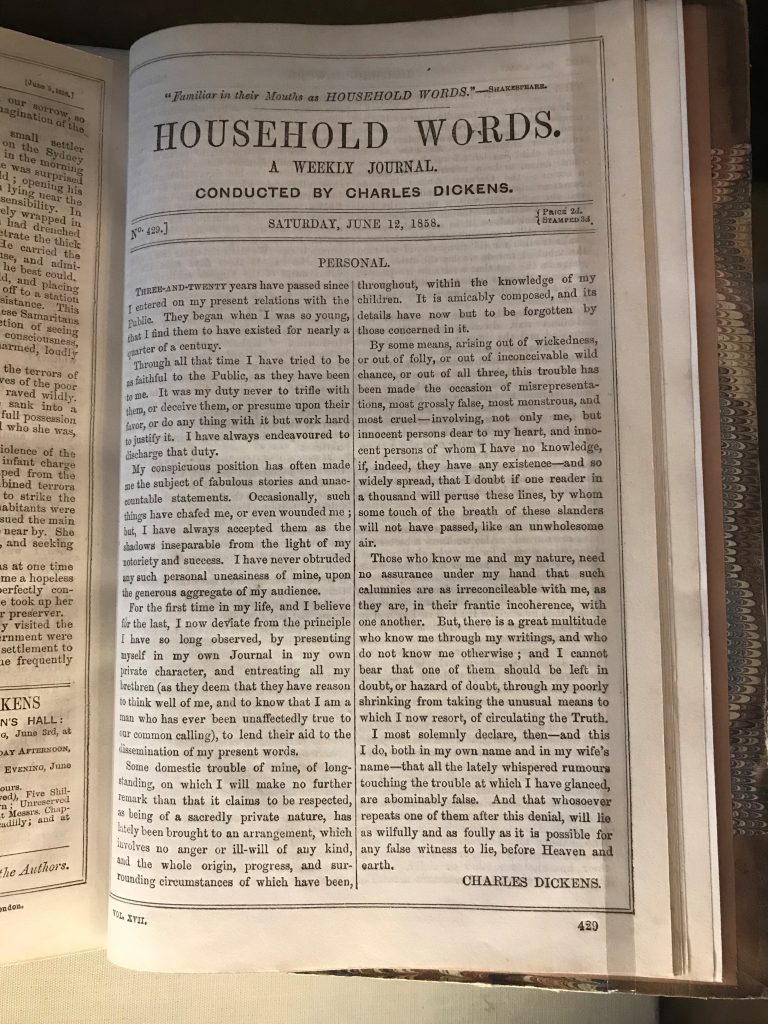 Thee special exhibition shows us how Dickens's image was so popular and so important to his success . The highligh is a set of 8 photographs of Dickens which have been colourised and the effect is dramatic.   He leaps out of the photos and seems so much more real than in the black and white photo we've seen in the rest of the house.  The artist bringing us these new insights is Oliver Clyde whose research has rendered these as accurate as possible.  I asked him about using the many sources and accounts of Dickens appearance and how these had helped him.  He told me about the problem of his eye colour as some reports say they were blue, others green so he had to try to replicate that eye colour that seem to change with its surrounding (I have the colour too).  Matching skin tones involved working with Dickens's great-great grandsons Gerald and Mark, and a short film gives the visitor an idea of the painstaking work that went into these new photos.
Here are some of the 8 photos,  including a shot of the creator Oliver Clyde,  and you can see how different our view of Dickens is when we see him in colour as a more modern man, more relatable both as as younger man in his finery and as a tired older man, worn out by his frenetic life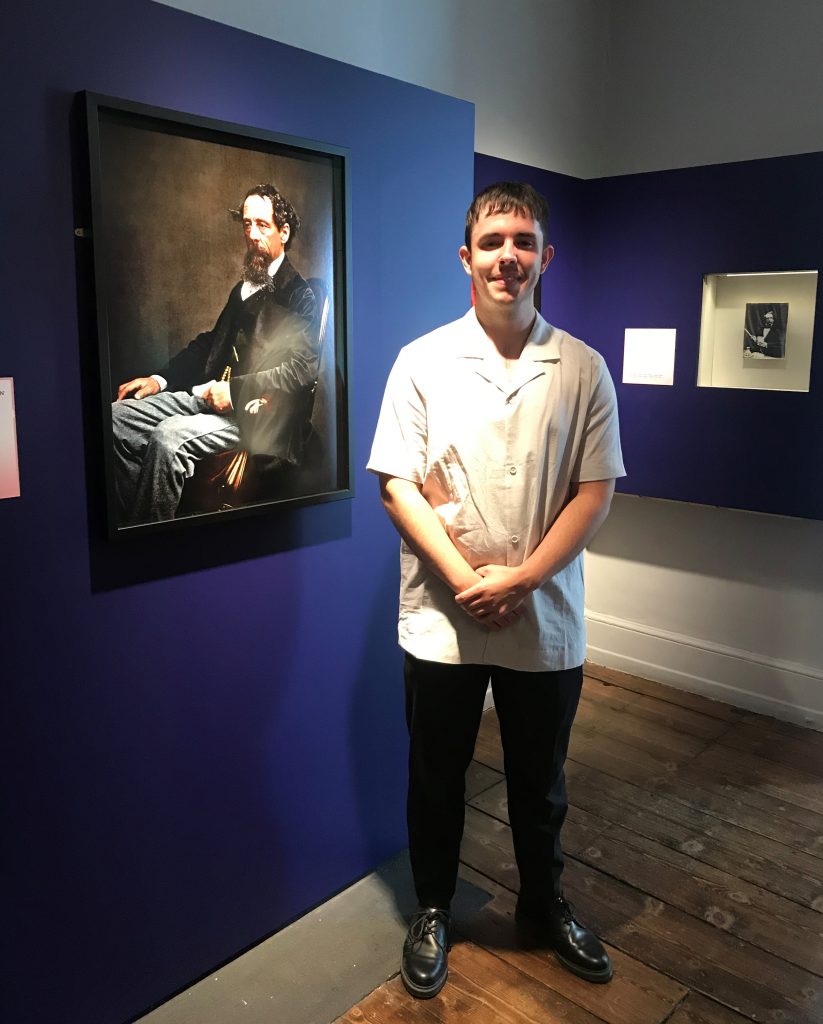 There is so much to learn about DIckens and to enjoy in this small but rich museum.  I have only touched on a few elements of his life and work, so do come and visit if you can.
Every good museum has a cafe and shop and the Charles Dickens museum is no exception.  The cafe is offering limited service at the moment but you can sit in the wonderful walled garden to sip your drinks.  The shop is a delight with so many great gifts or a memento for yourself.
Pre-booking is essential at the moment as with all London museums and galleries but it's a great time to visit as limited numbers allowed in means you get to see all the treasures without having to elbow through a crowd.  More information on their website:  https://dickensmuseum.com/
Full disclosure: I was invited to preview the reopening as part of a press visit. This is the normal practice in the tourism industry and in no way influenced my views.