I was strolling past the former site of Joseph on Westbourne Grove, Notting Hill when I was stopped in my tracks by some amazing artworks.  We have a good deal of art in Notting Hill on the walls of buildings but this was something new.  Large pieces in black and white were placed in the boarded up windows and they led me round the corner to discover what this was about.
In my neighbourhood we have a lot of reminders of the appaling Grenfell Tower fire and huge loss of life and you can easily see the boarded up tower block with its green Grenfell heart.  This display of art on the street is a tribute to the artist  Khadija Saye who died in this tragedy.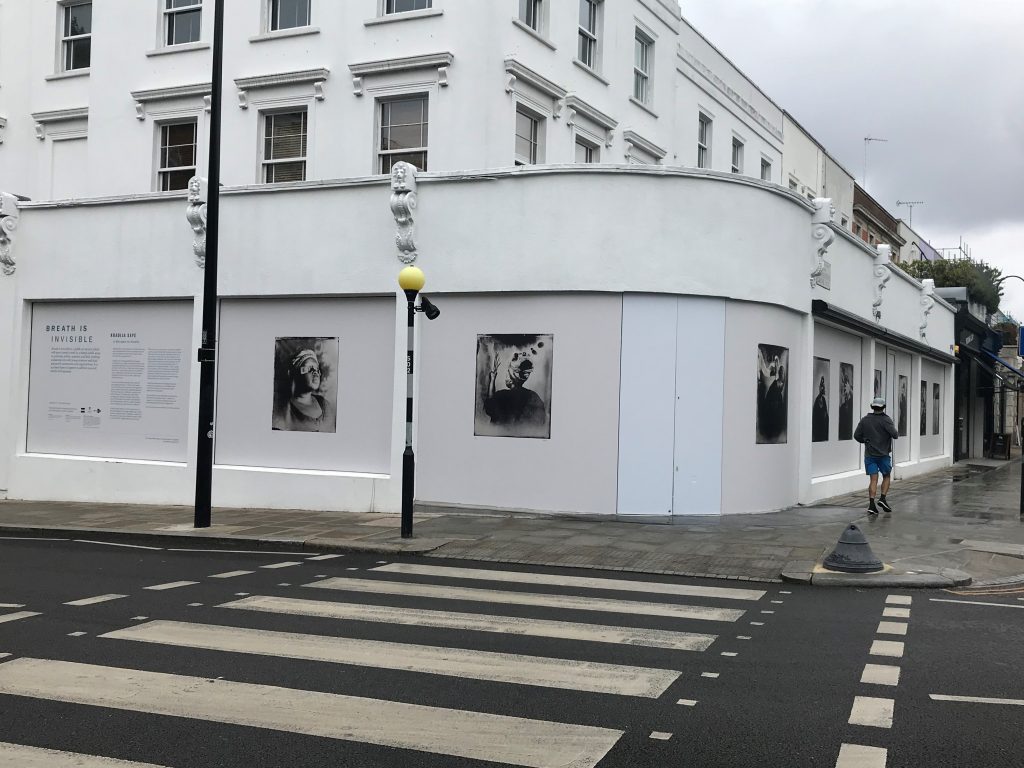 As the board tells us, Khadiya, also known as Ya-Haddy Sisi Saye, was just 24 when she was killed and had already achieved recognition as a hugely talented artist with great promise.  She was the youngest exhibitor at the Diaspora Pavilion at the 2017 Venice Biennale, showing her work alongside reknowned artists such as Yinka Shonibare.   This is the series which was shown at that exhibition.
I will show all of the pieces on display, which I would not normally do but the work will be taken down at the end of this week and they are all worth showing here.  They are self portraits exploring 'the migration of the traditional Gambian spiritual practices'.   She explores her identity and heritage and mixed faith background. Her parents were both from The Gambia but were of different faiths,  her mother who sadly also died in the fire was  Christian and her father who survived them was Muslim.
You will be able to see what a great talent she was and such as tragic loss. Every life lost in Grenfell Tower was tragic and seeing her work reminded me of this.
Here are her 8 pieces collectively entitled In This Space We Breath:
Individually and collectively they are stunning.  They are brought to us by a public art project called Breath is Invisible.  They have 3 other artists' work to show us and their urgent aim is to address issues of racism and injustice.  I look forward to their next display.