I was looking forward to a massive sugar rush when I was booked on a Luxe Dessert Tour of London. We met in London's most famous meeting spot, by the statute of Eros in Piccadilly Circus, although it's not Eros but his brother Anteros, but that is another story…

It was raining so umbrellas were up and raincoats pulled tight but our guide Lynton was full of energy and enthusiasm and was determined to make us forget the weather.  Our two and a half hour tour around London's posh shops was a great way to explore the area, learn about its rich history and taste some wonderful treats. Our tour was a new one from Intrepid Travel's Urban Adventures and we were delighted to be trying it out!
Our first stop was Fortnum and Masons, but not before we'd heard about Hatchard's, London's oldest bookshop which has been serving readers since 1797, including the Royals who get their books here. Opposite, if you look carefully you can see  Albany House, which has been home to London's posh bachelors since 1802 including Lord Byron who'd pop over the road to Hatchards to sign his books. No need be a bachelor these days and rumours are that Terence Stamp is a current resident.  On to Fortnums, famous for being the Queen's grocer, to lust after all their beautiful goods and their luxury hampers in particular. I wonder which ones the royal family enjoy with a cup of Fortnum's famous tea.
We popped into the Royal Academy for some interesting historical nuggets and a photo opportunity with an original red phone box, K2s as they are known to the experts.
On to Burlington Arcade for our first tasting treat from the famous Parisian macaron shop, Laduree, which sells the most beautiful creations in a vibrant range of colours and flavour. They are just the right side of chewy with good amounts of filling and wonderfully moist. Burlington Arcade was the first glass-covered shopping street in the world and is the epitome of elegant retailing with its own guards, called Beadles, who look a bit stern but are happy to pose for a photo. Dating back to 1819, the arcade's shops have offered top class discrete shopping to the stars of the past and present and to the Royals.
On to Godiva Chocolate shop on Regents Street to taste these top-end Belgian chocolates and enjoy their displays. We wove our way into the heart of Mayfair, passing by Saville Row to hear about the Beatles last concert which took place on the roof of their office building until a neighbour complained about the noise and had them shut down!
Our guide made sure that we had plenty of stories to entertain us as we walked around this fascinating part of London, he also pointed out signs and buildings and even found things that this London resident hadn't seen before, including these signs on the Bag O Nails club: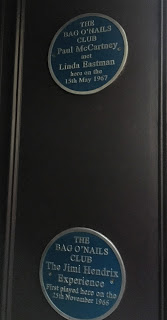 Popping into Kingly Court, walking through Liberty's and strolling down Carnaby Street, we got a real feel of Soho, its history and place in pop culture while taking in the luxurious feel of every inch of Liberty's.  Then it was on to our final stop where the chocolate went into overdrive! The eccentrically named Choccywoccydoodah is full of extraordinary chocolate creations and is a feast for the eyes. We snuck up the back stairs to their secret room on the top floor where the highlight of our tour was their chocolate feast.   Plates of chocolate cake, dark, light or triple chocolate as well as a variety of brownies greeted us and we dived in without much restraint.  The room itself is a delightful fantasy garden and the staff were extremely friendly, passionate about their chocolate and very cool people.
Fantasy chocolate pieces:
The fantasy garden room:
And now the chocolate feast – there were several plates of each of these!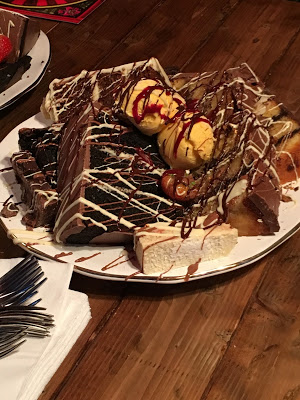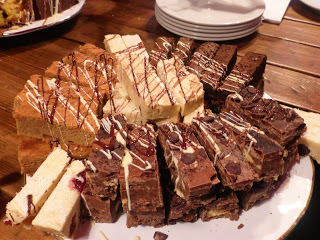 This was an enjoyable tour and we certainly had our fill of chocolates, while learning a good deal of London history from our entertaining guide.
Find out more about this tour and how to book here and more about Choccywoccydoodah here.
Full disclosure: As is customary in the tourism industry, I was offered to try out this tour at no cost to myself.  This did not influence my review.