The restaurant scene in London is a constant delight with new places opening all the time. I do my best to try out as many new restaurants as possible while not neglecting my old favourites. This blog post will take you on a short tour around just a few of the wide variety of places I've tried out over the last few months around London.
Barraka
The area around Spitalfields, just east of the City of London, is a busy set of streets offering a huge variety of food options from the top end such as Galvin La Chapelle through to the pop up food markets by the Truman Brewery on Brick Lane.  I was invited to check out Barraka, a couple of moments from Liverpool Street station, specialising in Mediterranean Street food. We were offered the chance to try out their tasting plates as well as their freshly made salads – these salads came with a goodly portion of meat from the hot plate, although halloumi options are also available.
Barraka is well worth a visit for their range of tasty meals and for their warm welcome. Food is made to order and even their dips are made in house, giving familiar items such as tahini, a twist to the usual taste. Chips, a constant favourite, came with extra bite and soon disappeared and then we enjoyed watching the chef at work at the hot plate preparing our main. dishes. Barraka means 'blessing' in Moroccan and for this restaurant team, good food is their blessing to you!  My tip: make sure turn up hungry as portions are generous!
Find out more about Barraka here.
Pharmacy 2
Art and food are a great combination and when both are new to me that makes it a top experience. We headed to the Newport Street Gallery, owned by Damien Hirst to see his collection of Jeff Koons' work – yes, his own collection and the mind boggles at the thought of how many other great works Damien has in his collection! The restaurant, Pharmacy2 is a successful partner to the gallery.  I enjoyed a light and flavoursome Portland crab linguine with chilli flakes. My friend chose the brunch salad, which was an unusual description but proved a great combination of healthy and filling, topped with a beautifully cooked poached Bradock's White duck's egg.  The room references the original Pharmacy in Notting Hill with pill bottles and tablets the key theme, however, it does not feel overly medical as it is a light an airy room with fun decorated windows.
More on Pharmacy2 here.
Traders Wine Bar
St Katherine's Dock is one of my favourite hidden gems although as it grows as a foodie destination it's becoming less hidden so I'm happy to praise a new arrival. Traders Wine Bar, has opened up on an impressive corner site with wonderful picture windows.  Inside you can feel the history in the large wooden beams and the decorative nods to a nautical past. Traders majors on oysters, supplied by the Wright Brothers, whose fish restaurants I have enjoyed on many occasions. I'm not too keen on oysters but was fascinated to hear about the range of oysters they serve and the different parts of the country their natives hail from. My companions managed to get through several plates without any difficulty, taking the advice to chew not swallow!  I was keen to see the charcuterie and cheese plate arrive and I was not disappointed.  We were treated to a good range of hams and salamis with four soft and hard cheeses and a pot of rillettes, always a favourite.  We chose the English sparkling rose from Digby wines to accompany our food and I can highly recommend its fizz and flavour which easily competes with champagne.
Check out Traders Wine Bar here.
The Chipping Forecast
This punningly titled restaurant prides itself on being 'hook to Hill', the Hill being Notting Hill where they have recently opened on All Saints Road. I watched the site as it was being developed and chatted to the owners before opening so got a strong sense of their passion for fresh fish.
The room has a good rustic feel and the staff are friendly and welcoming.  We went straight for the fish, cod was our choice,  and chips to test this classic dish but they do offer a range of other ways to eat your fish such as fish pie and fish cakes.   The fish itself comes from Cornwall, brought to us by small sustainable fleets and arriving on our plate in under 48 hours – their hook to Hill promise!   The cod, fried in beef dripping gives an extremely light batter which is a delight as all too often a full heavy batter drowns the fish and leaves a greasy after taste – no danger of that here. The triple cooked chips were crispy and the tartar was more like a bernaise to my taste but went well with the chunky chips.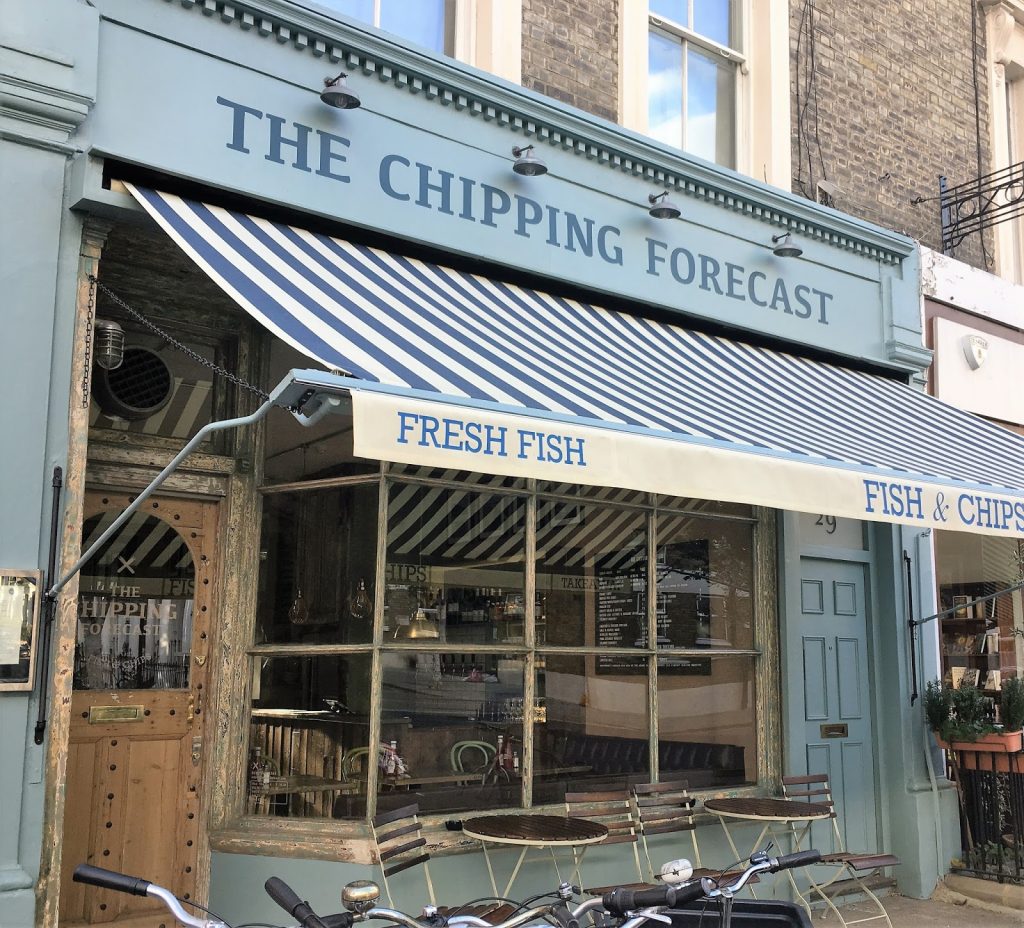 We spotted that they are now open for breakfast and as they are just around the corner, that's a tempting offer….
Find out more about the Chipping Forecast here.
Scarfe's Bar, Rosewood Hotel
I've enjoyed several evenings of cocktails at Scarfe's Bar so dropped in one lunchtime to see what was on offer. I was surprised to find the menu featured curries, Indian bar snacks and kebabs which is not the classic lunch in a posh hotel.
Both dishes were full of delicate flavours and beautifully presented. I had the tasty beans with a portion of light rice and my friend had the sample plate with chicken, dips and beans. The bar itself is a beautiful room, by day or night and the hotel is a stylish addition to the Holborn area.
Check out Scarfe's Bar here.
Keep an eye on my blog for more food and drink testing to come over the coming months…
Full disclosure:  I was invited to Barraka and Traders Wine bar as is customary in the travel industry but this has not influenced my views.  All other venues we paid for ourselves.