There is a gallery at Buckingham Palace called, unsurprisingly, the Queen's Gallery, which I've visited several times and have seen some excellent exhibitions including Scott and Shackleton in 2011. This year they have excelled themselves by putting on 2 shows at the same time and I was lucky enough to be invited to the preview. 
The posters are intriguing and when I delved into the early publicity I was hooked – how was the gallery going to make sense for us of a 17th century little know Italian artist and 100 plus brand new works from the Royal Academy? As the curator, Martin Clayton said: "On the surface, these two exhibitions might seem very different but they are surprisingly complementary. Both show the work of artists who have pushed the boundaries".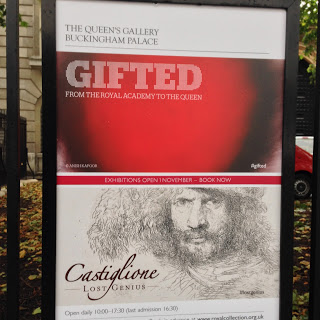 The Castiglione show is title 'Lost Genius' because his work has been out of the public gaze for so long and also because his tempestuous life lost him success and recognition during his lifetime. His paintings are wonderful and, as we learned, he painted with oils directly on to paper and you can see how the oils have bled through to the reverse. He was the first artist to use monotype as a method, so-called because only one print is made from each engraving (except for rare circumstances).
Castiglione was born in 1609 in Genoa, a cosmopolitan city that probably made him open to a wider world and new possibilities. He began in the pastoral tradition using oil on paper but moved onto Rome and looked to reinvent himself, examining other artists' work and incorporating their techniques, finding he was most keen on Poussin.
Back in Genoa, he was poised to be a truly great artist through his painting and printmaking but his temper got the better of him (as had happened previously in his career) and he had to flee his home town in disguise!
He found stability back in Rome, continued his work and introduced some colour into his paintings, as we see in the latter part of the exhibition, but he died at 55 years of age.  His work was appreciated after his death but by the 19th century his popularity had waned and his work has been little seen in this country until this new show at the Queen's Gallery. The Queen has a major collection of his work, normally held in Windsor Castle.
Quite overwhelmed by part one of the exhibition we then moved onto Gifted, which gave us a wonderful tour around the work of many of the best artists in this country. The Royal Academy has a long tradition of giving gifts to the monarch since they were founded in 1768.  For the Diamond Jubilee, the Royal Academy of Arts asked each of its academicians to send in one piece of their work on paper and over one hundred pieces were submitted.  Seven red silk-covered boxes of the finest contemporary British graphic art arrived and the staff had the privilege of opening them, not knowing what would be inside.
I was bowled over by the Queen's Gallery's first contemporary exhibition where one great piece was hung next to another and another – luckily the curator's job was not to select but to display them all to their best advantage.  It was a dazzling who's who from so many familiar names doing what they do so well but also a chance to see work on paper from artists more well known for other media.
Turning back as we left I spotted the very inviting, and rather over the top, the entrance closed until the grand opening the following day.  Both exhibitions are well worth a visit so do put them on your list – and there's a great shop for Christmas presents on the way out!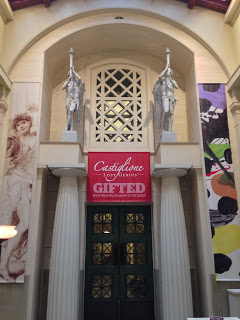 Let's see what next week has in store…
Bye for now.
Sue
@itsyourlondon
itsyourlondon.co.uk