The annual opening of the Serpentine Pavilion is a real sign that we are properly into the London summer, even if the weather is not always as warm as we'd like.
Each year a new architect is chosen to bring their vision of a temporary pavilion to the site next to the original Serpentine Gallery. This competition has been going since  2000 when the first winner was Zaha Hadid and it has grown into a showcase for emerging talent from around the world.
This year's Serpentine Pavilion is designed by Junya Ishigami, a Japanese architect who is known for his experimental structures which reflect natural phenomena.   The result is a wonderful wing shape roof of Cumbrian slate which produces an open covered space.  The brilliance of the design and the construction gives us a structure which seems light and fluid in its shape.  The 61 tons of slate that make up the single canopy roof give it a strong organic feel but the way it is supported and shaped make it appear light and somehow growing out of the surrounding grass.
The roof covers an open space which, as is customary for the pavilion, houses a cafe, safe from the elements.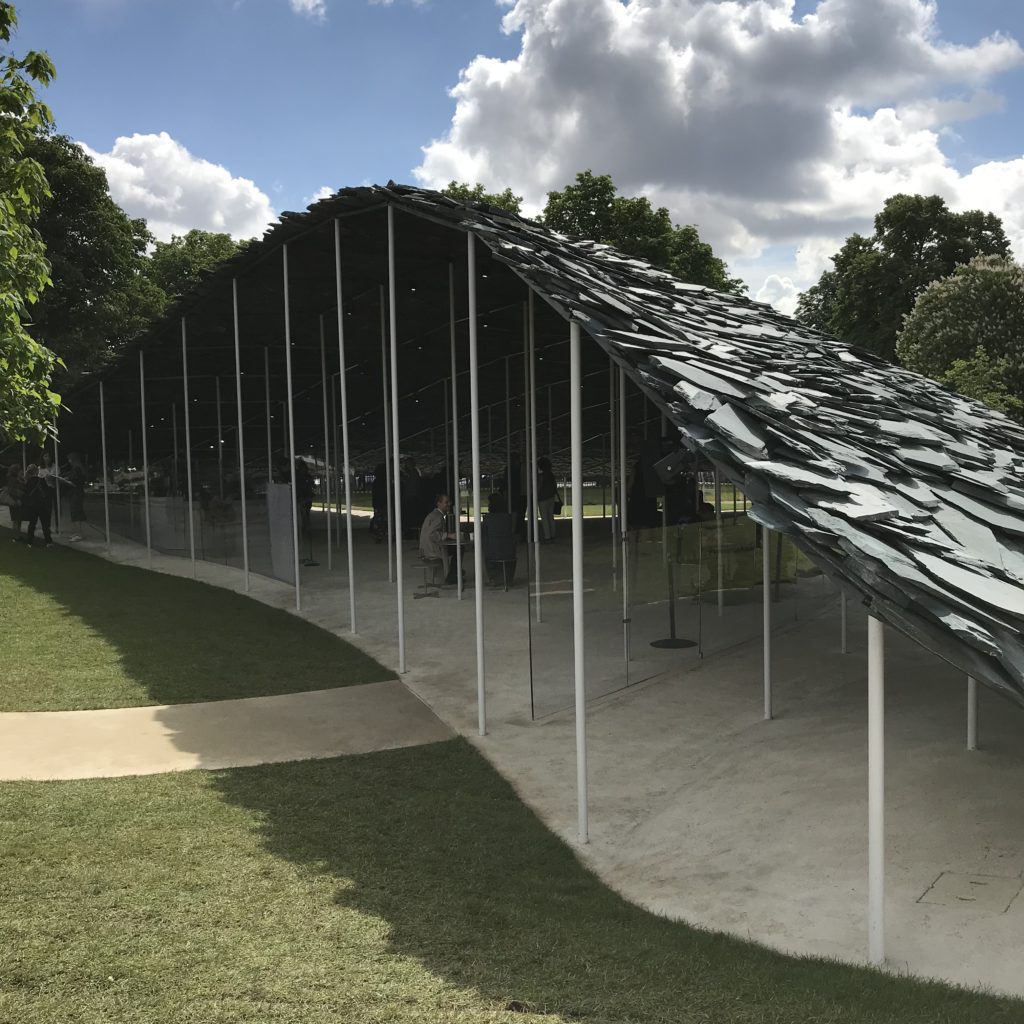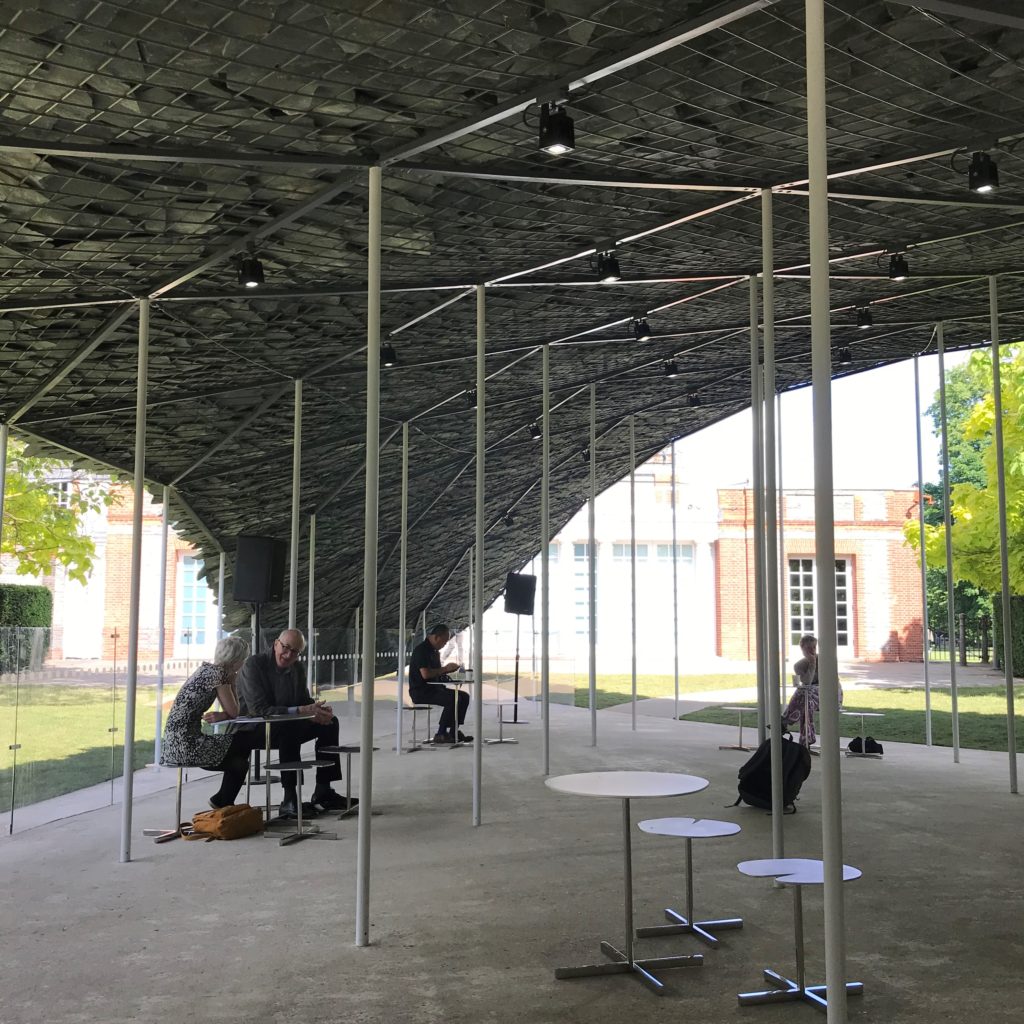 Junya Ishigami was there at the opening and here he is gazing up at his amazing roof. This collaboration was 10 years in the making as he and Hans Ulrich Obrist first met at a Venice Biennale when a cat had just destroyed Junya's installation! No danger of that here it looks extremely robust.  Junya told us how the 6 month time frame given to him to complete the piece in situ was a challenge  as he is used to having more time to develop and deliver a structure.  He said it had been 'the hardest time of my life.  He aims to combine landscape and architecture in his work.  The roof is like a blackbird's wing and that is certainly a shape I could readily see as I walked around the structure.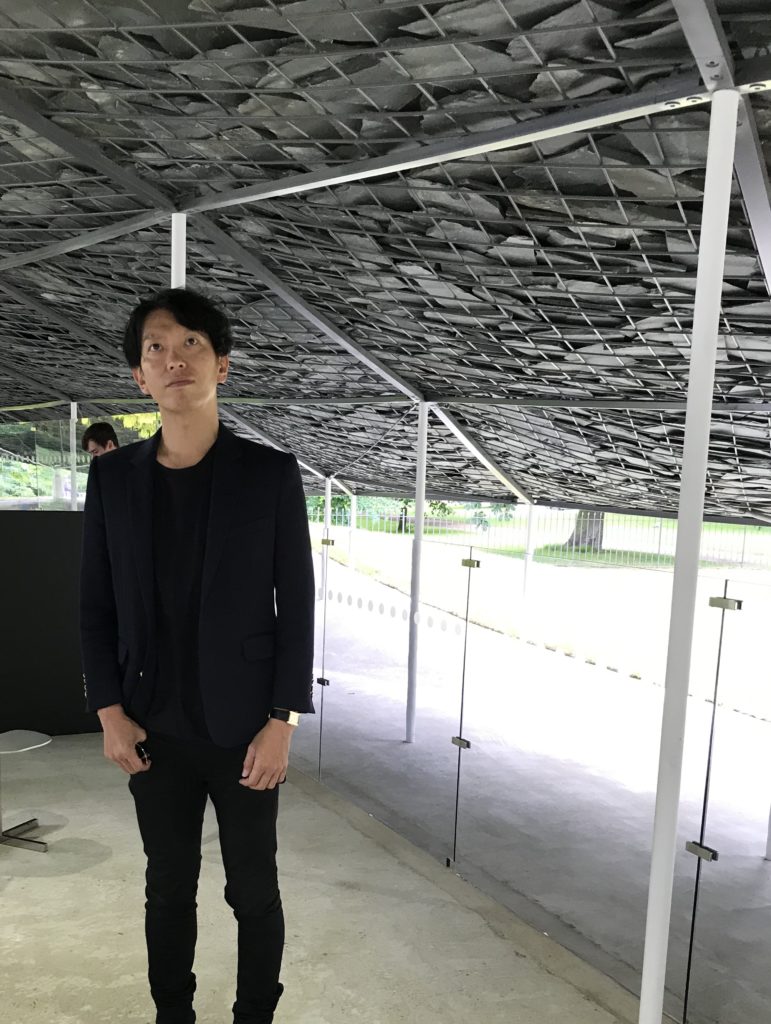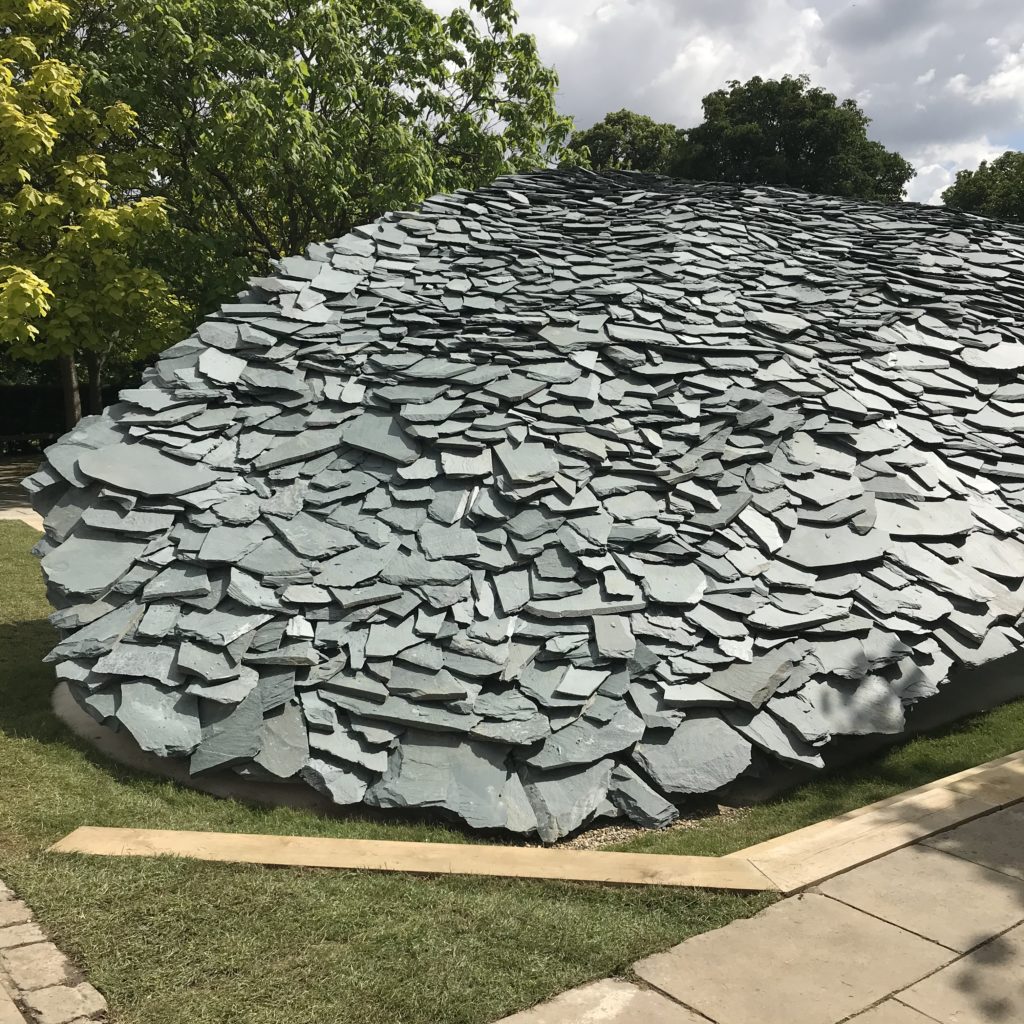 The wing motif is impressive as Junya manages to form the shape of a delicate swooping wing before us out of such a heavy and dark material.  Hopefully these few photos will give you an idea of how it works when you are there.  Walking around it was a pleasure and by doing a full circle you can view so many different angles and shapes of the structure.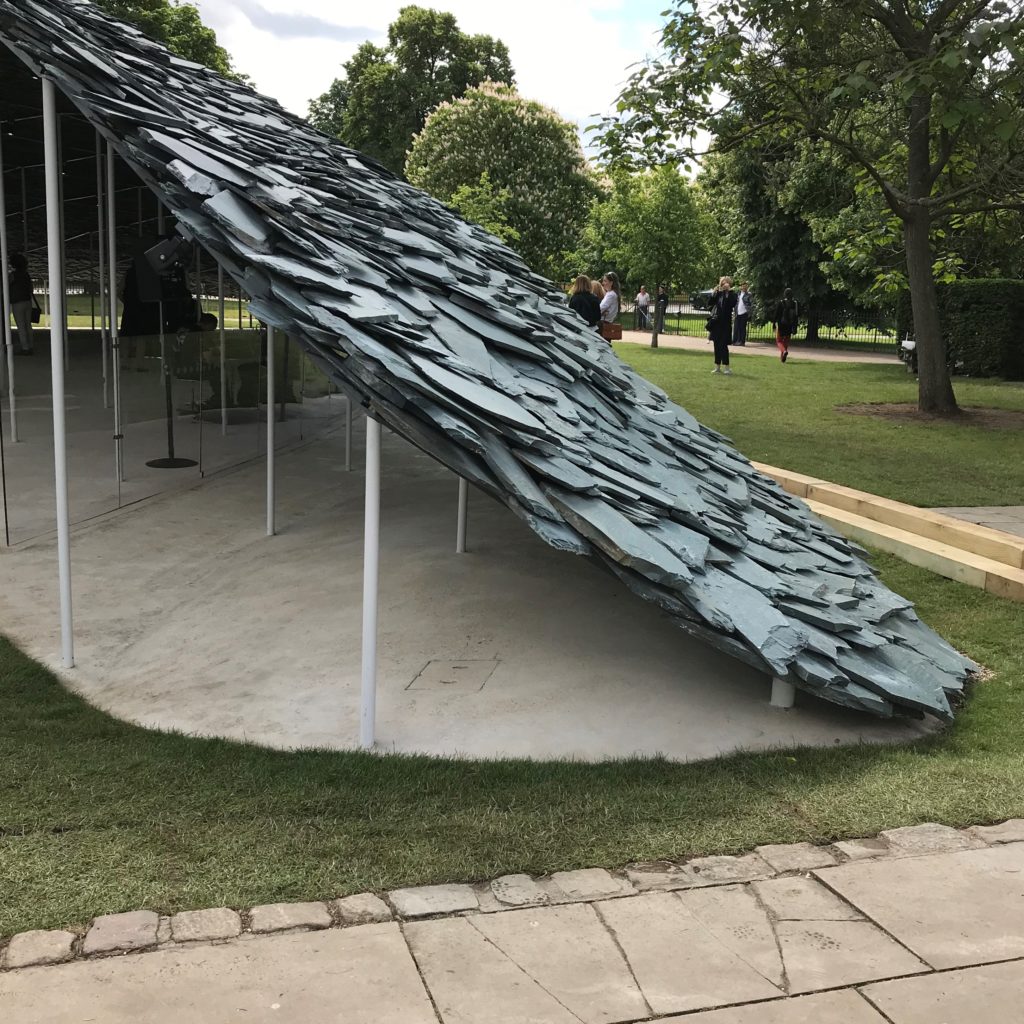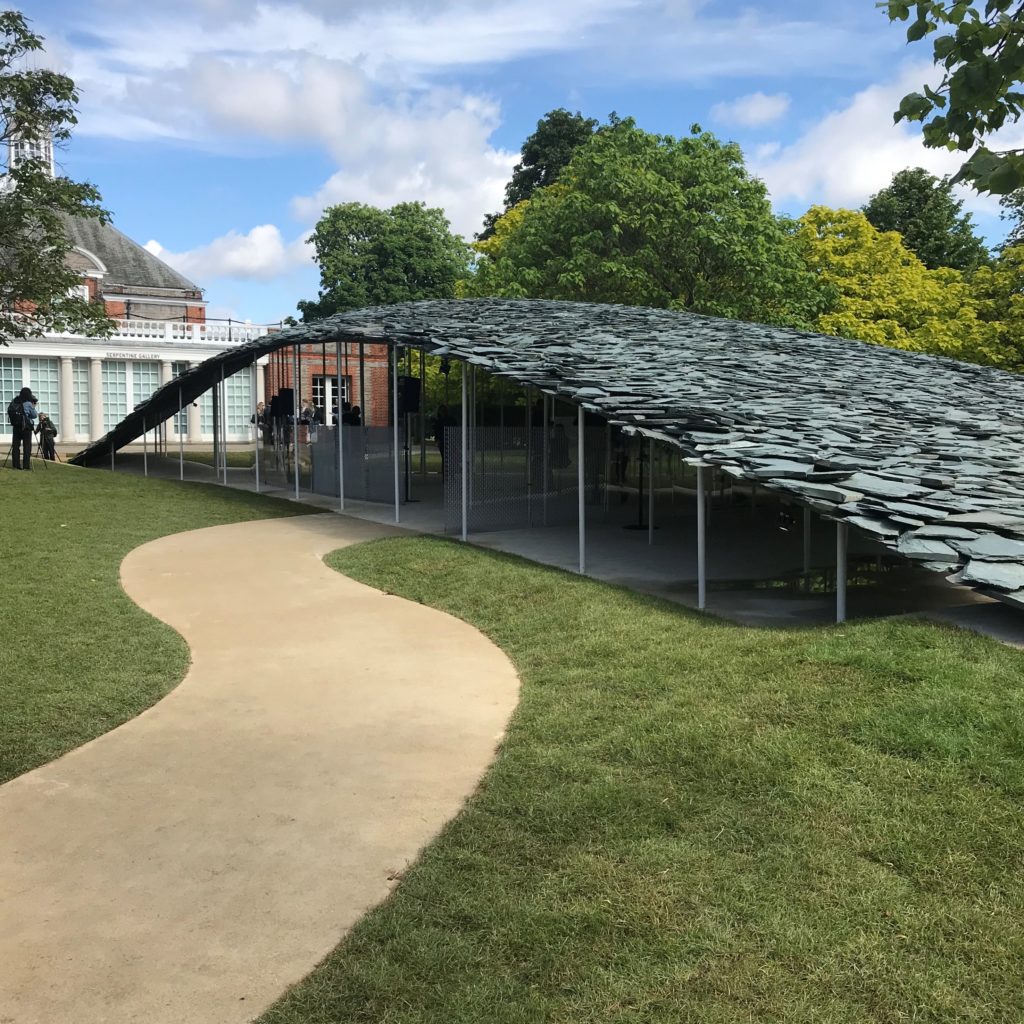 Each year the Serpentine Pavilion is a joy and we look forward to the opening with great anticipation, hoping it will be one that we can love all summer.  This year's slate wing is one I know I'm going to revisit and enjoy right through until October when it is dismantled and taken to a permanent location.
Enjoy my visit to last year's pavilion here  and scroll through the review to go back in time year by year.
For more information about the Serpentine Pavilion and Galleries, including events going on all summer in and around the pavilion check their website.
Full disclosure:  I was invited to a press preview to see the Pavilion ahead of its opening but it is free to visit through until 6th October 2019