Kensington Palace has spruced up the rooms where Princess Victoria grew up to mark the 200th anniversary of her birth.  Alongside these permanent rooms is a temporary exhibition Victoria: Woman and Crown which examines her role as matriarch and monarch. Victoria spent her formative years at Kensington Palace and became Queen here before moving the short distance to Buckingham Palace, the first sovereign to live there.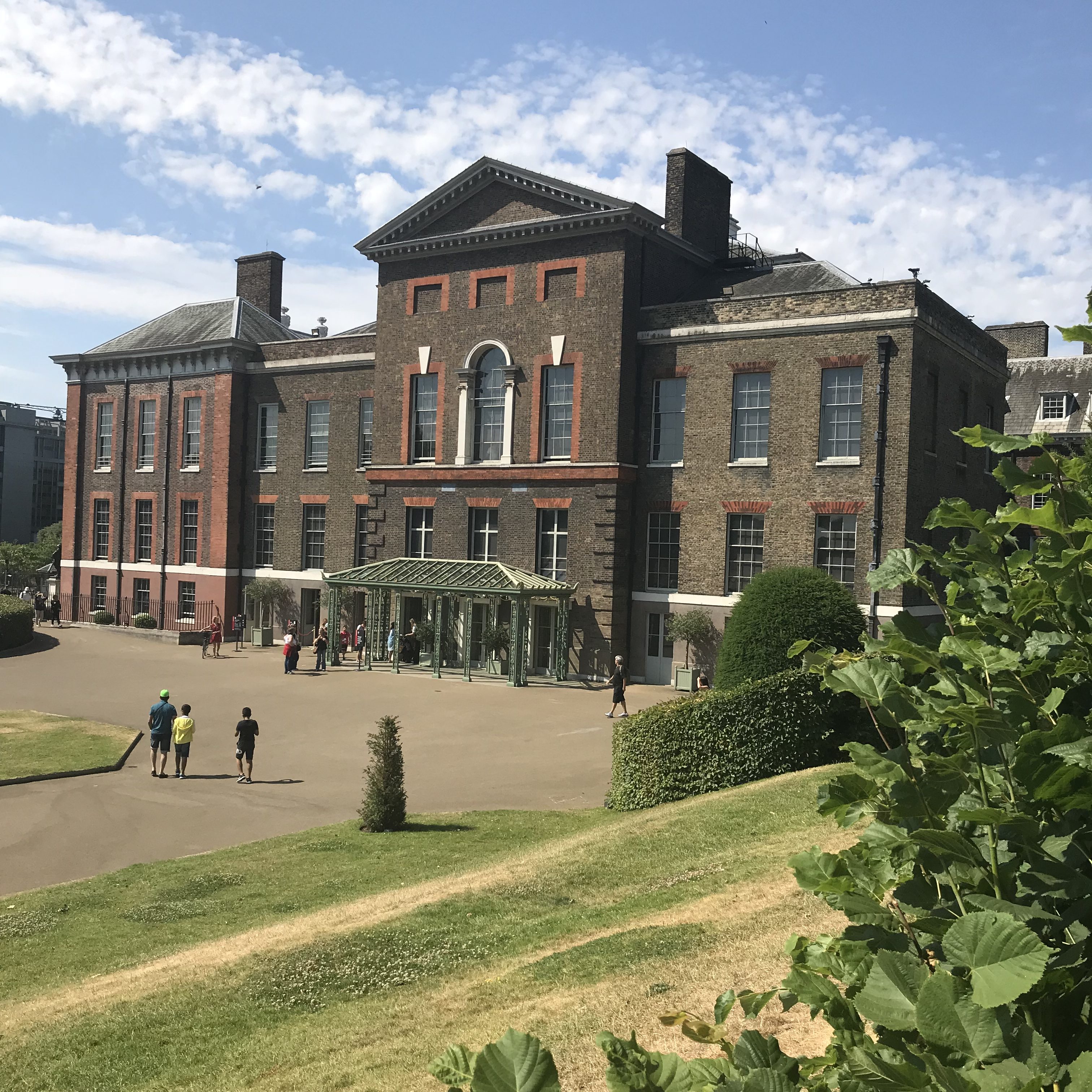 The rooms dedicated to Princess Victoria's early life have been represented to take us through the different stages of her life up to her ascension to the royal throne.  Sometimes you have to pinch yourself to remember these are the actual rooms that she and her mother occupied from her birth until the fateful day, just after turning 18, when she became Queen.
A  gorgeous dolls house, a scale model of Kensington Palace. greets the visitor. It has little room vignettes to give you a chance to peep inside the palace. In the second photo, we see Victoria in the Red Saloon where she held her first meeting as Queen.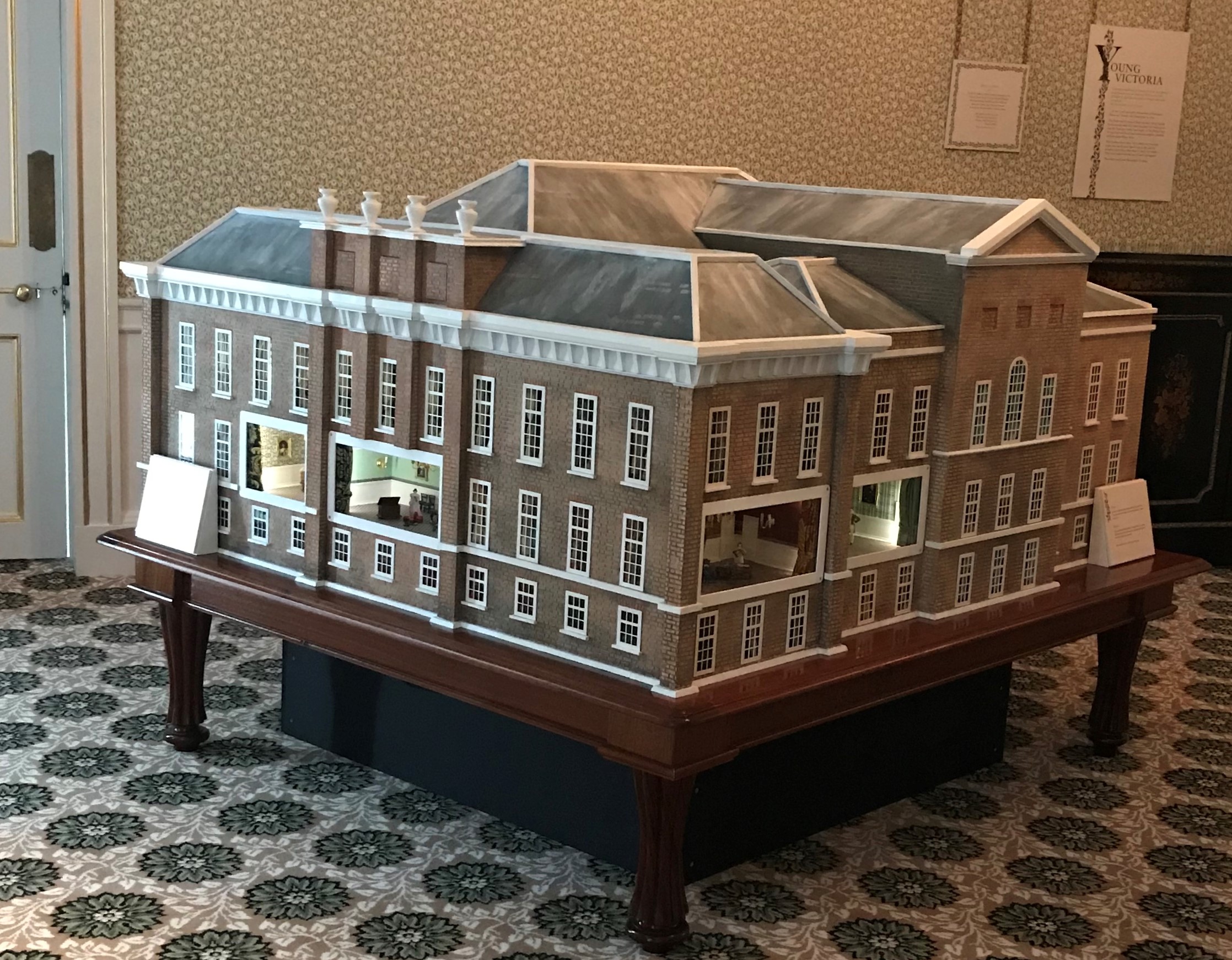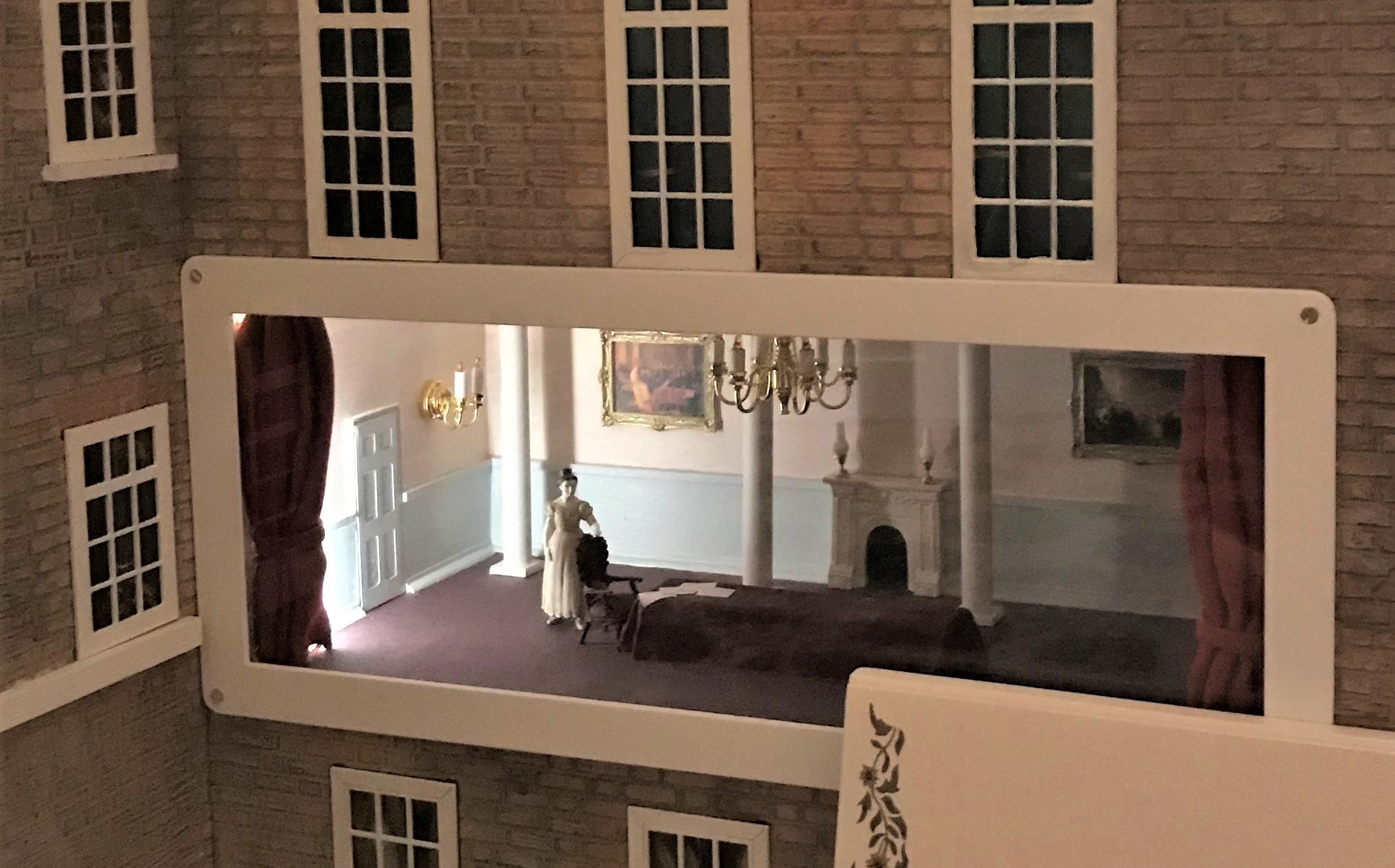 The early rooms tell a new story, one of a happy childhood enjoying herself with friends and her half-sister Feodora and lots of toys to play with and a closeness with her mother  Her story is usually dominated by tales of the strict rules of her lonely upbringing and a distant relationship with her mother but it seems all this happened later on.  She loved her dolls and had collected 132 by the age of 11, making them outfits from her favourite ballets and singers. She had a vivid imagination and loved the theatre and being a princess meant she had her own theatre with animatronic scenery and players which performed 6 arias.  She loved to dress up and entertain her friends and even Dash her beloved dog was often in costume.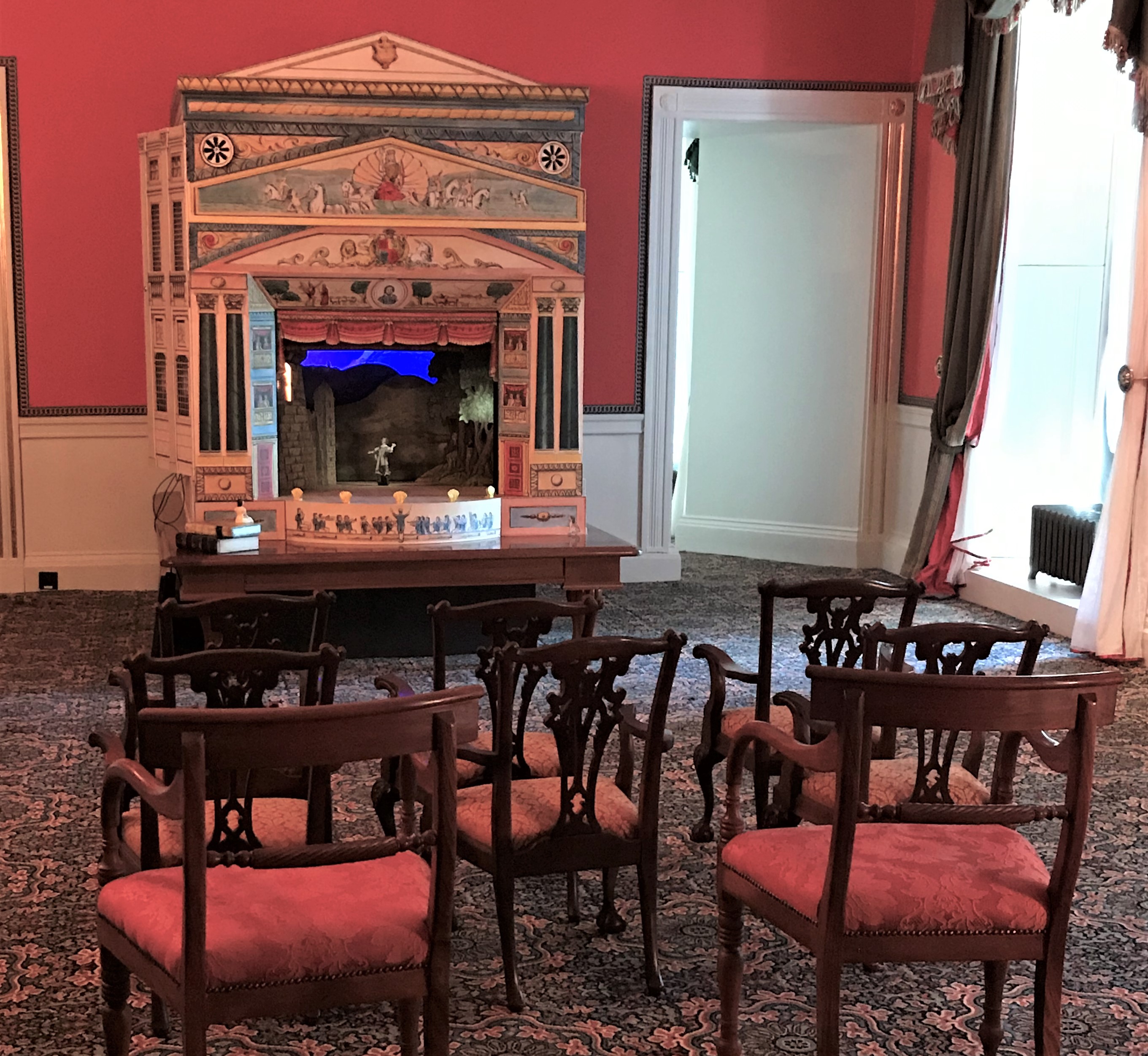 She was indulged as a small child although the arrival of Louise Lehzen her governess at the age of 5 brought some quiet discipline.  We read of her unruly behaviour and how those around her worked to tame it and regulate her life.  The 'Kensington System Rules' are famous for being the restrictive approach imposed on Victoria as she was growing up.   They are hanging up on show and include this stern note 'She is not allowed to spend time with another adult or child with Lehzen or the Duchess (her mother) present'.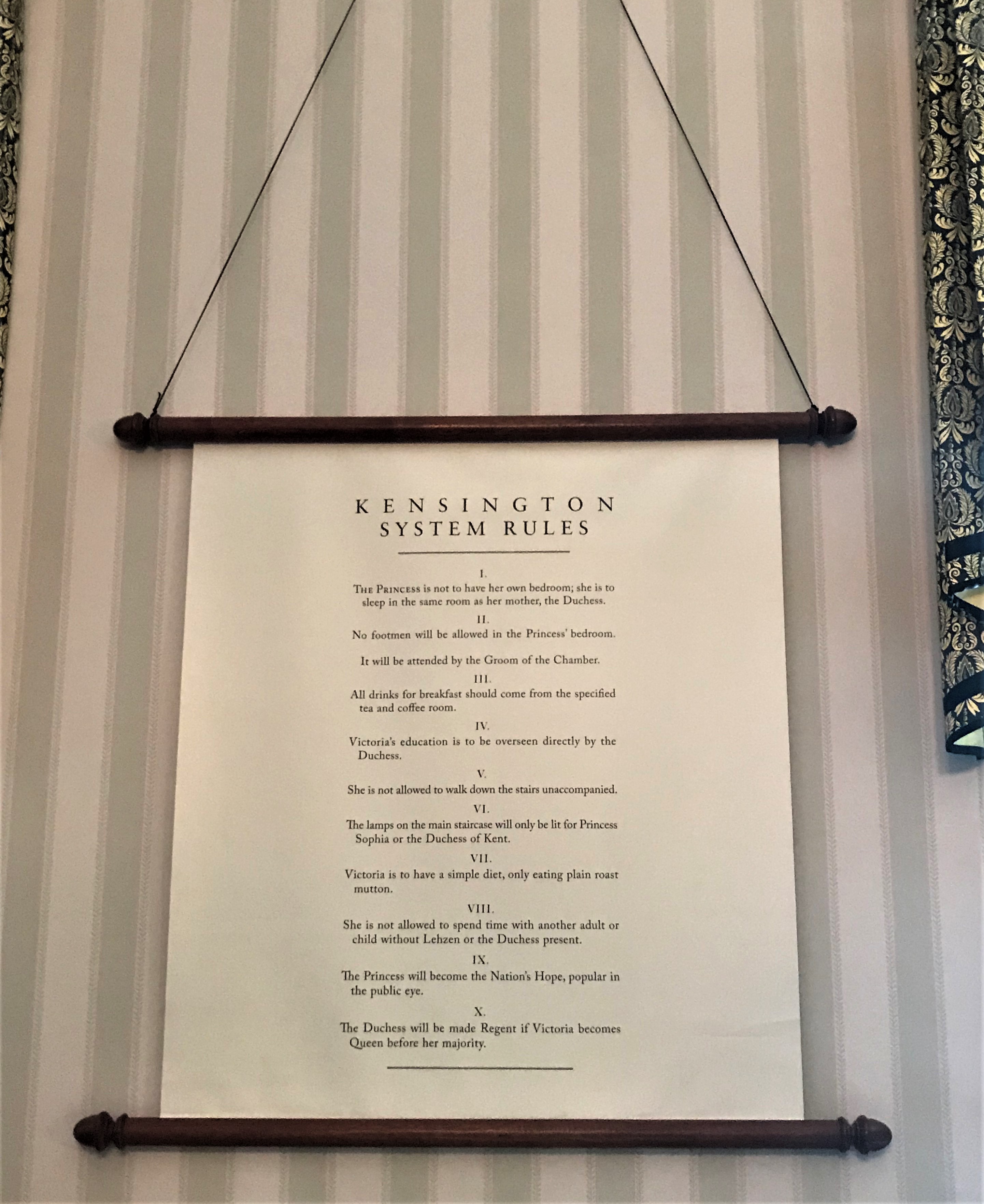 Victoria undertook extensive tours of her future kingdom as her mother wanted her to be seen and loved. On the road for tours and holidays, Victoria wanted her home comforts and her bed which travelled with her is on display next to a map of some of her tours.  The extraordinary story of how the bed returned to Kensington Palace is worth a mention.  An auctioneer in Devizes was selling it in and an eagle-eyed member of the Historic Royal Palaces team spotted an advert for the auction so they swooped in and £4,250 later it was back where it started.  It's hard to believe such a precious historic item could easily have missed being part of this exhibition.
Her birth took place in the palace but only just, as her mother was away in Germany and had to be rushed back so her baby could be born in England.  At her birth, Victoria was 5th in line to the throne but 3 kings and 2 of their sons died in her first 18 years.  A shiny plaque marks her birth.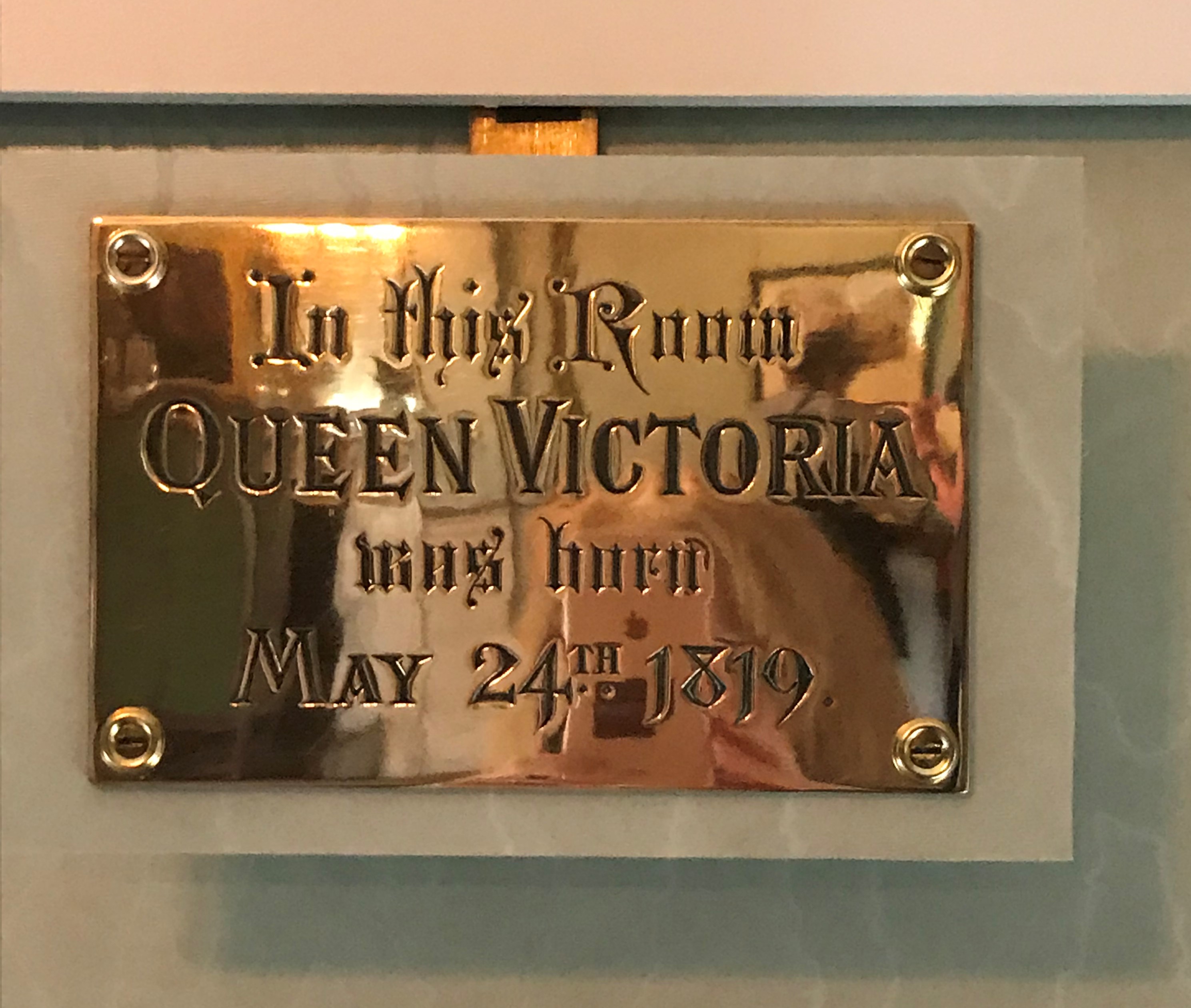 To escape the rigours of the Kensington System, Victoria went to the theatre and operas, visiting Drury Lane 3 times a week.   But responsibility came very early to Victoria and on 20th June 1837, her uncle died and she was woken up at 6 am to be told she was now the Queen and should get ready to meet the Privy Council in the Red Saloon.  In the cases around the room, we can see the documents signed on the day to confirm her position and on the table are models of the 97 Privy Councillors in attendance. She is said to have shown 'perfect calmness and self-possession' despite this daunting crowd.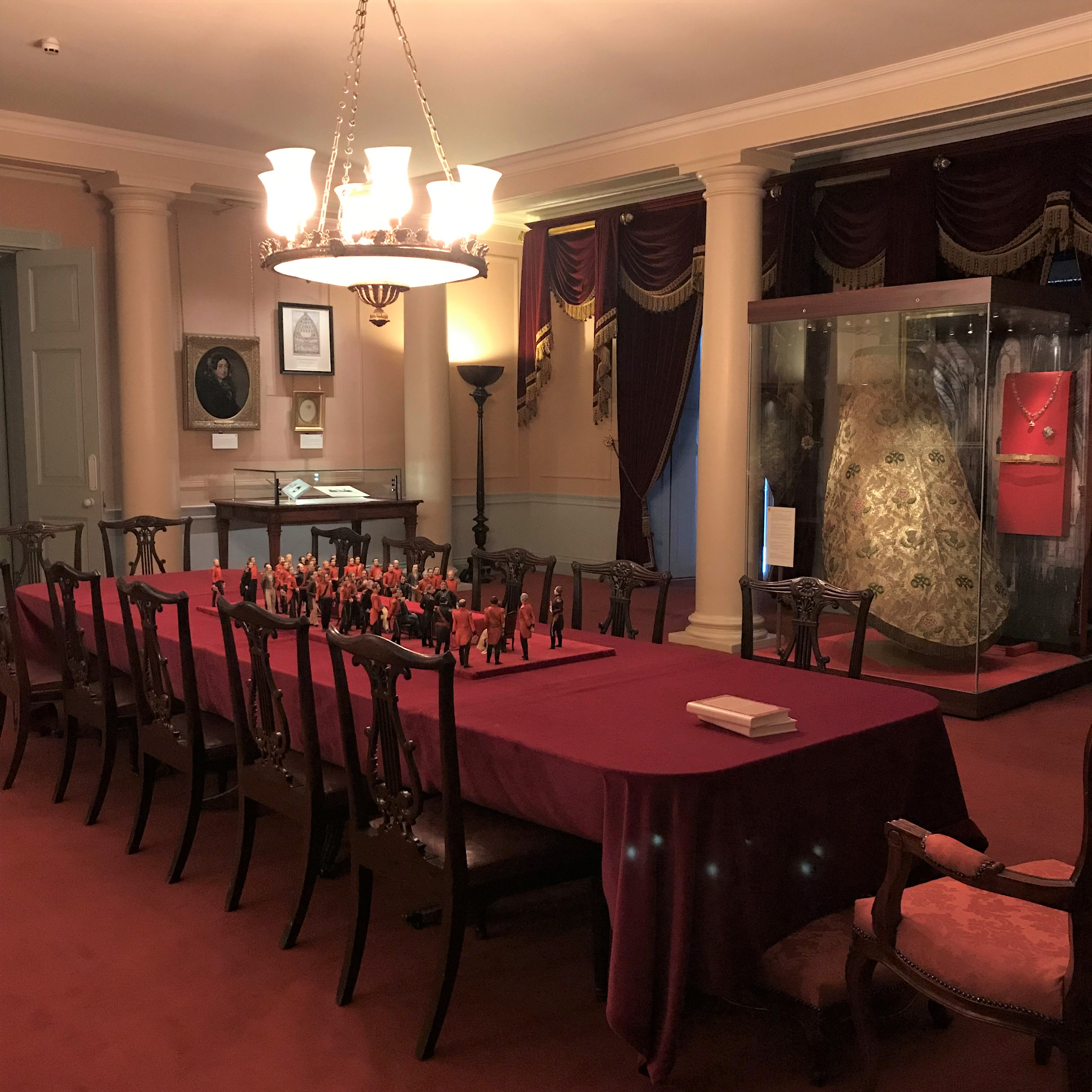 The famous love story between Victoria and Albert began on this balcony in Kensington Palace when, on 18th May 1836,  she caught her first glimpse of the love of her life. She wrote in her diary "Albert, who is just as tall as Ernest but stouter, is extremely handsome …., and he has a beautiful nose and a very sweet mouth"!  A light touch in the ballroom are twirling candelabras, one with Victoria and Albert dancing together forever.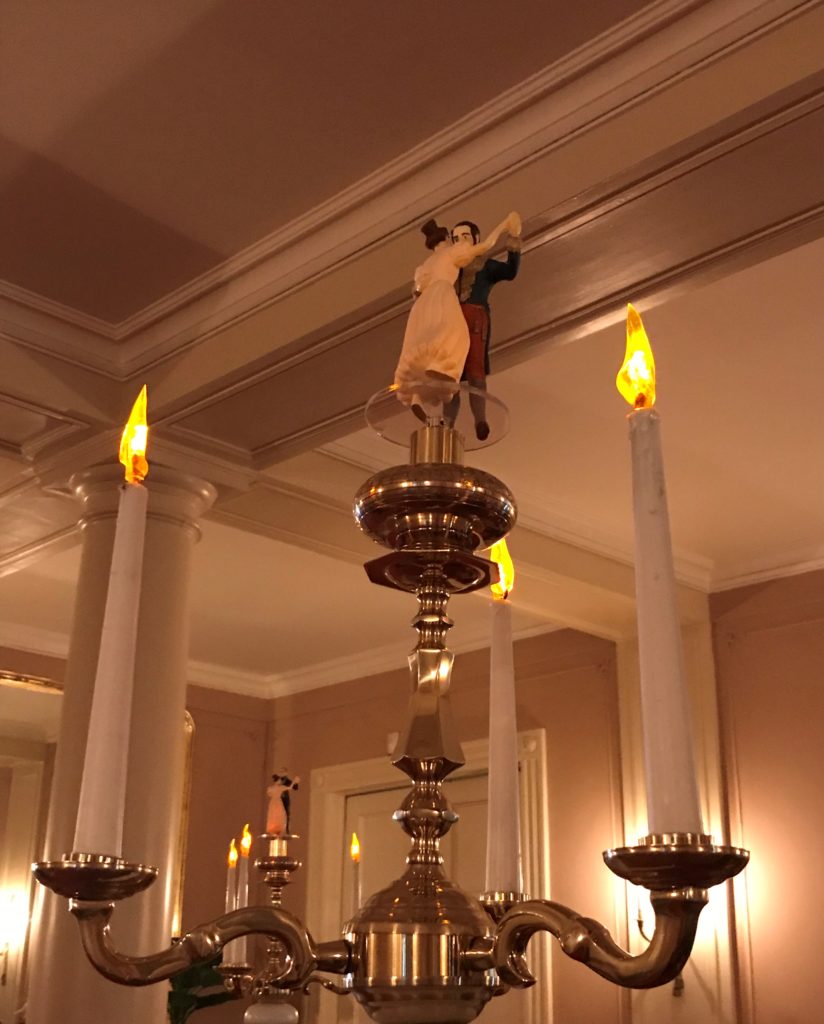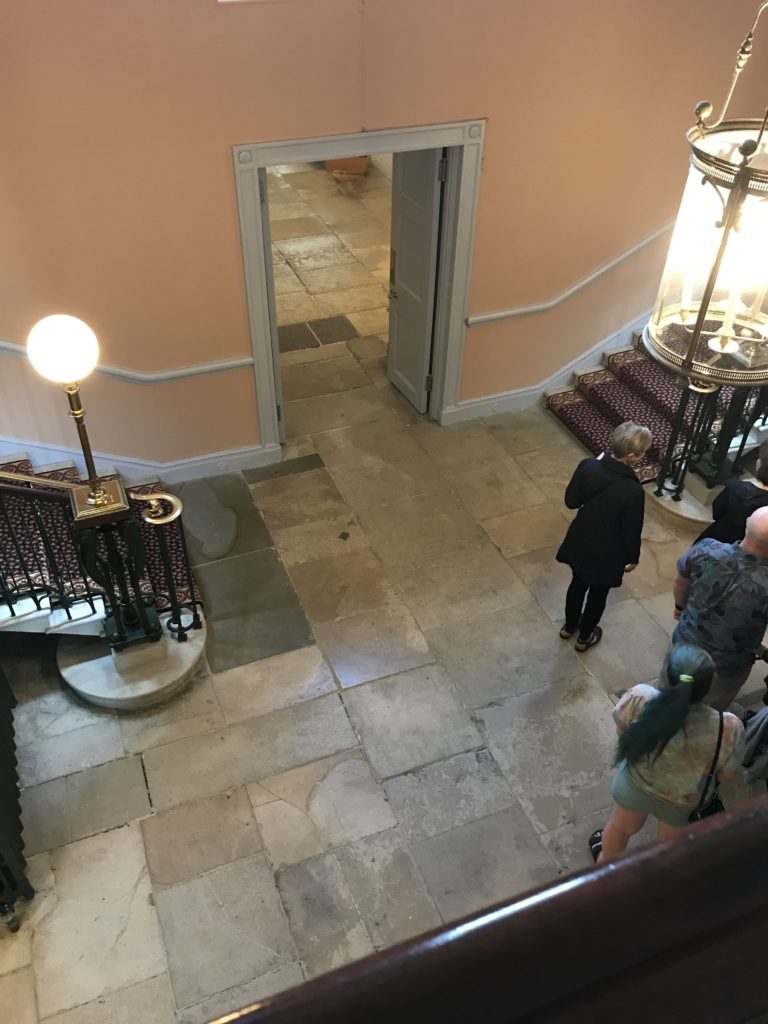 There is plenty more to see in all these rooms but don't miss the temporary exhibition (currently running till February 2020) called Victoria: Woman and Crown.  This explores her world as a wife and mother as well as Queen of the largest empire the world has ever seen.  Quotes on the walls give a wonderful insight to her thoughts, for example, her view of childbirth, especially relevant to a woman who bore 9 children!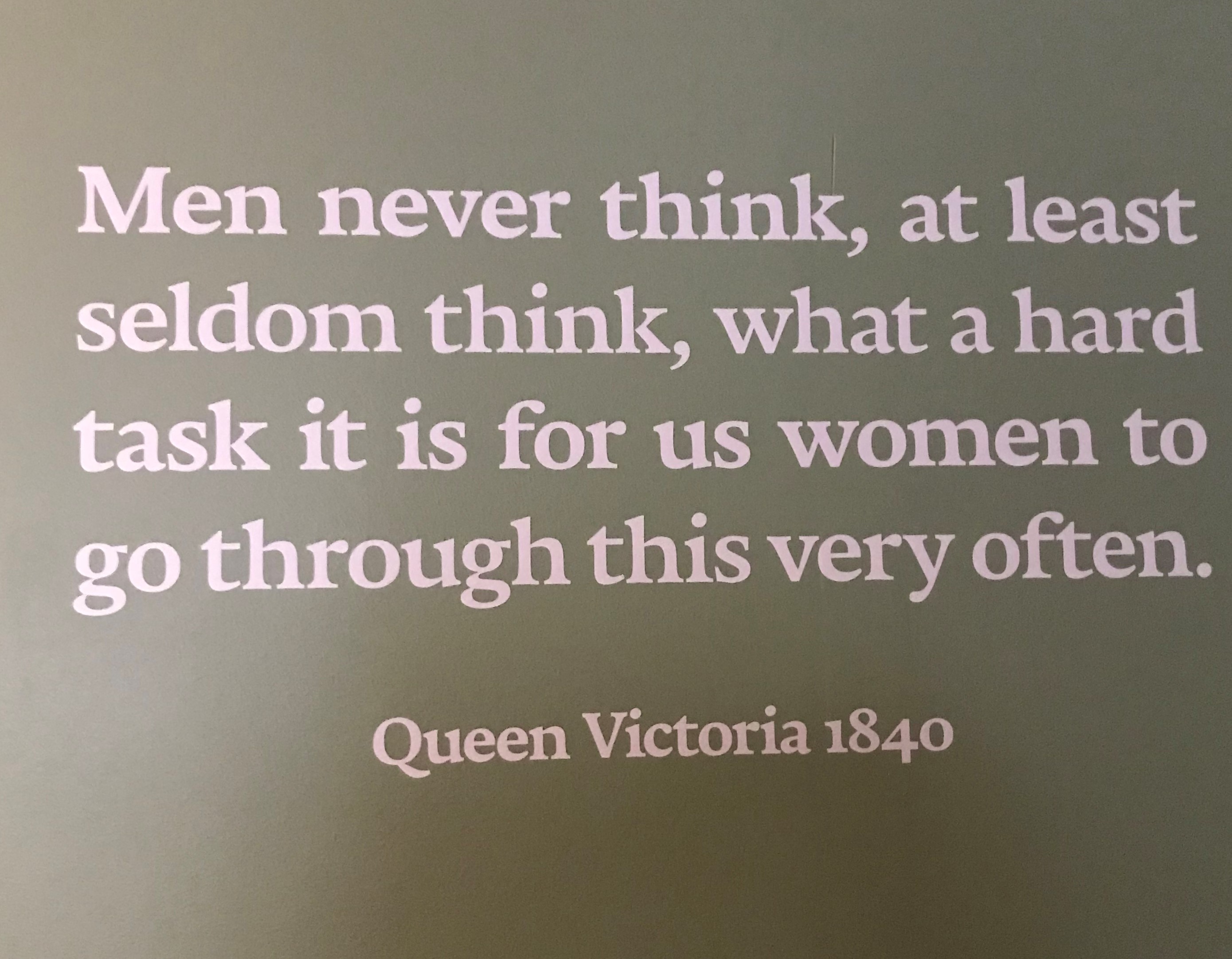 Her deep love of Albert is on show, as is her love of her children.  She is often thought to have been a distant mother but there is strong evidence here to the contrary through another touching quote.  A wall of etchings by Victoria and Albert were a surprise to me and this one of her daughter Victoria with her nurse is by Victoria herself.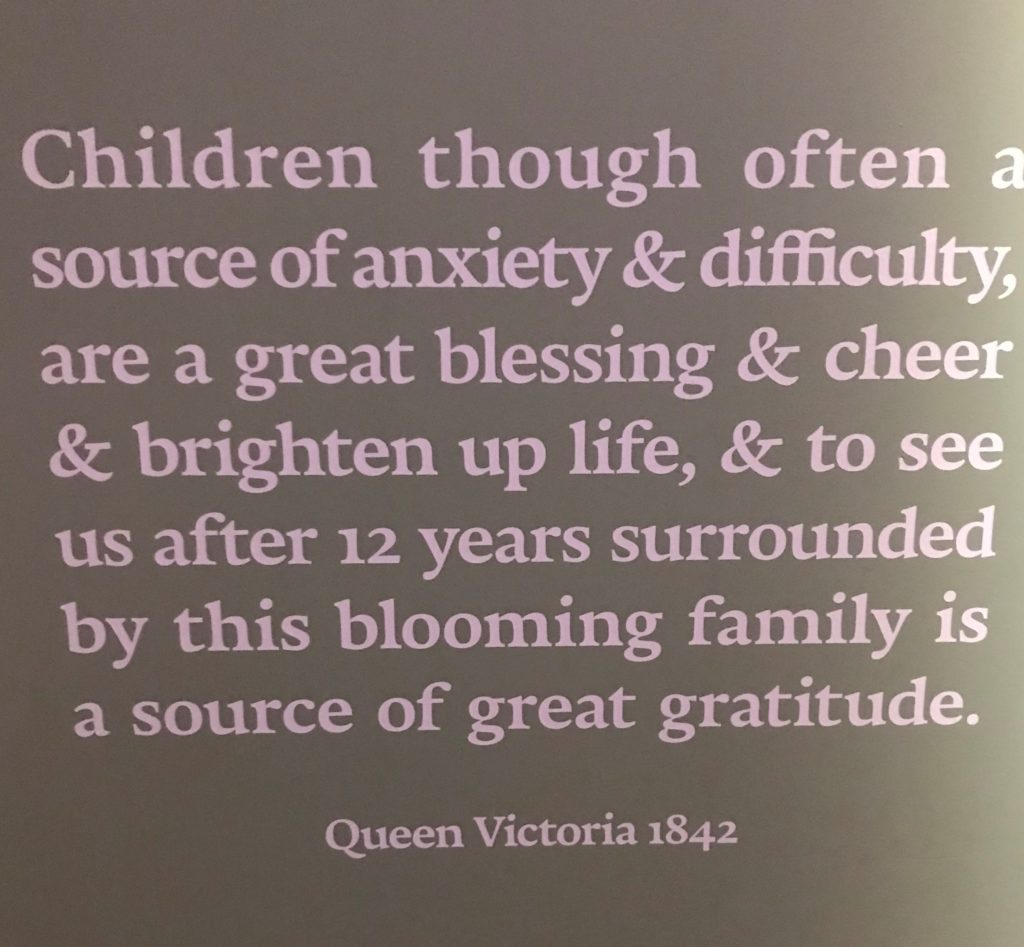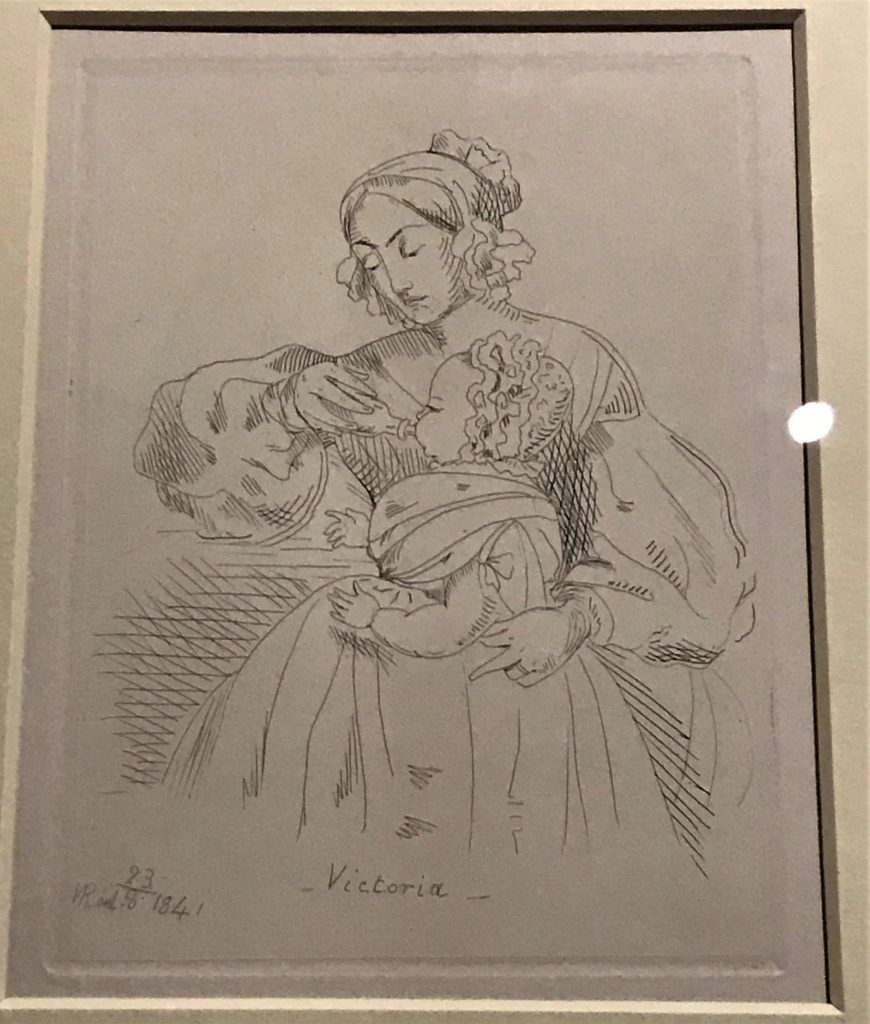 We learn of her love of decorative clothing, even in her widow's black dresses which used fine fabrics and trims of the best quality.  The exhibition has a room about the Empire and her fascination with India and in this section one of her fine widow's dresses incorporates Indian motifs in the organza and lace.  The second figures in this photo are Adbul (of the recent film) a servant who Victoria befriended, causing much suspicion among her family members.  We also learn that she took lessons in Urdu and wrote some of the diaries in the language, showing her intellectual curiosity even in later life. She was sympathetic to the plight of the Indians although appalling famines occurred during her reign and can be blamed on the British.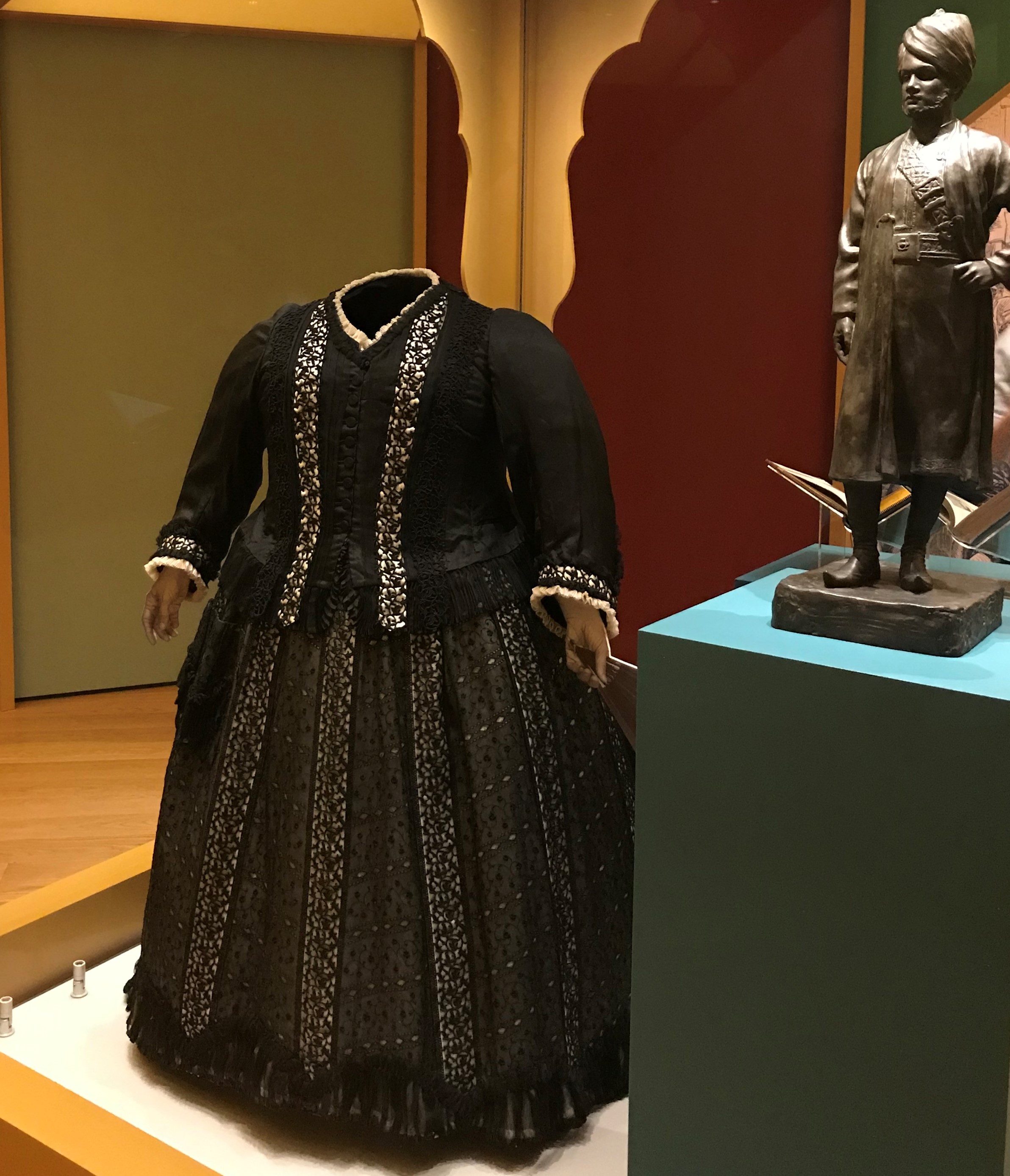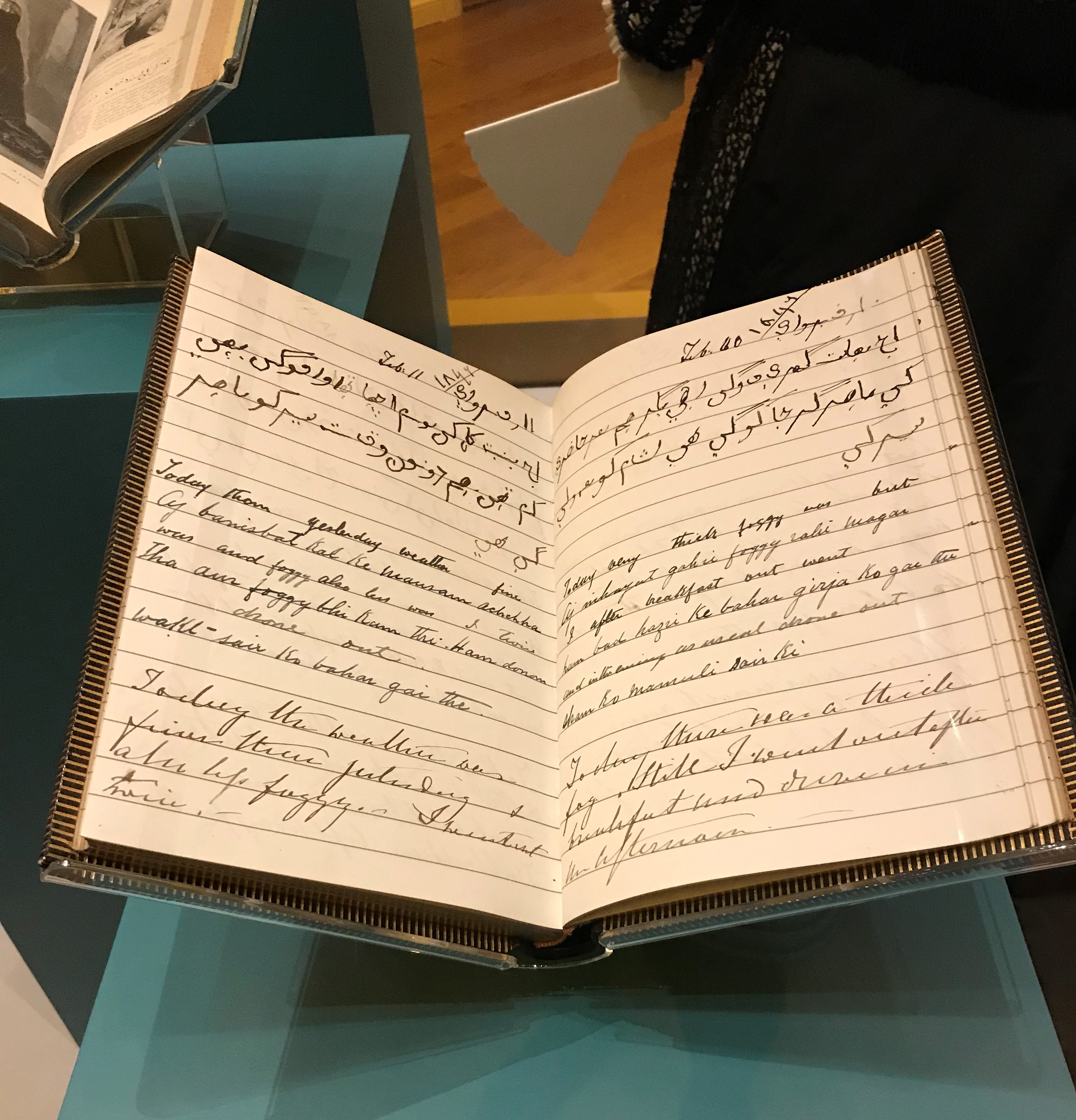 The temporary exhibition is a really good accompaniment to the Kensington Palace rooms and a chance to learn more about Victoria as Queen, mother, wife and Empress.
Don't miss the chance to 'wear' a precious tiara!  If you position yourself just right, with the help of a lovely Kensington Palace member of staff, you can take a photo with a tiara on your head: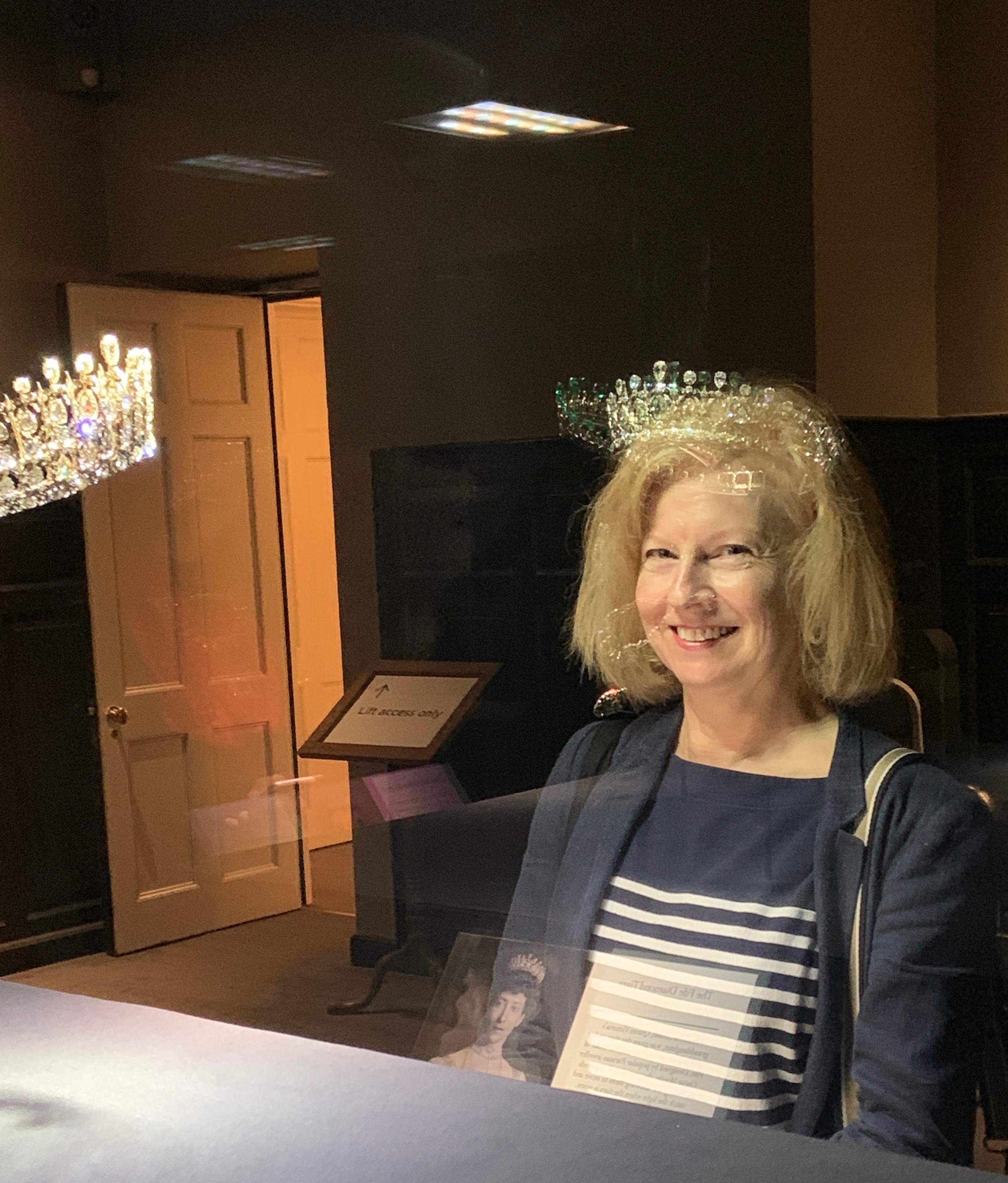 To find out more about visiting Kensington Palace and their Victoria exhibitions, check their website.
Full disclosure:  I was invited by Kensington Palace to visit these exhibitions for purposes of a review. This has not influenced my views but I feel transparency is important.