Seven friends enter a tapas bar, they stare at the menu and ponder the big question: how to chose, how many dishes each, who wants which dish, do we all like the same things? We don't have all day to make these big decisions. Then it came to us, there was an easy answer – order one of every dish on the menu! Except no one likes oysters so we drop those 3 choices and wait in anticipation for everything else to arrive.

We are in Duende, a new and rather chic tapas bar in Covent Garden from the co-founder of Bravas in St Katherine's Dock which I reviewed in 2014 and still rates as one of my top tapas bars in London. Duende is small and beautifully designed yet big enough to house a table of seven and still have room for a couple more tables and bar and window counter space. A single room serves as restaurant, bar and kitchen so each dish arrives freshly cooked and carried just a few feet to your table.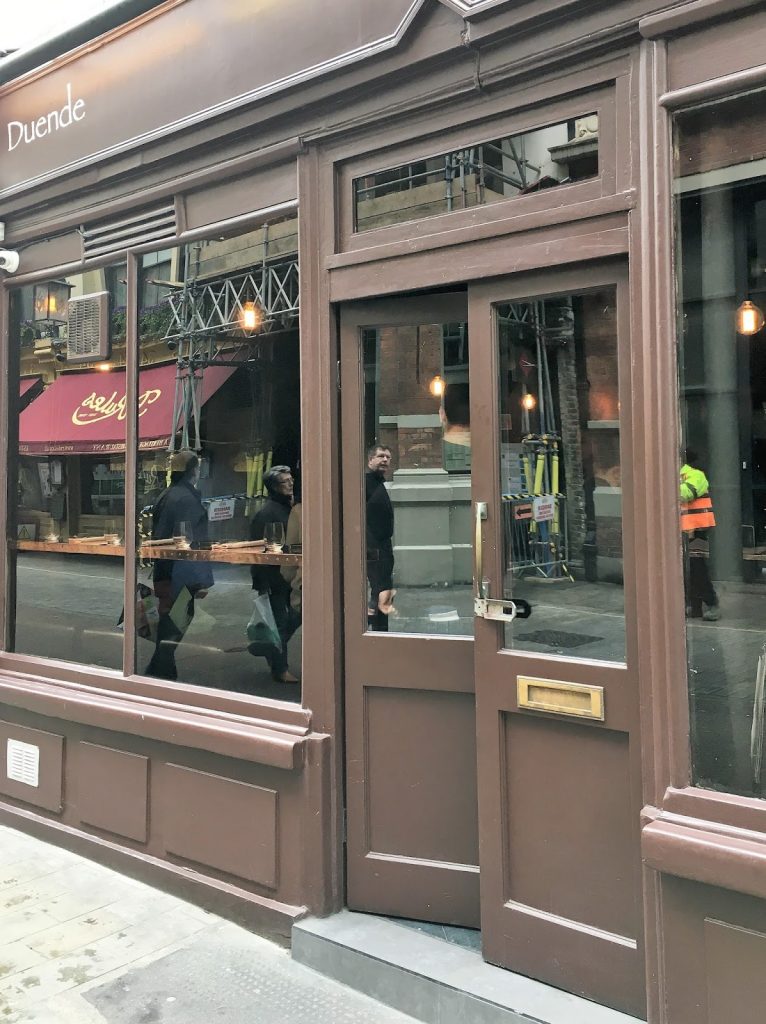 Join me now for a tour of the menu, although the range of dishes on offer change so you may miss some of our favourites when you go.
Our first dish was Galician Seaweed salad with avocado and piquillo pepper vinaigrette. Immediately we were feeling positive about the place with this beautiful and healthy dish packed full of flavour with and a riot of colours.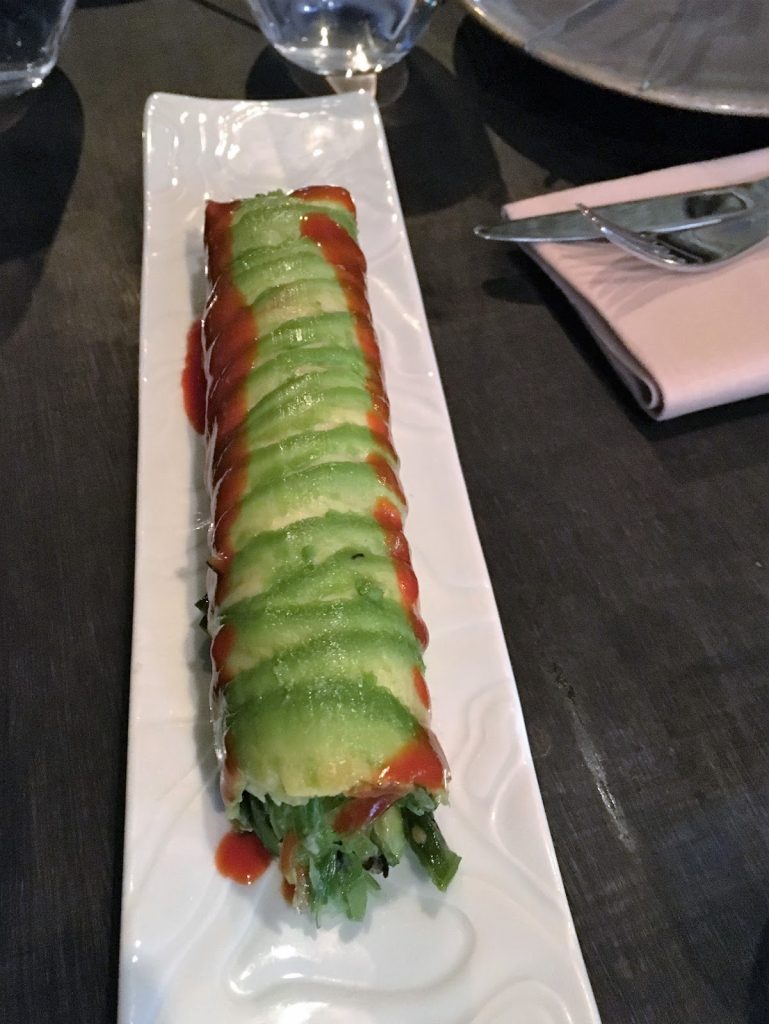 Grilled Aubergine and Goat's Cheese Croquettes with crystallised acacia honey had me slightly worried as I'm not always a fan of the aubergine but the mixing of the purple (yes a Prince reference!) veg and the cheese was a perfect blend topped decoratively with the lightest of crystallised honey.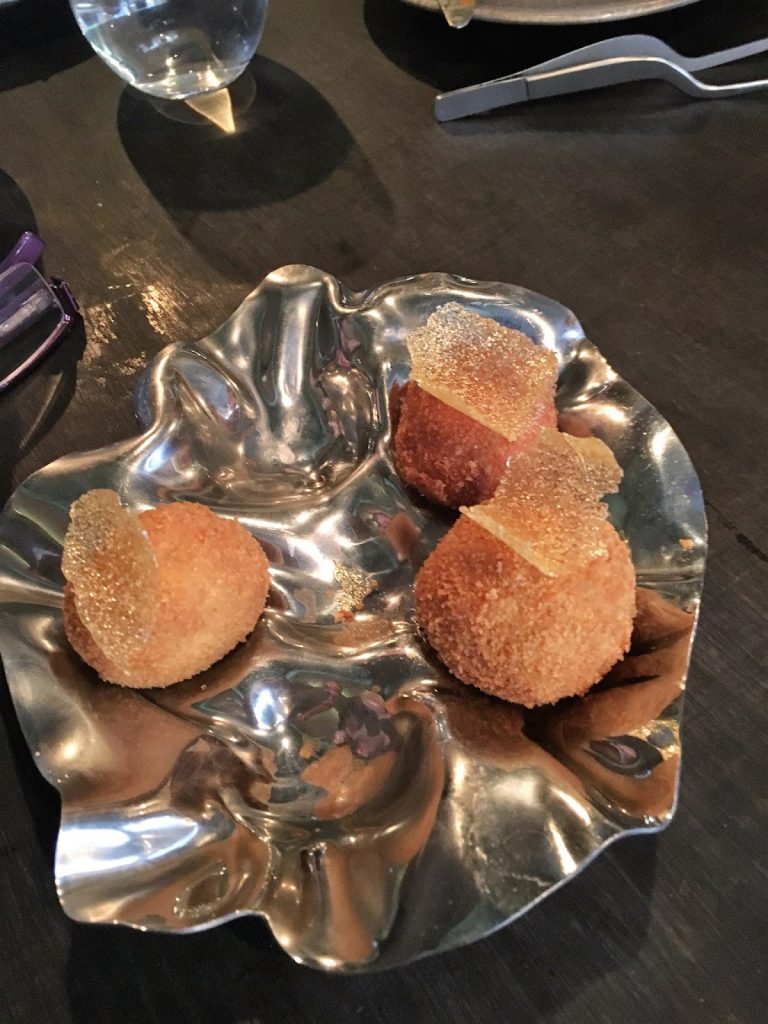 Pacharan Marinaded Salmon Rulada with crispy sweet potato, red onion escabeche and wasabi aioli came next. These had good texture and a long way from the standard salmon roulade, showing off the Pacific fusion touches we found in other dishes here.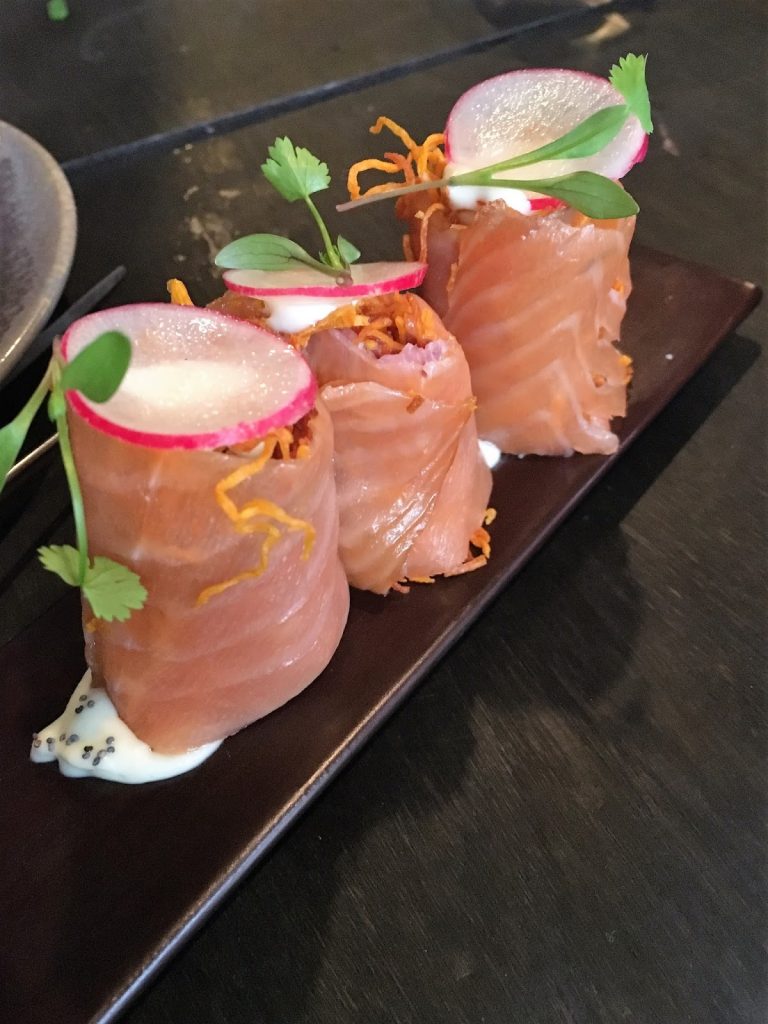 Then we had Semi-cured Galician Beef Filet with pickled hon-shimeji mushrooms, roasted hazelnut and seasonal truffle and mushroom vinaigrette. This was my least favourite but it seemed I was in a minority of one on this one so I perhaps I should not comment further!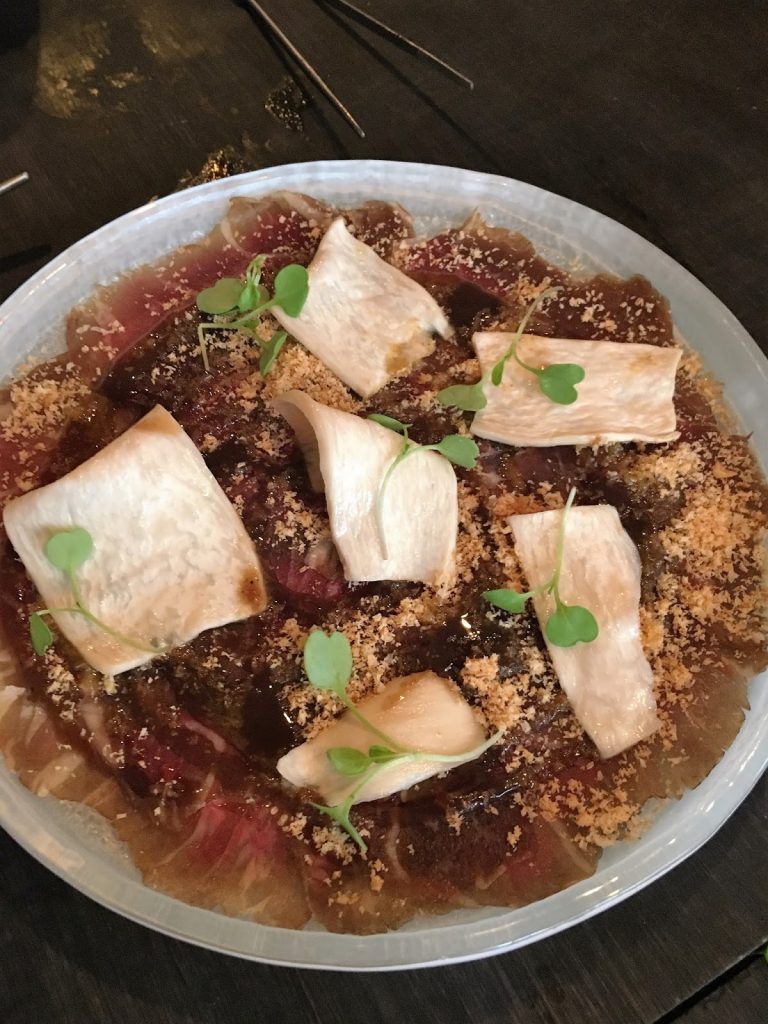 Blistered Padron Peppers with aji amarillo and roasted garlic dip, and charcoal salt. was eagerly anticipated.  I've have tested many Padron peppers all across London and can pronounce these among the best, with a great dip and plenty of crunchy salt.  The serving dishes were fun too, looking like paper but were solid china pieces.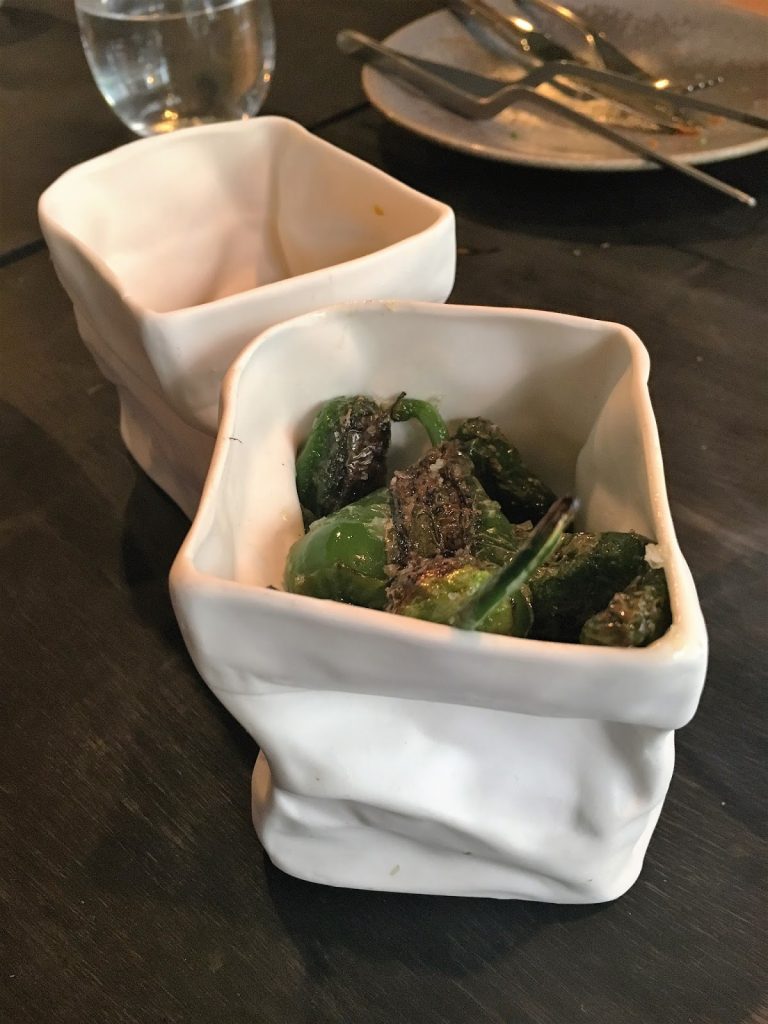 Poached Duck Egg with smoked potato, truffle and grilled bread was next. We needed more bread which was supplied without any question as the cooked just right egg demanded to be soaked up.
Roasted Quail with Iberian pancetta and Pedro Ximenez demi-glace was a fun dish. It was the presentation that really caught our attention with quail brochettes sitting in a nest with the demi-glace dipping sauce served in an egg sitting in the nest.
Crispy Tiger Prawns with kataifi, 'vi de panses' and tamari caramel and horseradish infused 'queso de Burgos' was our next treat. I had no idea what 'kataifi' was and it turns out to be the sort of shredded wheat type pastry you find on Greek deserts. This gave a good crunch to the prawns.  At the risk of sounding like a fussy eater, I have to own up to hating horseradish but those who love it really enjoyed the zing it gave the cheese. I also had to check what 'vi de panses' is and found it to be a sweet wine from Catalonia which was blended into the dish.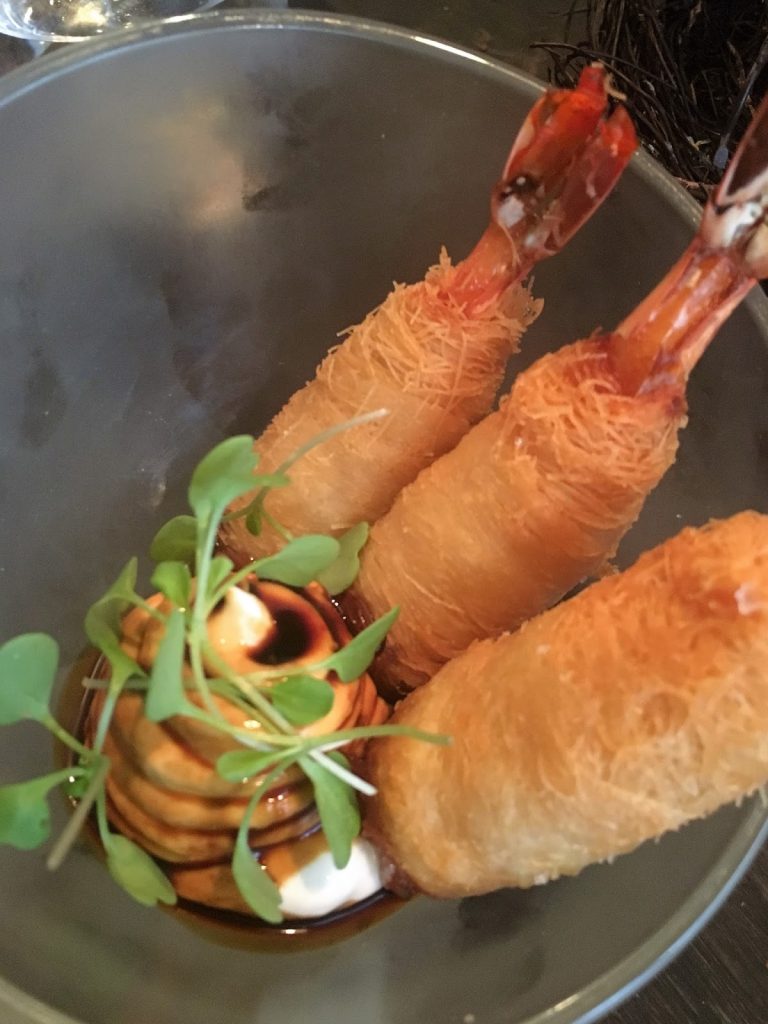 Lamb chops with rosemary and tarragon aioli was a dish we had doubled the order for so, fortunately, we didn't have to fight over just 2 chops. I love lamb and particularly chops with a handle for ease of eating so this one was for me. The meat was great quality, soft and tasty and the simplicity of the cooking allowed this to come through with the delicate aioli accompaniment.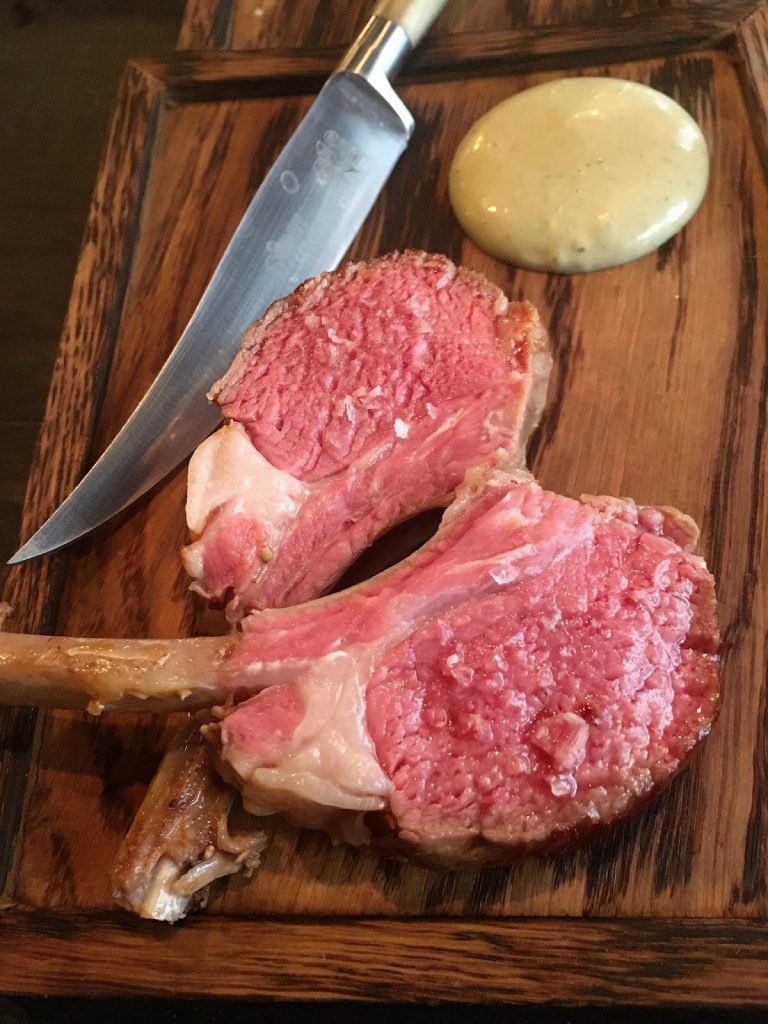 And finally, Velveted Turbot with cava and anchovy cream and morels.  This was definitely a favourite even though we were feeling pretty full up by now. The combination of good well-structured turbot with an amazingly smooth sauce full of flavour to complement the fish resulted in a vote for this as our favourite dish of all.
We squeezed in a share of the ice cream and almond caramel cookies but just a very small piece each!
Even the bill was beautifully presented! It was also a very reasonable price,  coming out at £22 a head without drinks but with coffee.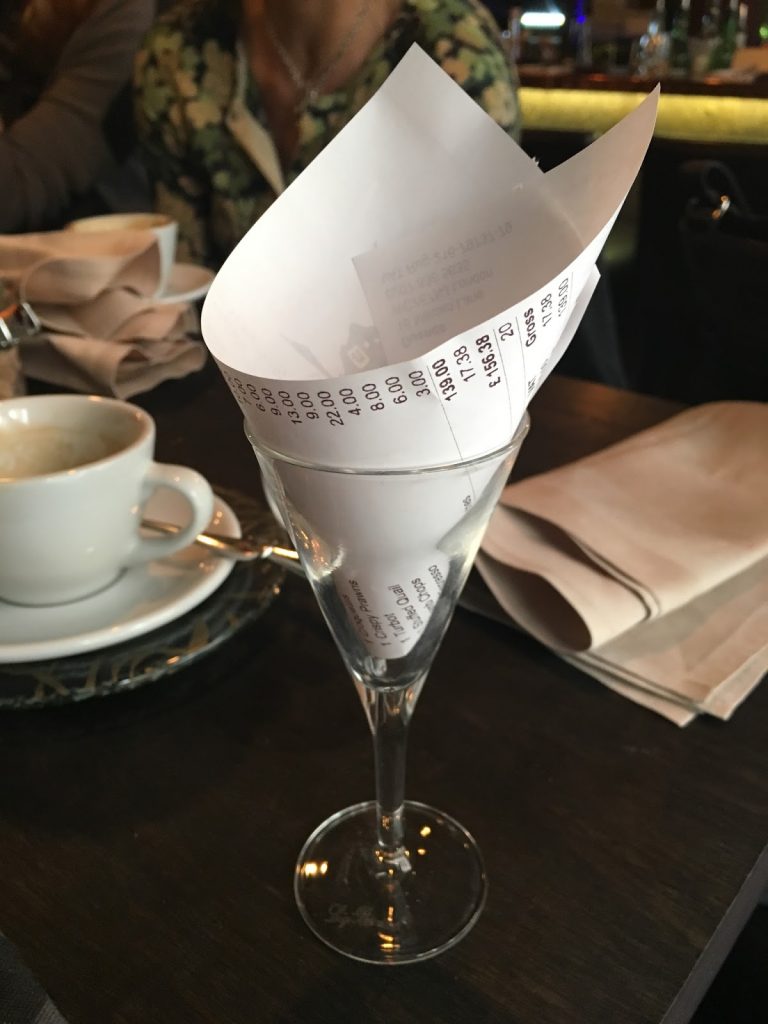 So, what was the overall verdict?  The room is lovely, the staff charming, the food outstanding and we were all checking our diaries to see when we were next anywhere nearby to engineer a return visit as soon as possible. I've not heard my group so enthusiastic about a restaurant for a very long time.
Check out Duende's website for more information.
Full disclosure: Myself and my 6 friends paid for ourselves.