The Queen owns priceless art treasures and thanks to her ancestors' collecting habits the Royal Collection is one of the largest and most important art collections in the world.
The Royal Collection contains the greatest collection of da VInci drawings, a group of 550 drawings that have remained together since his death in 1519 and rarely shown so they are in excellent condition.  At his death in 1519, Da VInci left all his drawings to his pupil Francesco Melzi who kept them faithfully until his own death when the sculptor Pompeo Leoni acquired them and mounted them in at least 2 albums. By 1630 one of the albums had reached England into the collection of the Earl of Arundel until around 1670 when Charles ll acquired it, perhaps as a gift from the Earl but 'acquired' is a little vague in the royal context! King Charles II was keen buyer and acquirer of art and his interest in these drawings was a master stroke.  In the 1900s they were removed from the album but luckily it was kept and preserved and here it is, on proud display.  Its contents remain an unbroken group as they were in 1519.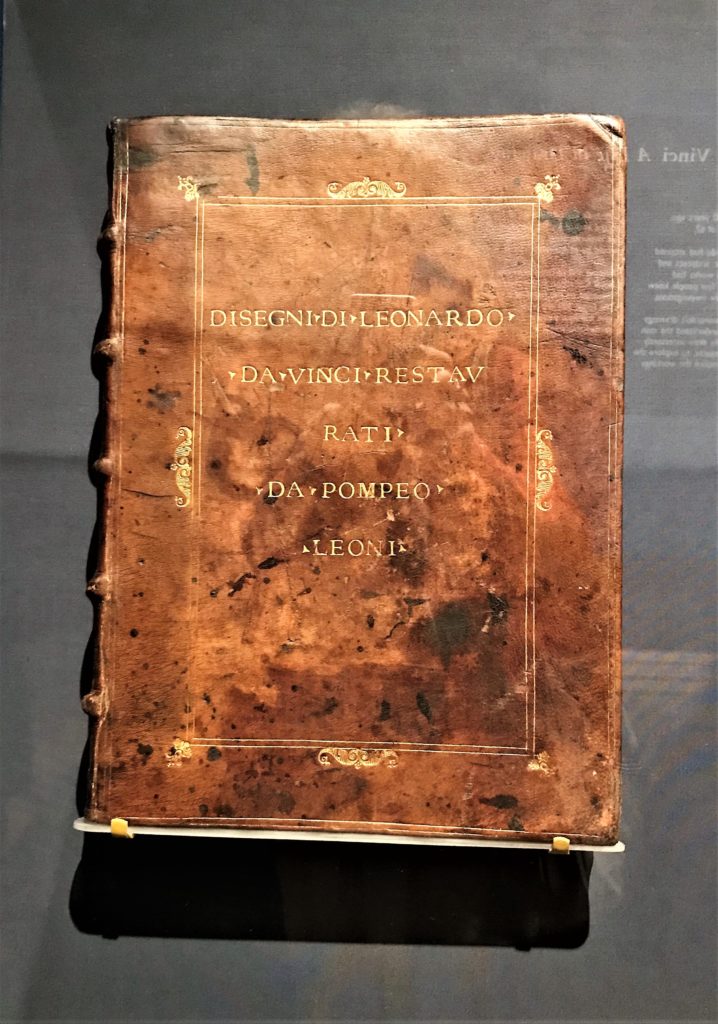 Why should we be so interested in Leonardo da Vinci's drawing when he produced so many other much more famous works?  Da Vinci was an artist who did not find it easy to finish his work and only completed about 20 paintings, masterpieces tho they are. He was also renowned as a sculptor and architect but no piece of sculpture nor buildings survive.  His civil engineering projects were never realised, his scientific treatises were never published and his inventions did not fly.  What does remain for us to marvel over are his preparatory drawings for all the work just listed and these are breathtaking.  The drawings give us a way into understanding his greatness not only as an artist but as a scientist and thinker,  one of the greatest Renaissance minds.
A small selection of the drawings have been touring the UK, attracting over 1 millions visitors. Here at the Queen's Gallery, you can see more than 200 pieces, the finest from the collection,  making this the largest exhibition of his work for over 65 years.  The touring work and this larger exhibition are being staged to mark #Leonardo500, 500 years since his death.
The exhibition follows his life chronologically so we can see how he switches between projects and cities and follow the twists and turns of his life and his passions as they come and go.   He was born in Anchiano Itlay and lived in Florence, Milan, Rome and ended his life in France.
All the work on display is extraordinary but I was fascinated by his studies, where we see the detail of his preparation for his paintings.  Photographs of the finished work are displayed next to several studies of sections of the work.  The painting  of Madonna and Child with St Anne is a good example where we have the photograph then a study of St Anne's head and the drapery of the Madonna's arm.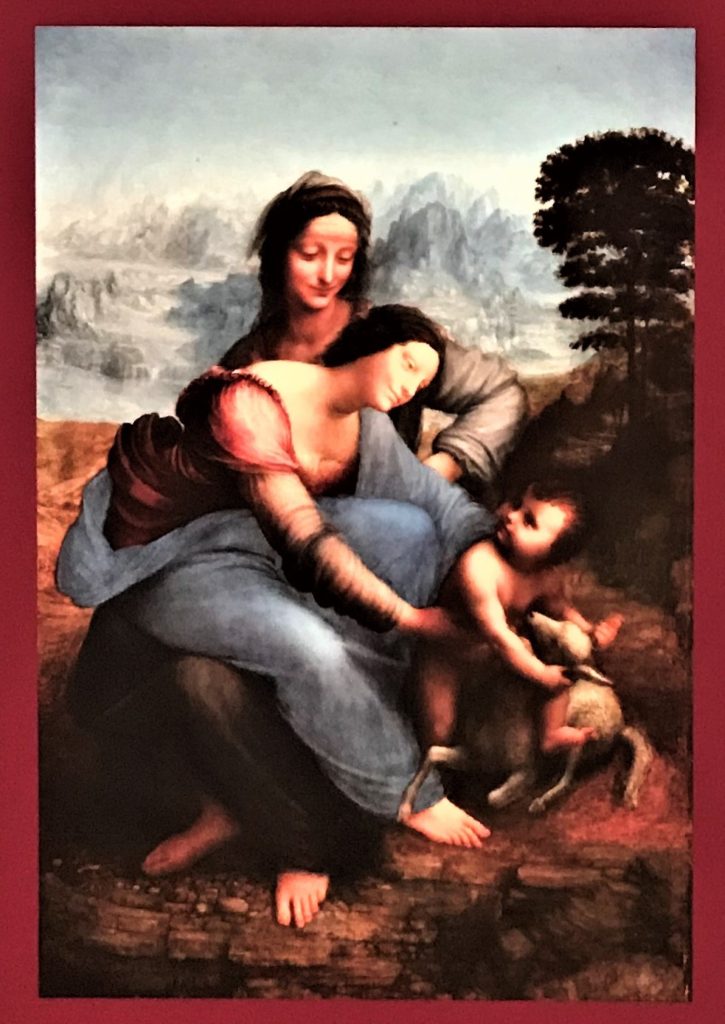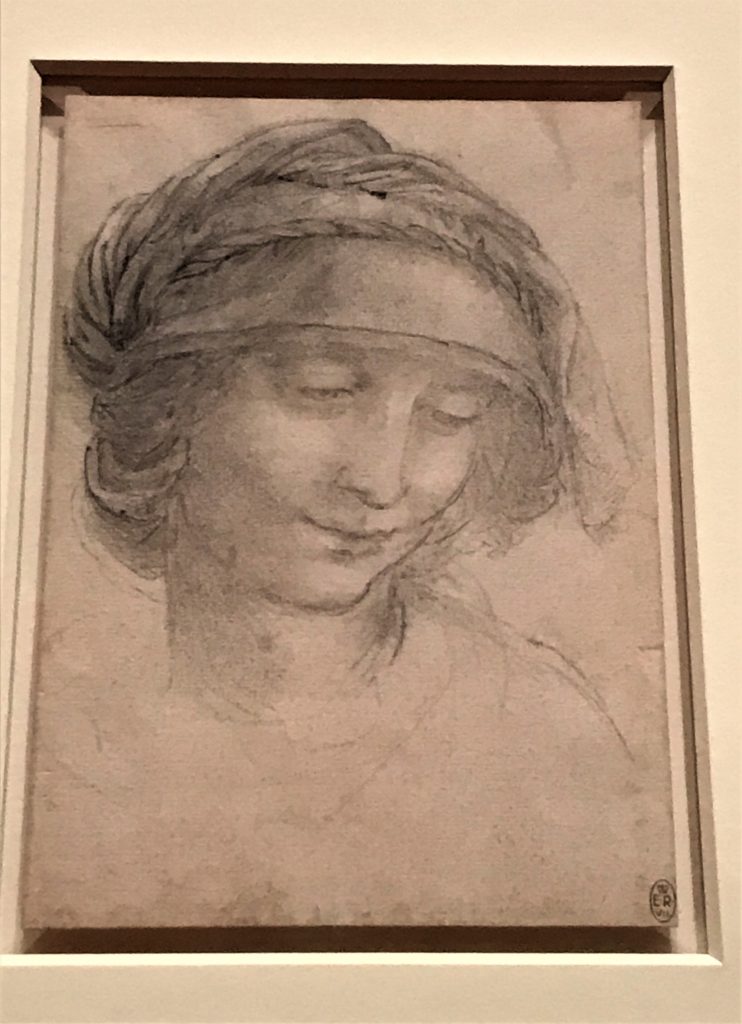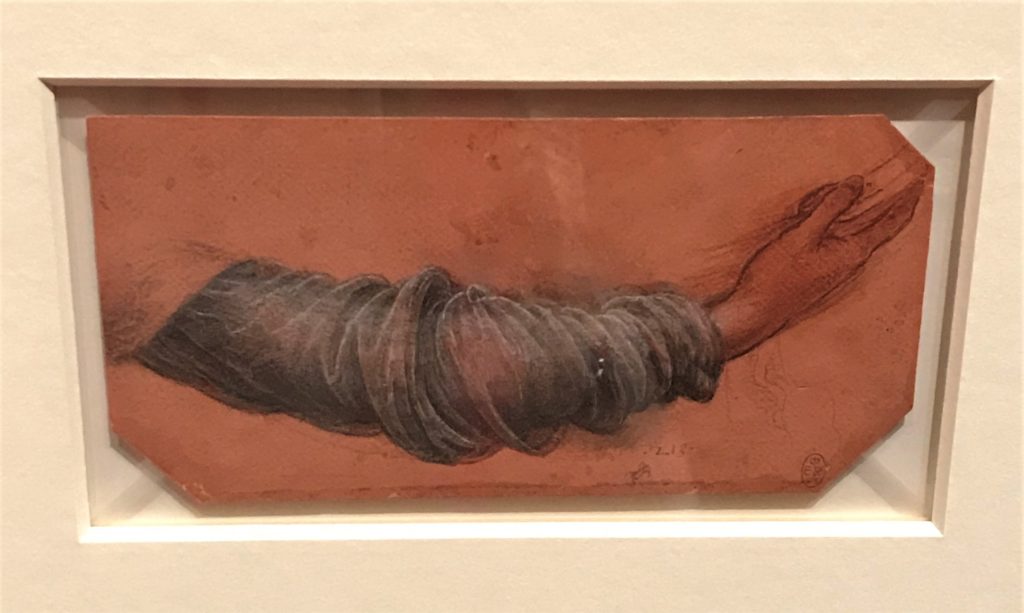 He rarely used colour so the drapery study is of particular interest as here he uses red and black chalks on orange-red prepared paper.  The exhibition gives us great insights to the materials he used and his tools. This case focuses on ink and his goose wing feather quill pens which is the tool he always used for drawing and writing.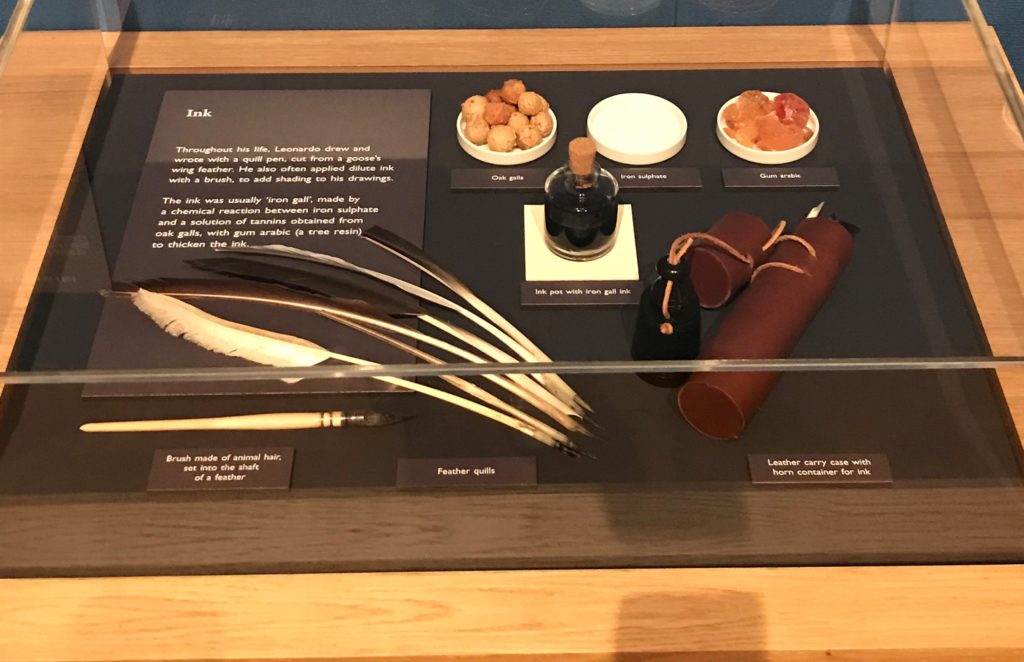 Da Vinci's curiosity about how the world works and his attention to detail were remarkable.  These are illustrated in 2 drawings I have picked out.  He wanted to understand how light falls onto the human face so he could use light and shade in his painting so made these studies of their geometrical principles.
He was a scientist whose studies of the human body were much aided when he was given permission to dissect corpses due to his success as an artist. He made over 240 detailed drawings of the human body to show its workings with notes in rather tricky handwriting.  He was known to use mirror writing with his left hand so as not to smudge his work – there was nothing he couldn't do! This photograph shows his mastery and understanding of human musculature.
There are so many fabulous pieces to try to cover in this post, reflecting the breadth of his work and I have not even touched on his interest in architecture, cartography, geology, botany and horses, which you can explore if you are able to visit this exhibition. So  I would like to finish with this study of 2 hands and bearing in mind that a photograph rarely does this work any type of justice, you can hopefully gain some idea of his genius.
I have had the privilege of seeing The Last Supper in Milan, a moment that I will never forget for it's beauty and power.  The fresco is in poor shape now but the genius is there for all to see.
The Queen's Gallery is situated next to Buckingham Palace and is on the site of the former palace chapel which was destroyed during the Blitz.  For information about the gallery and this exhibition Leonardo da VInci: A Life in Drawing check their website  https://www.rct.uk/visit/the-queens-gallery-buckingham-palace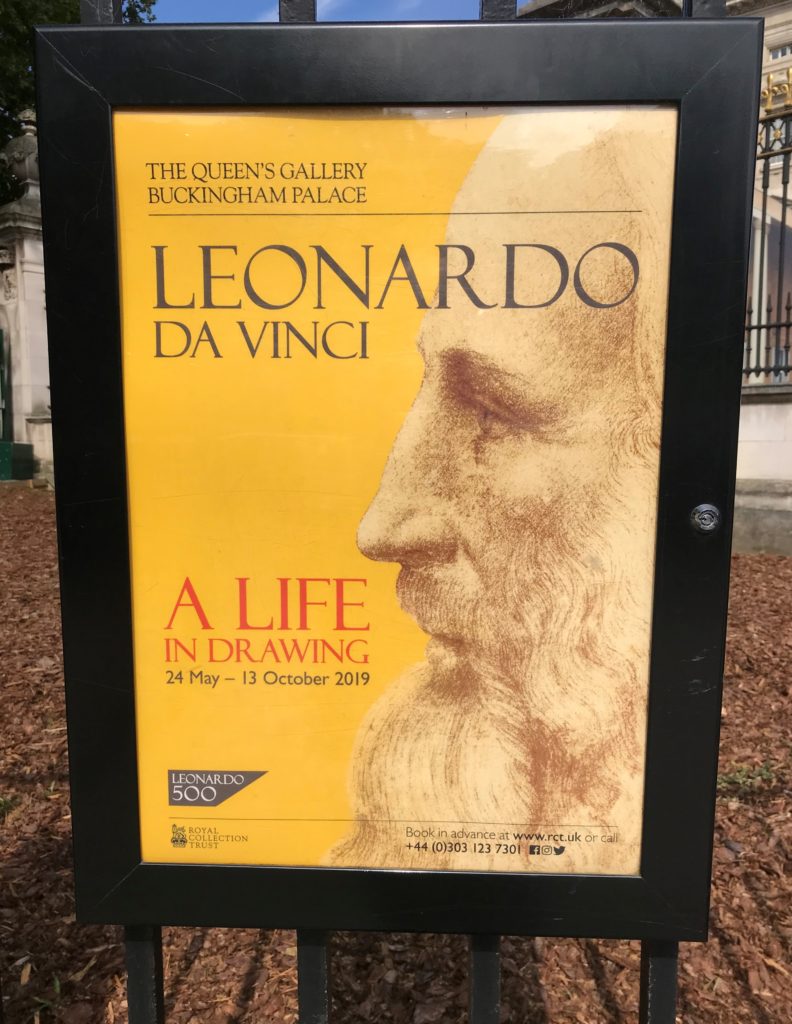 Full disclosure:  I was invited by the Royal Collection Trust to review this exhibition. This did not influence my view but I feel it is important to note this for transparency.