Scandals with the royals are nothing new and the George IV exhibition at the Queen's Gallery gives us a peek into his life showing us his good points and what made him popular and a figure of fun.  He was famous and unpopular because of his extravagant lifestyle, his womanising and drinking but his collecting habit has left us with an extraordinary legacy, some of which is on display in this exhibition.
He was one of the great collectors of paintings and decorative arts of his age but also the subject of much satirical ridicule for his lifestyle and for being out of touch with his people.  His reign was relatively short (1820-1830) but before this, he was Prince Regent as his father George III was deemed unfit due to his mental health so George the younger effectively ruled from 1811.  This exhibition features of over 300 works from the Royal Collection gives us new and rich insights into the life of George IV.
George was a big spender but he was able to pick up a good deal of art, furniture and ceramics after the upheavals on the Continent following the French Revolution flooded the market with work which had belonged to the French aristocrats.  The furniture is grand, elaborate and somewhat over the top!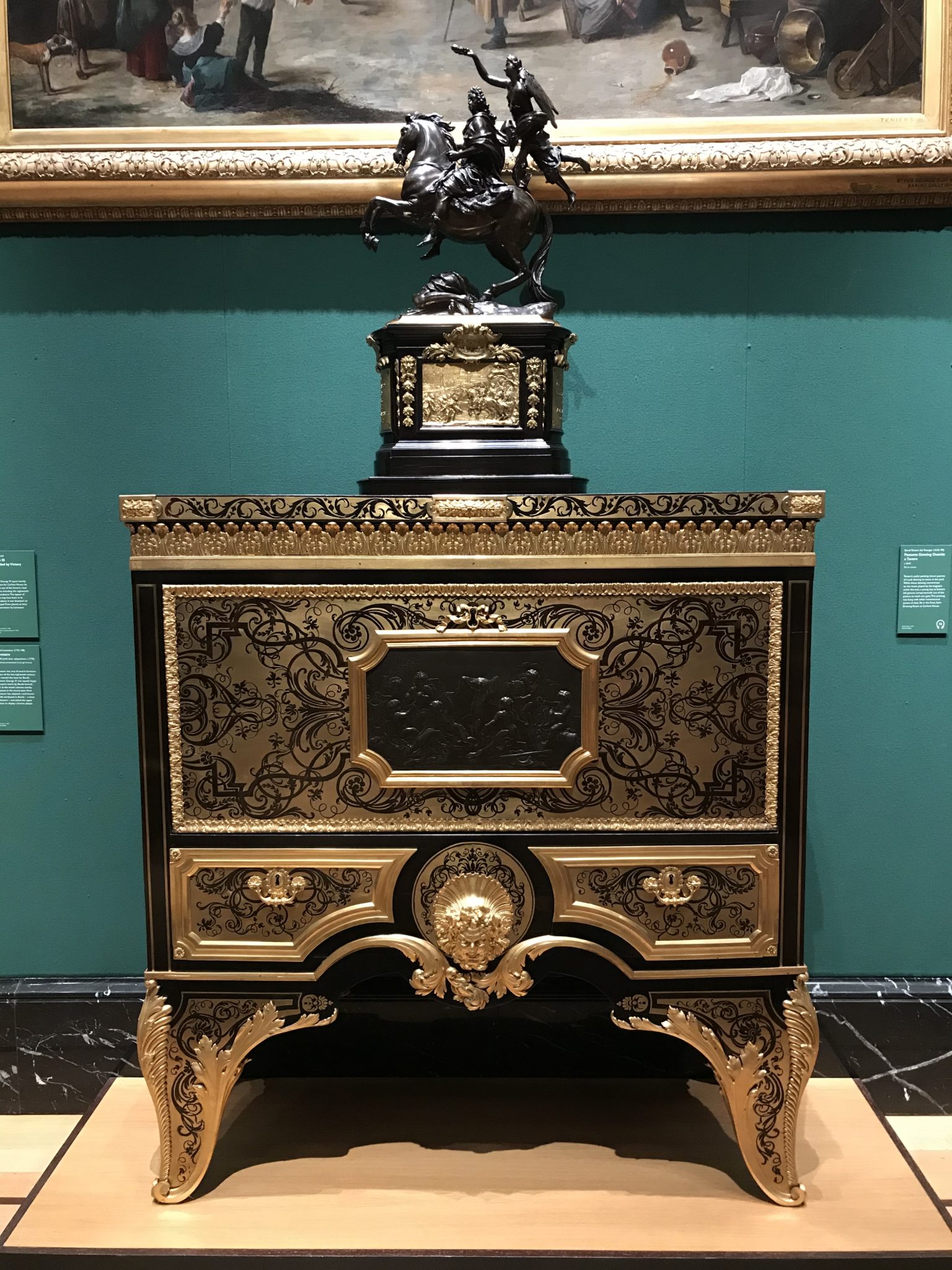 Rembrandt is one of my favourite painters and luckily George made significant purchases of Dutch art including this fine painting which was the single most expensive one that he bought at 5,000 guineas.   He was still Prince Regent at the time and was on a particularly extravagant spending spree, buying fine works for his house, Carlton House.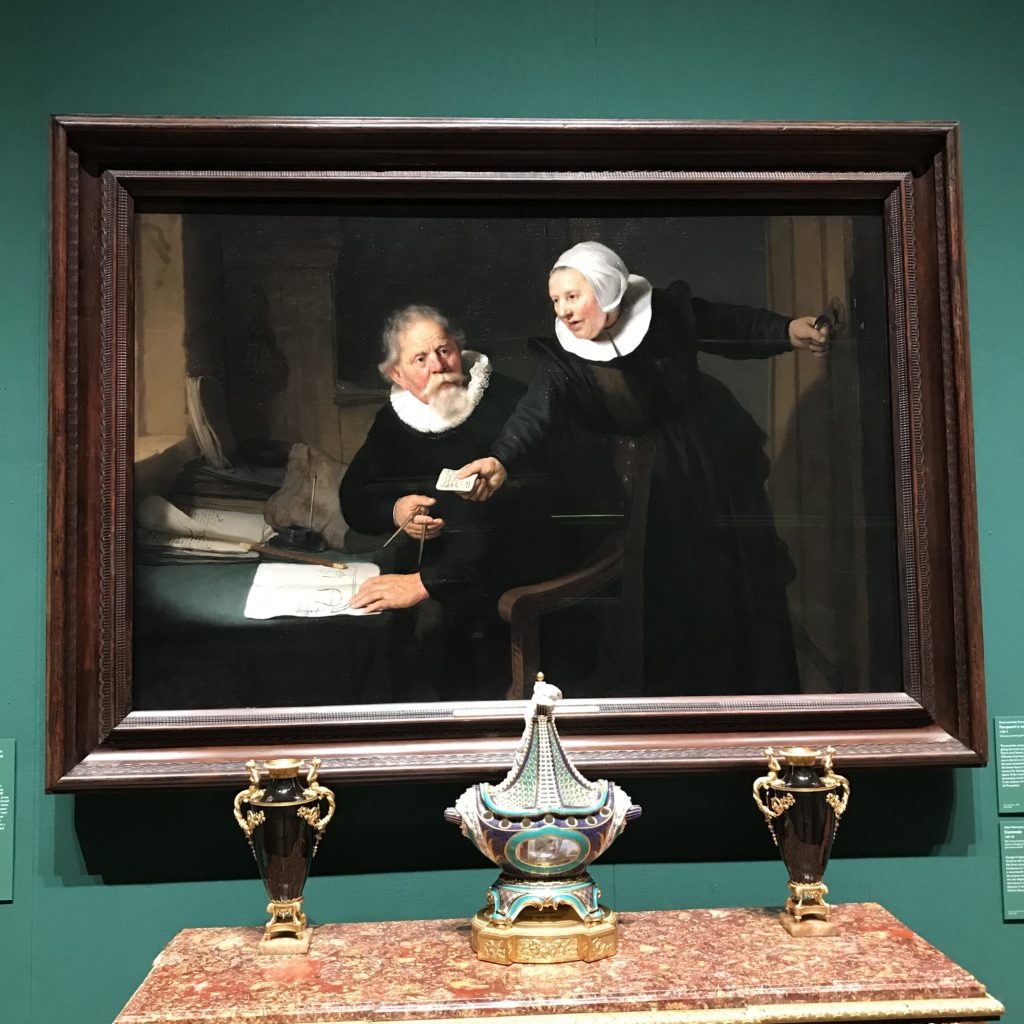 Family was very important to George and he collected portraits of his family,  his 14  siblings, his father George III and mother Queen Charlotte and ancestors like Charles I, however, his own marriage was unhappy so there are few portraits of his wife, Princess Caroline.  George and Caroline took an instant dislike to each other and separated soon after their wedding and thereafter George continued with his mistresses.  He had only one legitimate child, Princess Charlotte, who sadly died in childbirth two years before George became king,  so the crown went to his younger brother William on George's death. This wall of portraits features siblings and parents and one of his daughter Charlotte.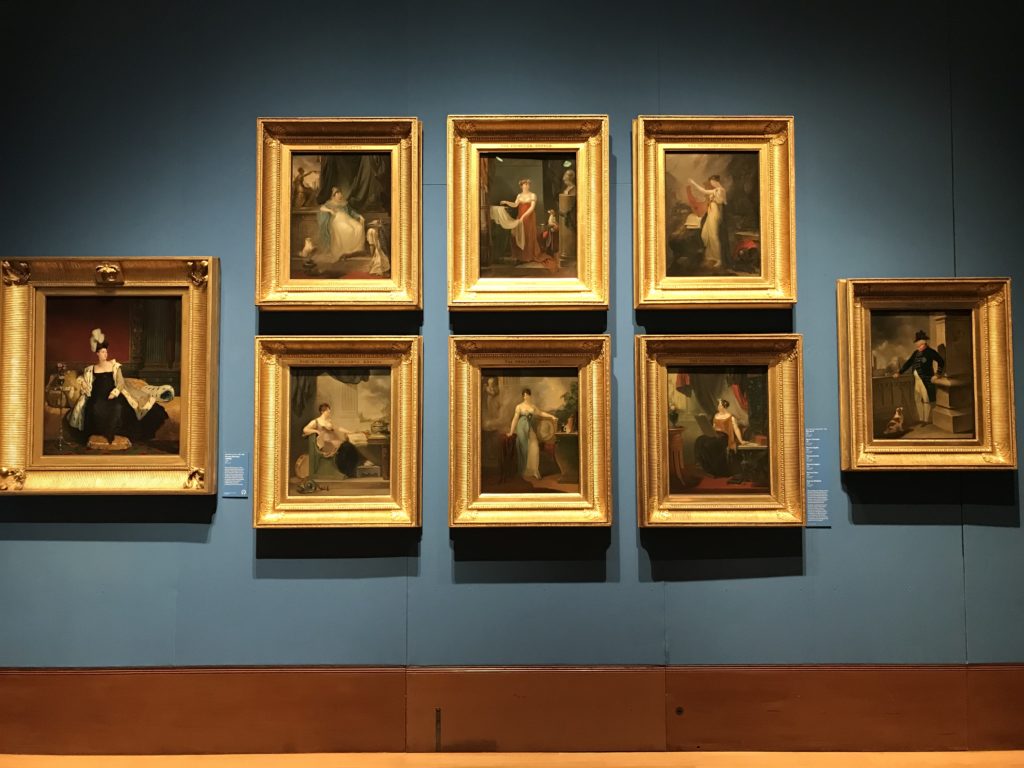 George III died in 1820 and George IV become king in his own right, planning an extravagant coronation. Crowns are an important part of the royal regalia and their job to impress which this crown certainly does with its 1333 diamonds.  George commissioned this Diamond Diadem which you might recognise as the one worn by our current  Queen in her portrait on every postage stamp. I  had never noticed the rings of pearls before – had you? It also has the flowers of national symbolism: roses, thistles and shamrocks.  He wore it at his coronation in 1821 during the procession to Westminster Abbey over a black velvet hat surmounted by ostrich feather plumes, what a sight that must have been!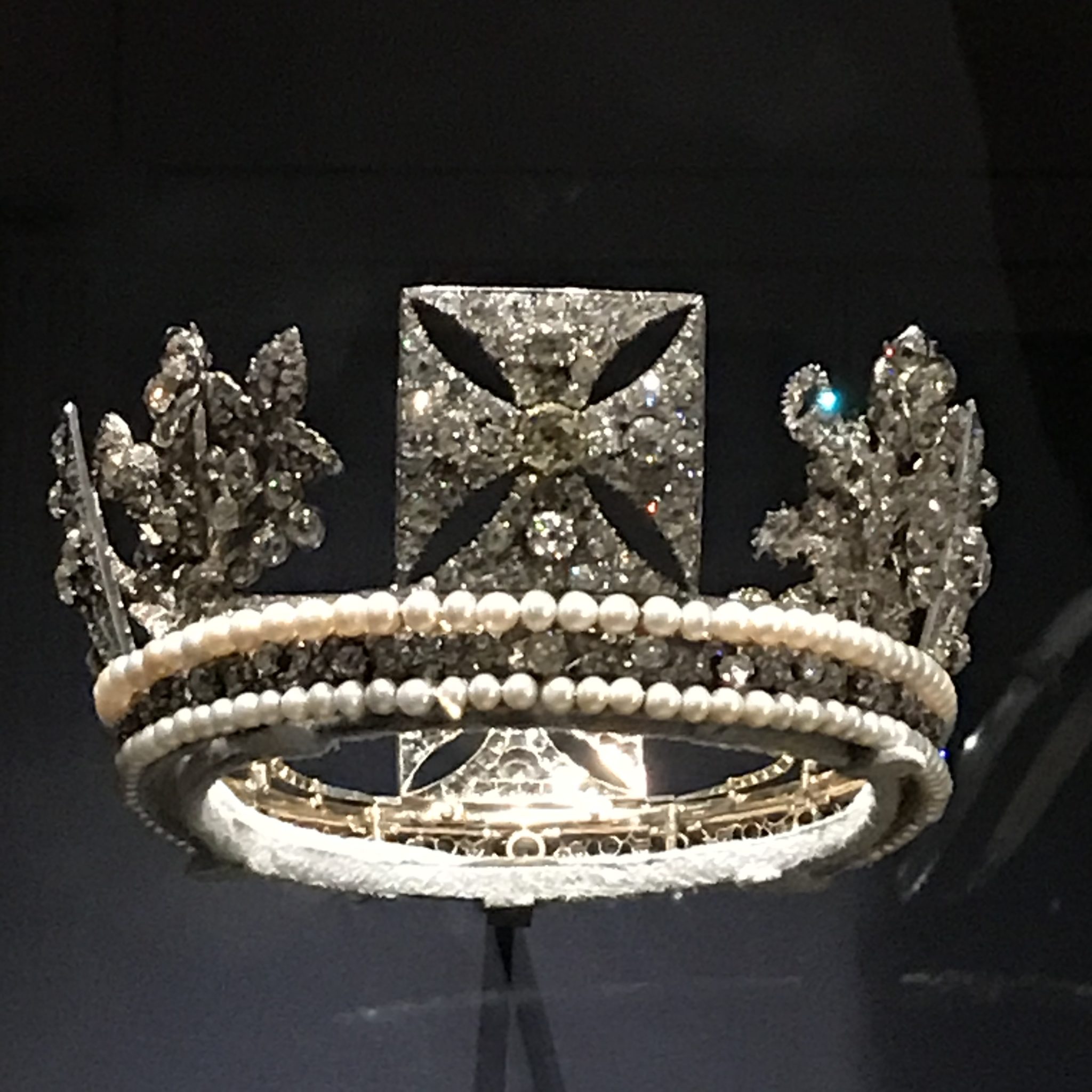 This portrait of George IV showing him in his most splendid robes was painted by Sir Thomas Lawrence, the greatest portrait of this time, who George commissioned to paint several of the pieces in this exhibition.  One series by Lawrence depicts the key figures in the defeat of Napoleon and George saw himself as part of that group despite Wellington being the real victor.  This example from the series is of the Archduke of Austria showing the heroic pose of an accomplished general.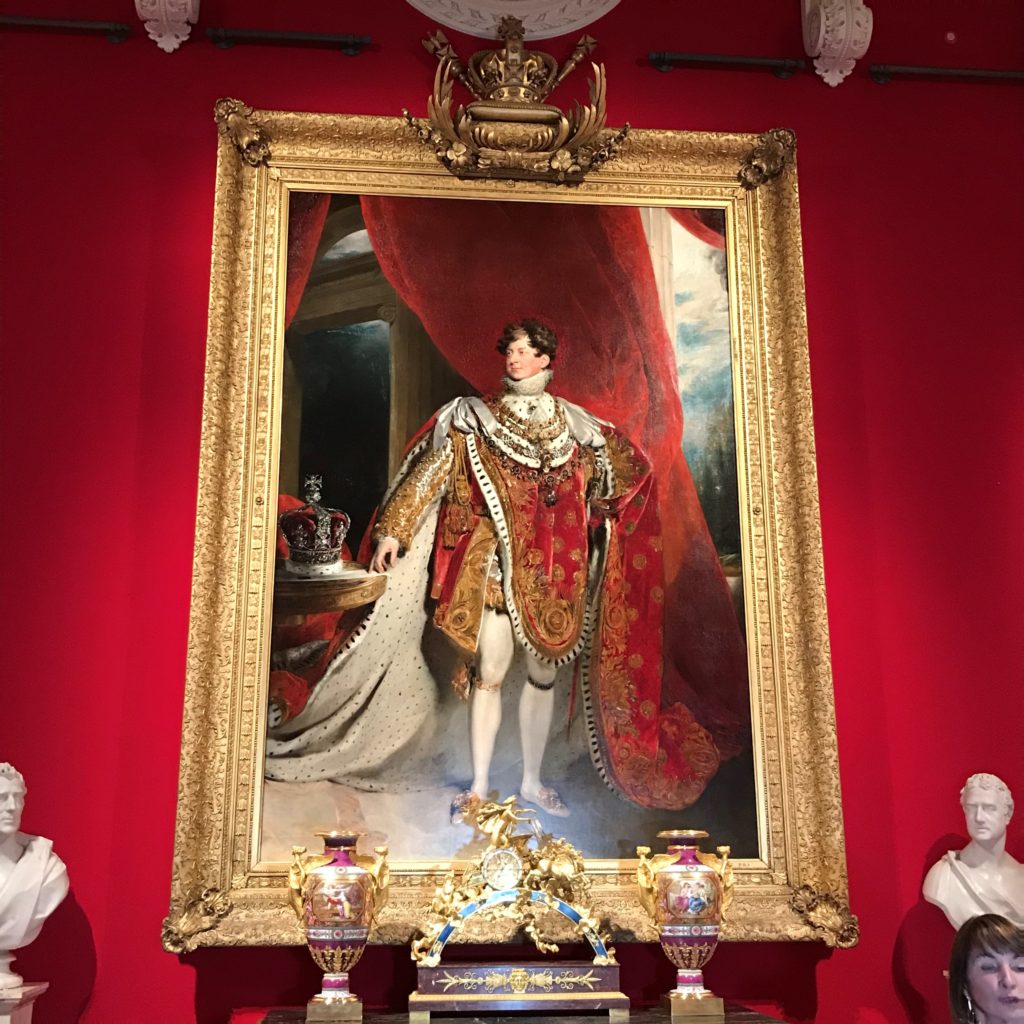 I mentioned the satirists' attacks on George earlier and cartoons lampooning royals are also nothing new. This example, by Robert Seymour dated 1829, shows George in later life, overweight, indulging his love of eastern art, surrounded by his extravagances including Brighton Pavilion on the shelf to his left and his pet giraffe which he kept at Windsor.  It's a scathing portrait which helped shape public opinion of the king.  George did not purchase this piece himself but came into the Royal Collection in the last few years.
Some surprising nuggets of information emerged from the exhibition, one being that George was a big fan of Jane Austen.  He kept a set of her work at each of his residences and this copy was dedicated by the author after it was hinted that he would appreciate this although Jane was disapproving of George's treatment of his wife Caroline.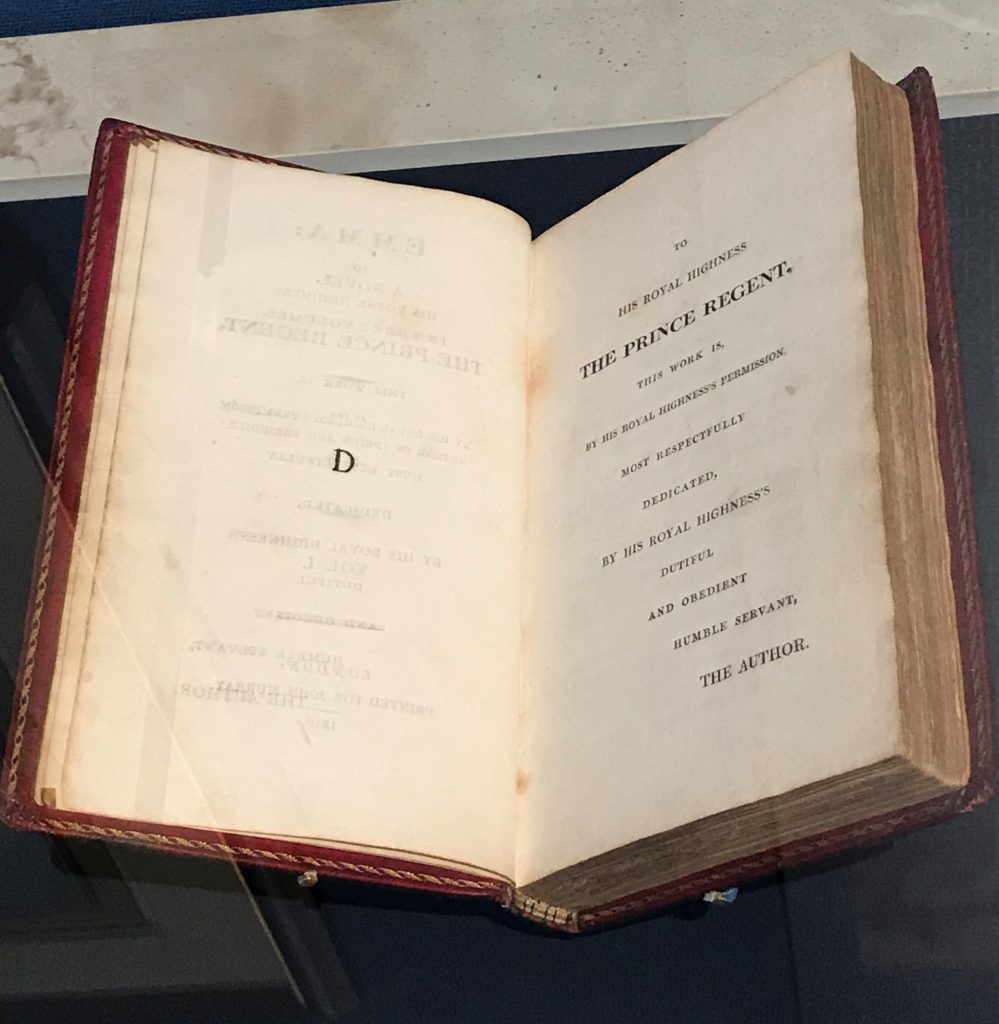 George's reign saw grand architectural projects with the transformation of Buckingham Palace and a series of new apartments gracing Windsor Palace.  His collections fill the interiors for visitors to enjoy today.
There's always some unexpected and strange stories in these big exhibitions and one I spotted here was the visit of the King and Queen of Hawaii in 1824.  They were the first visitors to England from that far-flung land and presented  George with this wonderful feather and bark cloth cape. Sadly contracted measles for which they had no immunity and they both died while they were in London.  I tried to imagine the impact that must have had on Hawaii when the news eventually arrived there.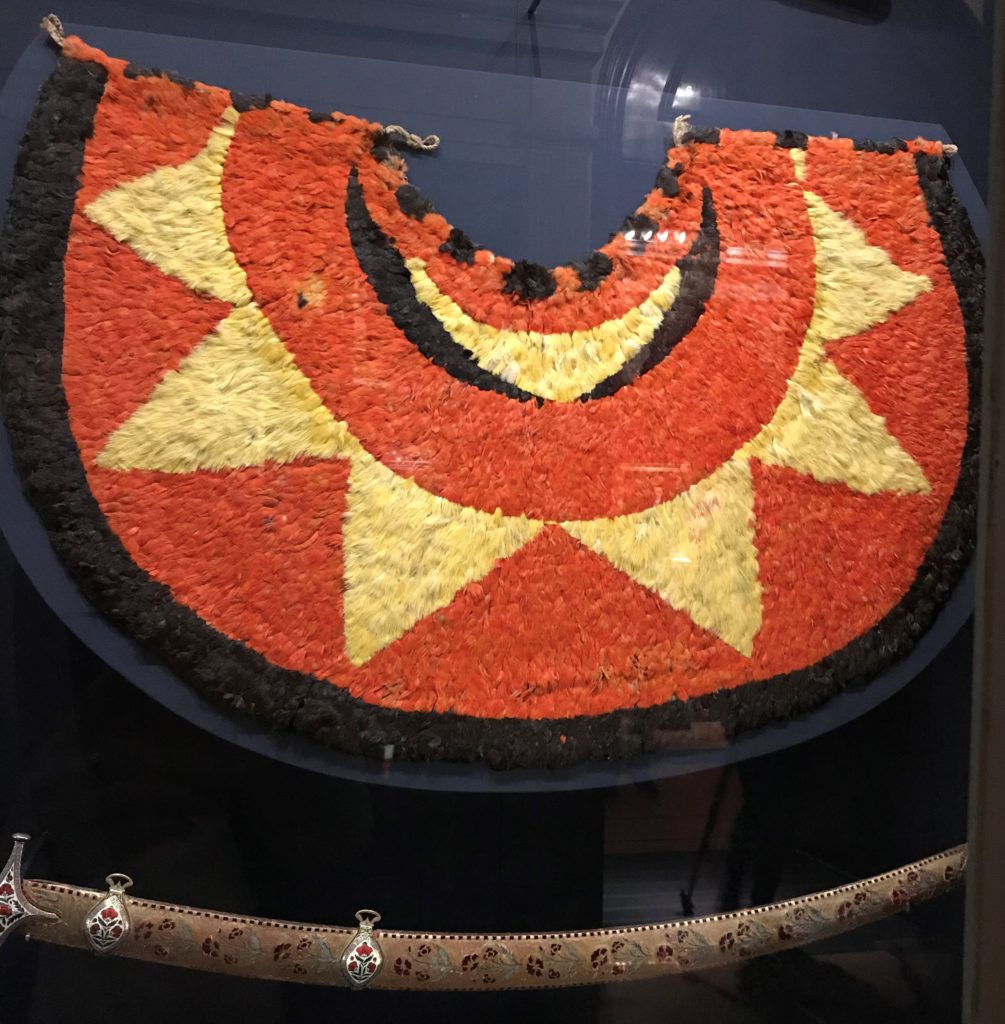 This exhibition continues at the Queens Gallery until 3rd May 2020 and you can find full information here: https://www.rct.uk/visit/the-queens-gallery-buckingham-palace
Full disclosure: as is usual in the travel industry I was invited by the Royal Collection to visit the exhibition to be able to review it.  This has not affected my views but it is important to be open about this.