The new exhibition at the Queen's Gallery is called Charles ll: Art & Power and it really does what it says.
We are treated to fine displays of Charles' efforts to re-establish the monarchy and make sure no one misses his power.  Charles ll's predecessor as monarch was his father Charles 1 who has his head chopped off in 1649, a shocking moment in British history.  His son Charles had to flee the country to save his own life while Oliver Cromwell ruled as Lord Protector.
After Cromwell's death, and a short period during which his own son took on that role,  Charles ll was invited to return to England and take up the throne and the monarchy was restored.
On his return Charles was determined to show everyone  his power and position as the part of a long royal lineage and this exhibition shows us how he did that through art and precious items.
One of the first paintings in the exhibition gives us the historical context for Charles ll behaviour, a portrait of Charles 1 at his trail.  A sympathetic pose gives the King a dignity as he faces the accusers whose legitimacy he refuses to acknowledge.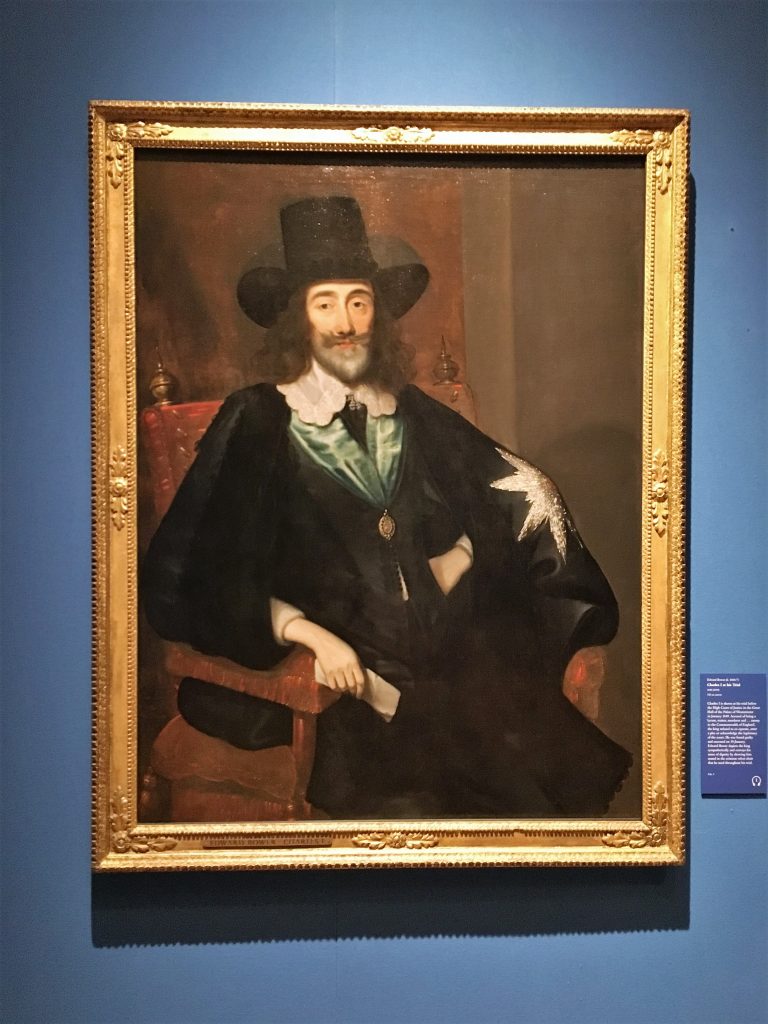 Charles II went into hiding following the final royalist defeat in battle and famously spent a day hiding in a tree trunk in Shropshire. The tale of the 'royal oak' became famous and part of Charles' mythology as testimony to his courage, ingenuity and divine protection. This plate was made in 1680 was one of many commemorative items made to mark his return to the throne.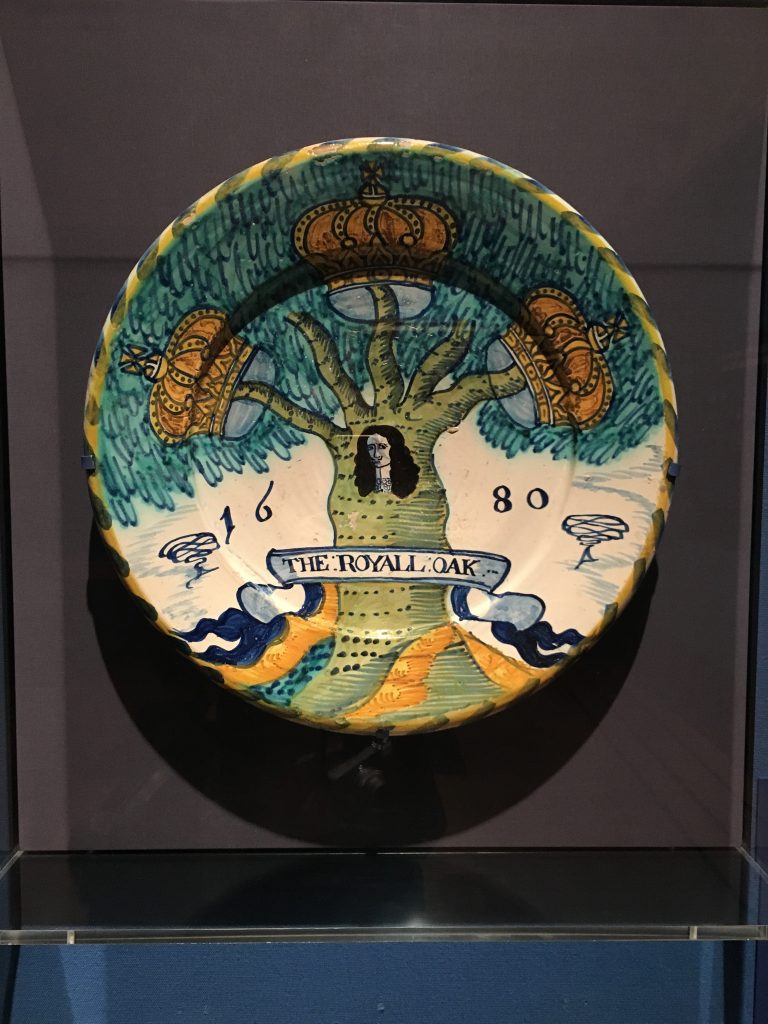 One painting which sums up Charles ll's image making is this powerful portrait of him in his Parliament robes over the Order of the Garter costume. He carries the Crown Jewels newly made for his coronation in 1661 as Cromwell had destroyed or sold the previous set, a dreadful act of vandalism.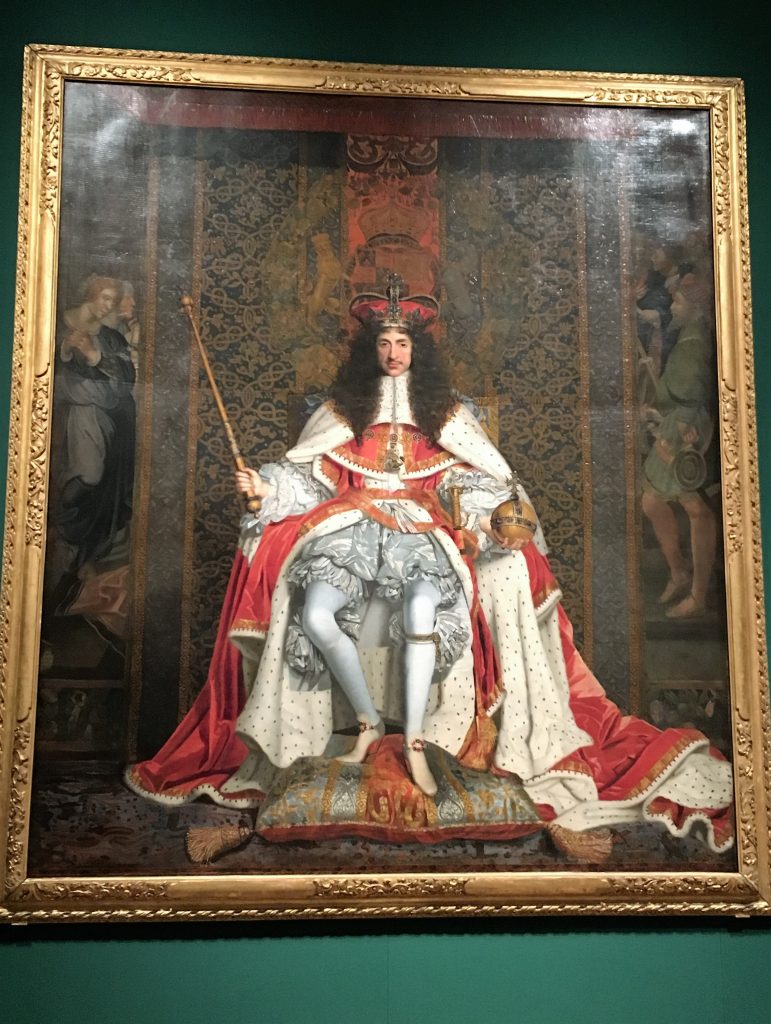 The coronation required a great deal of new regalia and ceremonial items and one display case shows us some of this magnificent new collection.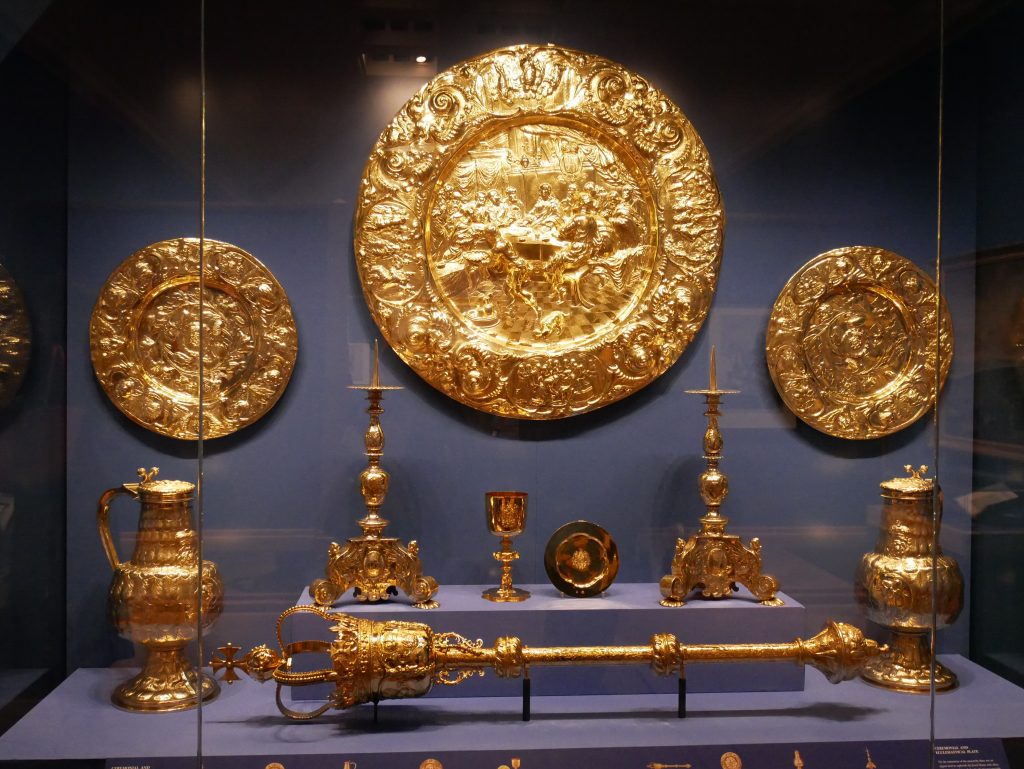 The years when Cromwell was in charge are known as the Commonwealth and were years of sobriety, when plays, fine living, extravagance were frowned on or banned following the excesses of Charles l. However, Charles ll's court burst with colour and life and he surrounded himself with artists, actors, beautiful women in fine clothing and he hosted balls when everyone would arrive in finery and their best jewels. Many pictures show wonderful courtly costumes and items such as the extraordinarily elaborate salt cellar (a gift from the city of Exeter to put them on the right side of the new monarch) give us an insight into the rich life in court society.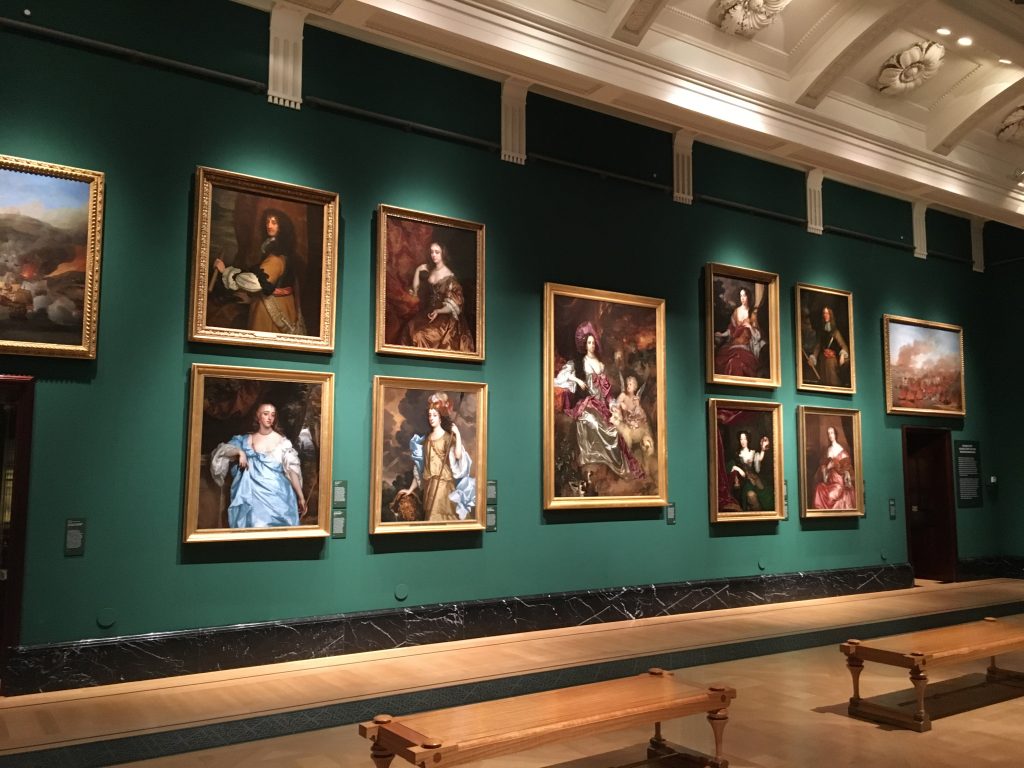 Charles ll was keen to not only restore the image of the monarchy but also to recover the many works which were dispersed by the Commonwealth and to build up the royal collections of art, books and precious items. He was an avid collector and lover of art so put out a proclamation, which still exists and is on display, demanding the return of goods sold by the Commonwealth. Many were returned to curry favour with the new king.  The final enormous room in the exhibition is devoted to these returned painting and new ones that Charles acquired, along with tapestries and fine furniture.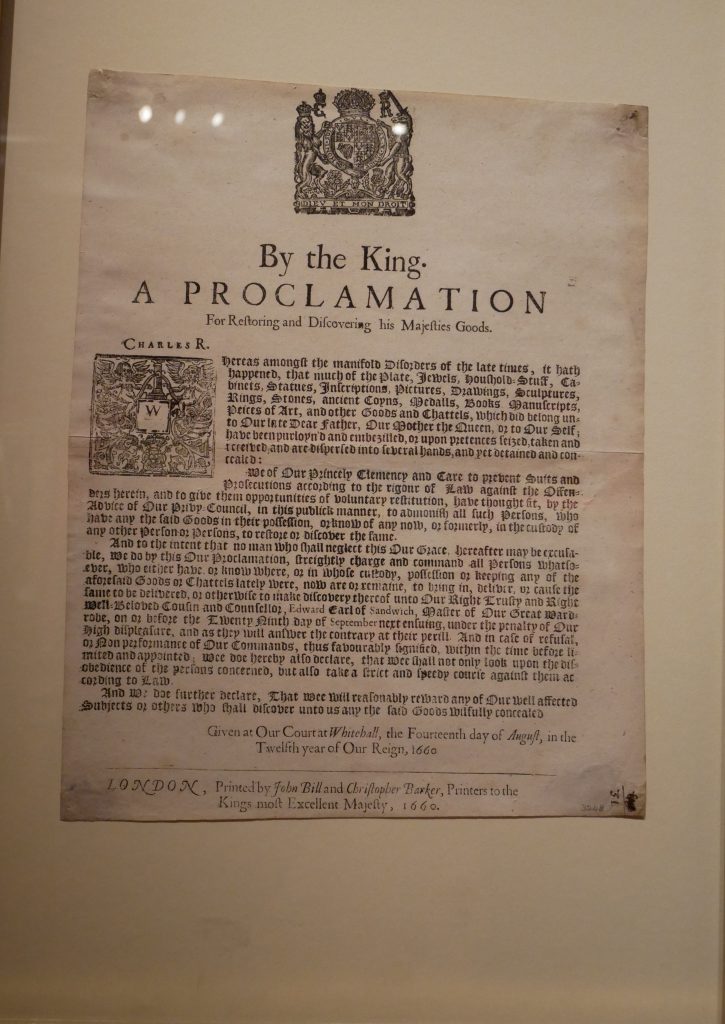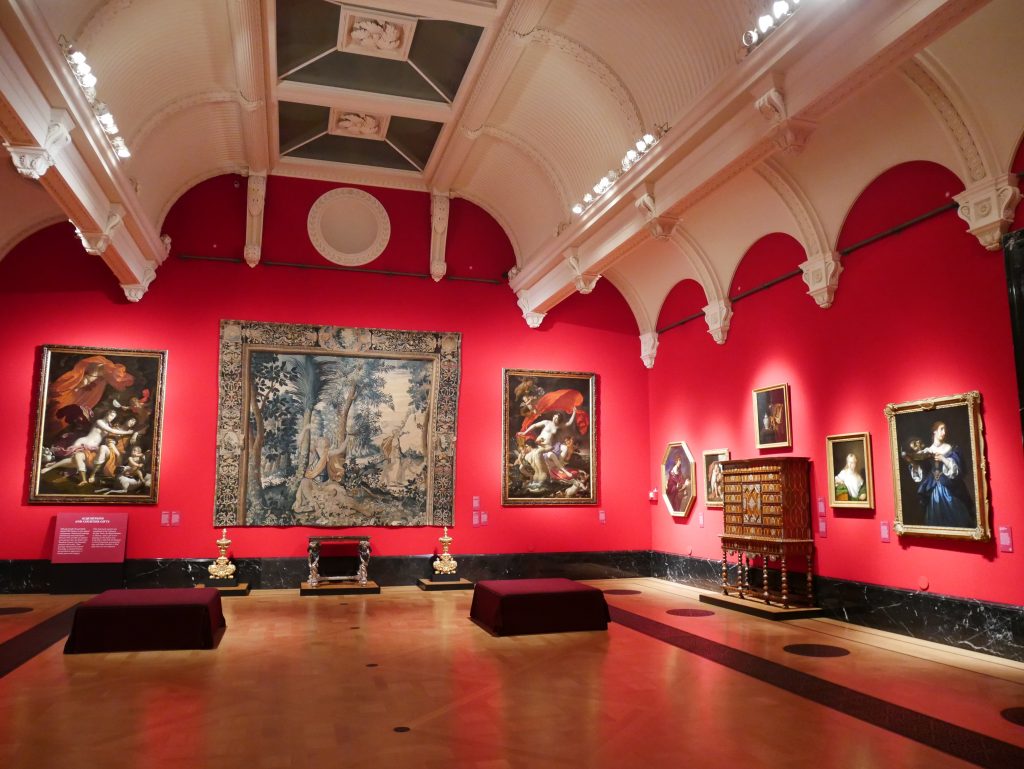 The art of printmaking was becoming very popular at this time with great skill on show in the numerous prints on these walls and what better example than 3 versions of Charles II with his very fine hair!
As I was leaving I spotted this portrait which did not fit with the opulence and characters of the many other courtly figures.  We see Bridget Holmes, aged an extraordinary 96 years, who was the housemaid to the kings' bedchamber. Amazingly she served Charles I and II, James II and William III – a survivor of turbulent times, she was buried in Westminster Abbey.  I really wanted to know more about her… 
There is a great deal more to enjoy in this exhibition which I've not managed to cover so do visit for yourselves. For more information about the Queen's Gallery and this exhibition check their website: www.royalcollection.org.uk/visit/the-queens-gallery-buckingham-palace
Full disclosure: As is customary in this industry I was invited by the Queen's Gallery to preview this exhibition but this does not affect my views.