The Olympic Park in east London is really called the Queen Elizabeth Park as the area moves on from the Olympics but I'm sure most people, including me,  will carry on calling it the Olympic Park as it holds such happy memories of the London Games of 2012. 
Most of the park is now open to the public and many of the iconic buildings remain:  the Aquatic Centre,without its extra wings which were added on to seat the thousands of fans of swimming and diving:, the twisting Orbit sculpture; the curving velodrome; the block of the Copper Box;  and, the famous athletics stadium, although they have taken down the pyramid-shaped lighting gantries which went all around it so it looks a little naked now to my eye.
There is so much to see and do at the park, especially on a lovely sunny day such as we enjoyed. To add to the fun they have set up various self-guided tours so we picked up 'Art in the Park – A Field Guide', a comprehensive information booklet, and off we went.  We soon realised there are too many artworks to see if you are also after a leisurely stroll and chat but we enjoyed the ones we saw and have saved many for our next visit.
So, here are my highlights with a couple of extras which are not strictly art things but I loved them so have thrown them in!
1. Steles by Keith Wilson
This work consists of 35 colourful posts which look like crayons to me and they line the river in a carefully planned colour sequence. They are both an artwork and mooring posts tho' I'm not sure you can just rock up on your boat and stay in the middle of the park!
You'll have spotted the extraordinary shape of the Aquatic Centre in this photo. It is now open to the public so you can swim in the Olympic pool and dream of winning a medal!
Here's a view of the inside of the aquatic centre with its impressive pool – I was almost tempted to get in, even as a non-swimmer!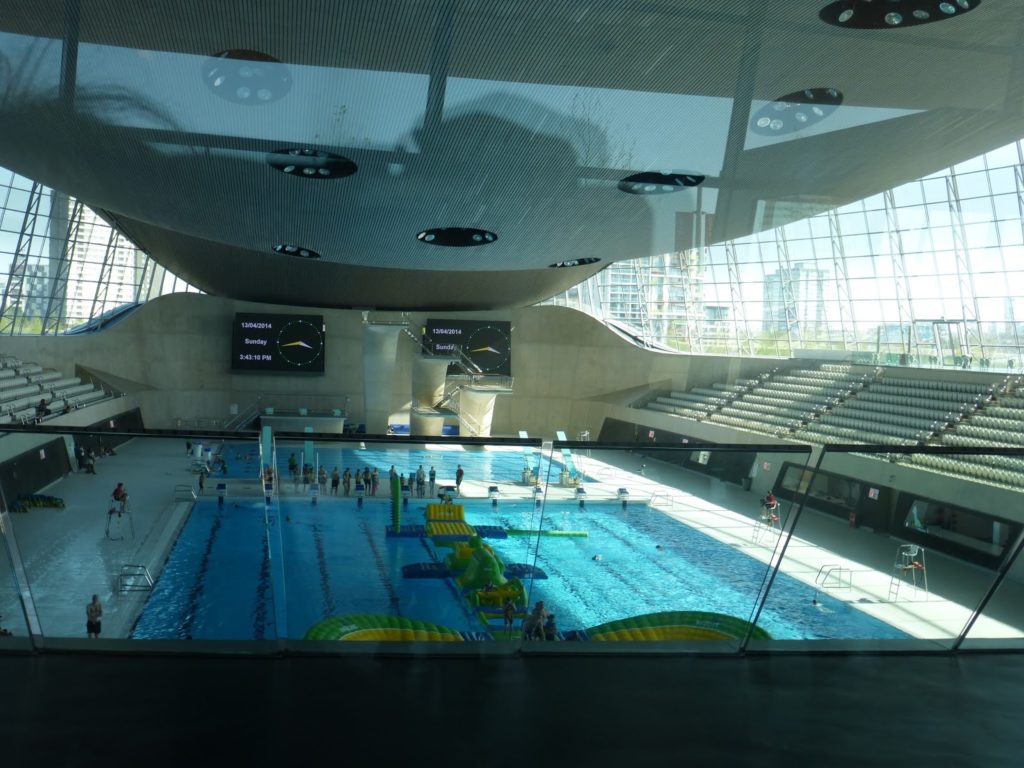 2. Carpenter's Curve by Clare Woods
This is one of two artworks by Clare which wrap around exteriors and make utility buildings disappear from sight. Clare created these huge works as paintings which were then transferred onto individual tiles which you can see these clearly in the photo. Apparently, it is the most complex tile mural in the world!
3. Arcelormittal Orbit by Sir Anish Kapoor, Cecil Balmond
One of my favourites, Orbit can be seen from afar, even from the plane as you fly into London and is the UK's tallest sculpture. It's made of recycled steel and offers a great viewing platform up at 114 metres where Anish Kapoor's mirrors turn London upside down. It's worth going up the top but be warned, there are over 500 steps down so think carefully before you decide to walk – I didn't!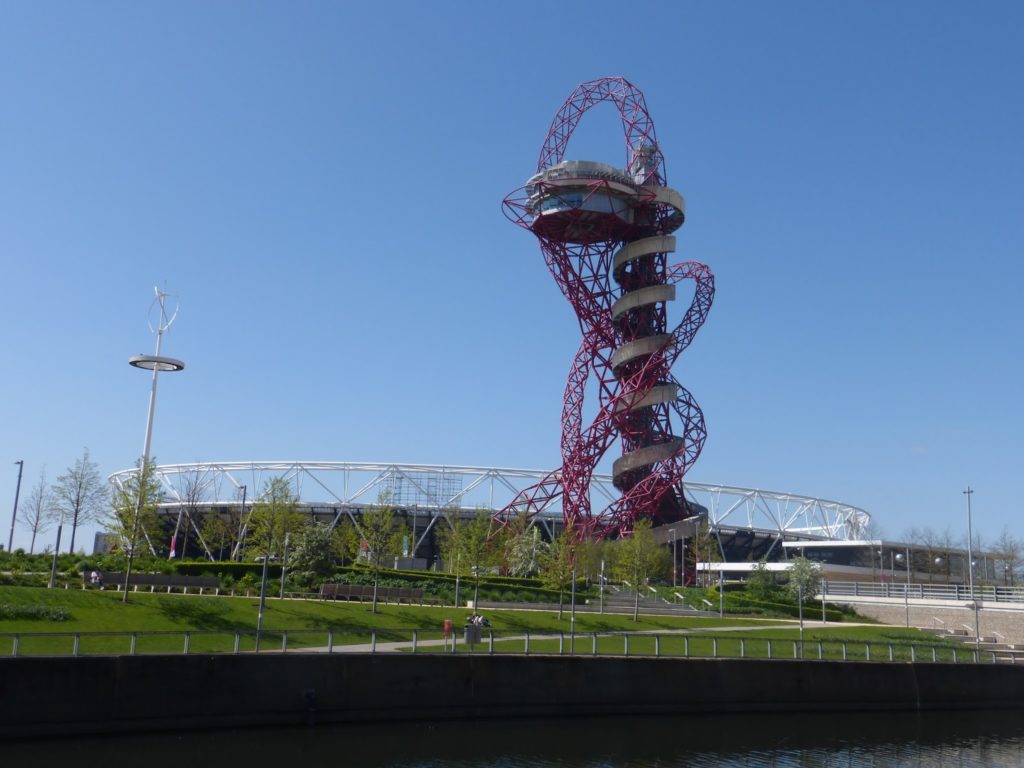 4. Run by Monica Bonvicini
I remember this one really catching my eye during the Games and it felt so right with the events that were going on all around it. Now it still impresses and I'd love to see it at night when the letters glow with lines of internal LED lighting.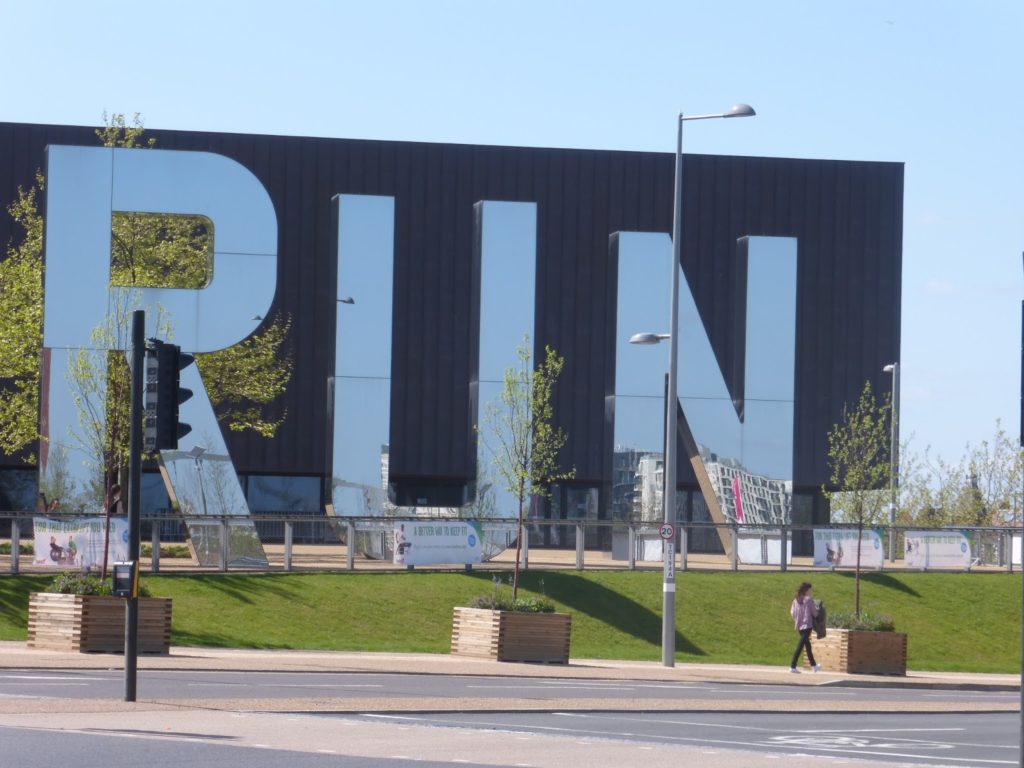 These next photos show one of the most iconic symbols of London and although they don't seem to be part of the art tour, I thought they merited inclusion in my highlights. The phone boxes appear normal from a distance but are playing with that view as they are only part boxes, so you just have 2 sides of the box and they have poetry carved into the windows.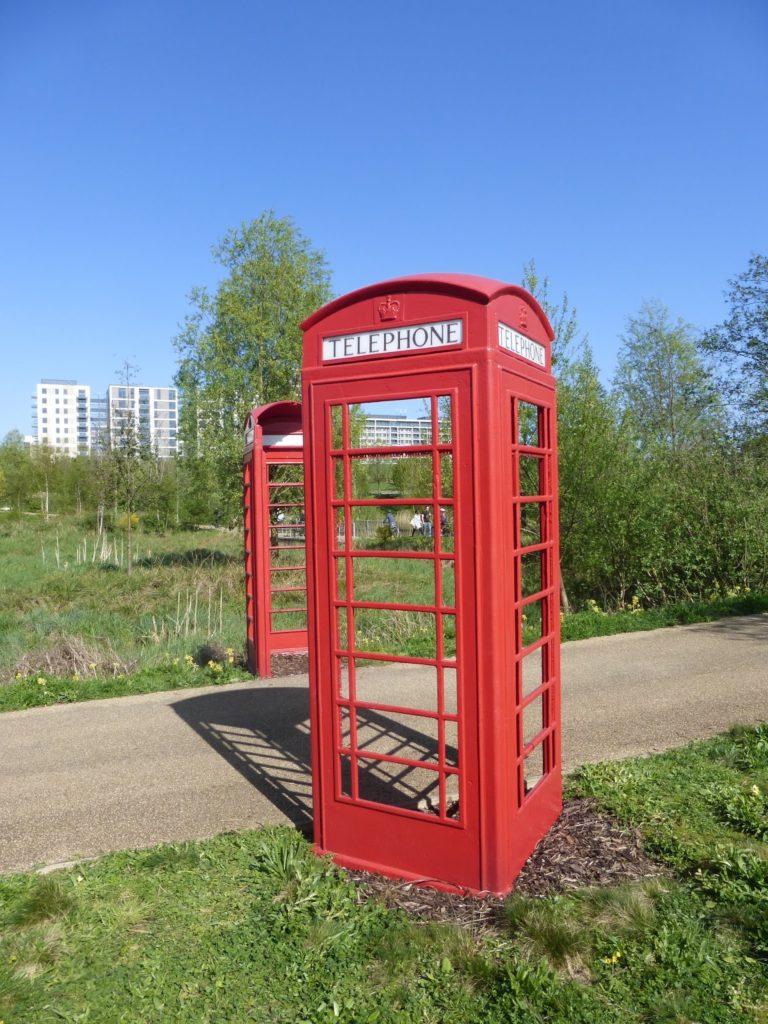 While I'm mentioning areas I liked that are not on the art tour, I have to mention the fun fountains curved like a snake. They start off very low and entice people to walk around and over them and then suddenly spurt up at least 5 feet into the air to shrieks of laughter from everyone caught out – who then go back for more! Here's the before and after photos: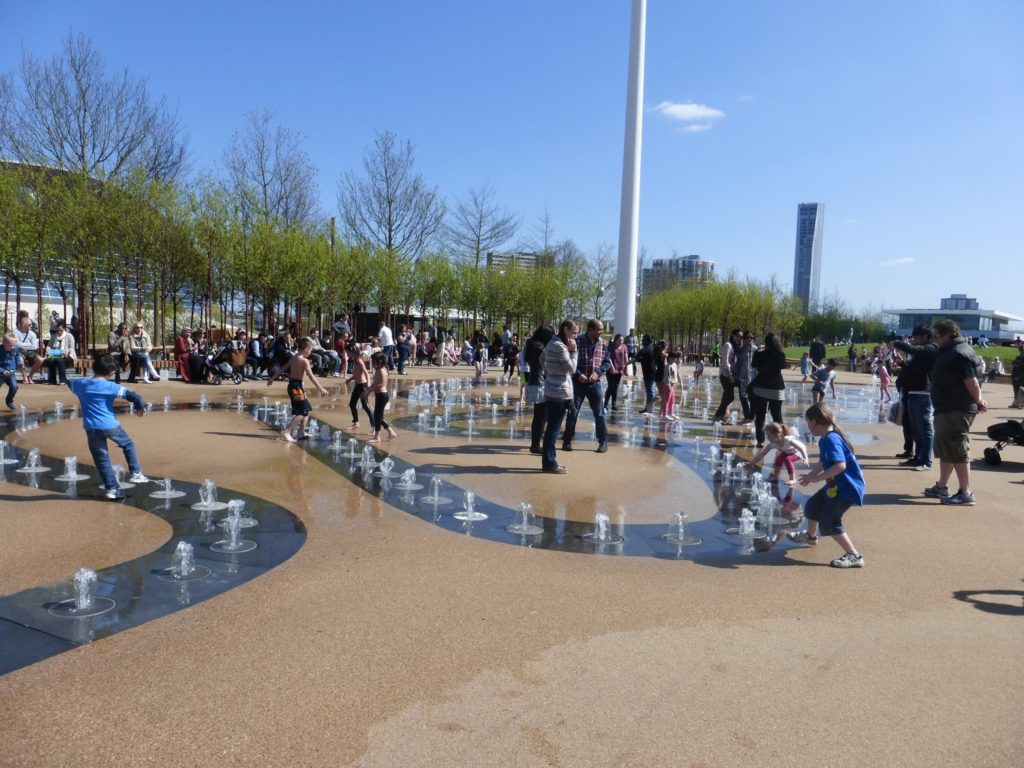 5. Pixel Wall by Tomato
There are over 2000 wooden cubes on this wall and as you pass by you can run your hands over them making a new pattern for the wall as the light and dark surfaces are changed around. If I'd had more time I would have been tempted to leave a message in pixels but instead just left them with a new pattern.
6. Fantastic Factology by Klassnick Corporation, Riitta Ikonen, We Made That
All around the park fascinating facts are tucked away on park benches, from information about the park and nature to more personal recollections which make you think about the history of the area and its people. As it was such a sunny day I chose this one which tells us the sun is on average 93 million miles from this bench!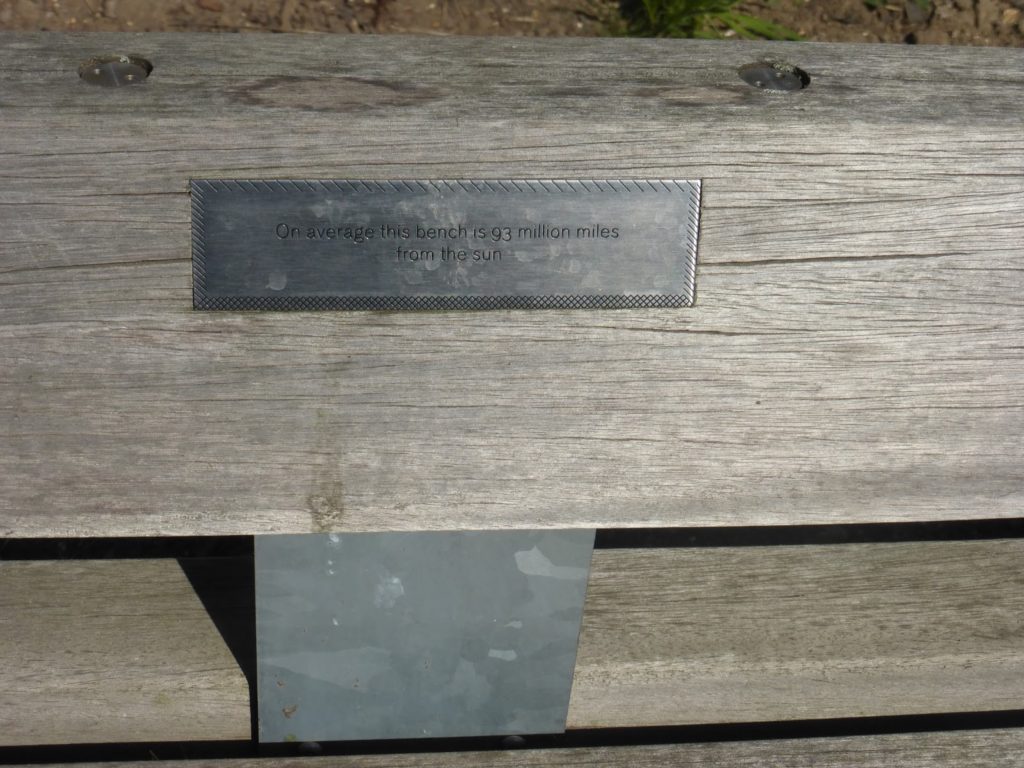 A quick mention for the climbing wall as we pass by as it was really well used by young and older folk and looked great fun!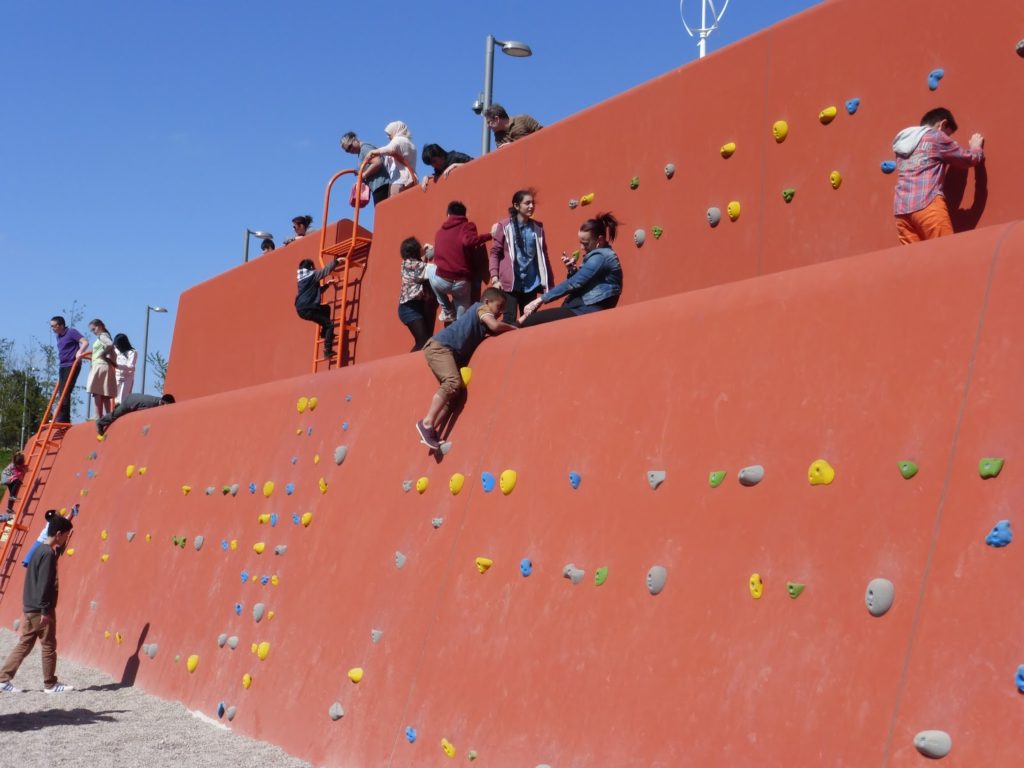 7. The Spark Catchers by Lemn Sissay
I loved the use of this wooden box carved with an emotive poem called the Spark Catchers to cover an electricity transformer and the juxtaposition of the danger triangle sign and the title of the poem. The poem references the first strike at the nearby Bryant and May match factory, giving us more plays on words. The strike was led by the women, many younger than 16, who were protesting against appalling conditions leading to injury and illness and was a major event in our industrial and women's history.
In total there are 26 different artworks to enjoy on the art trail and I've only covered 6 (with a few extras not officially on the tour) so I'll definitely have to go back to check out some of the missing group. Why not have a go yourself and see how many you can find?