As you'll know from my bio I offer private tours of London for small groups and they all want to see loads of stuff in London without feeling like they have been rushed from one place to the next. So, I thought I would share with you my most recent tour which lasted a day and a half so you can see just how much you can pack in without exhausting yourself!
My guests were staying in Earl's Court so on day one we set off from there by tube to St Paul's Cathedral which is an amazing church although I can never decide which is my favourite, here or Westminster Abbey. On the way we saw the blue trees, one of London's temporary art moments which we kept bumping into during our travels.  My guests were an energetic pair and wanted to climb to the very top so 365 feet later we emerged onto the very small platform of the Golden Gallery and enjoyed the view. We also loved seeing the display of donkeys in the cathedral – a visual art exhibition of 25 life-sized differently decorated donkeys called Caravan 2013 highlighting interfaith co-operation. St Paul's is an enduring symbol of London and the blue trees and donkeys show how there is always something new to see even when you think you know a place!
We strolled over the Millennium Bridge to the Tate Modern and explored a couple of the permanent collections, catching some Rothkos and even a Monet before a much-needed coffee with a view back over the Millennium Bridge.  The Turbine Hall is closed as the Tate builds a massive extension so it's not as impressive as usual as I love the grand entrance into that massive space but it's definitely still worth a visit. Outside the Tate is another temporary art installation, the Endless Stair, a wooden structure based on Escher's work. It's fun to run up and down the stairs and take photos from all angles!
A walk along the south bank of the Thames gives you a chance to enjoy part of the Thames Path, voted second in a poll of great city walks by Lonely Planet readers, so that's a major endorsement. Our destination was the London Eye for a 35-minute ride of changing views and perspectives. It's such a smooth operation as you get on and off without it missing a beat and my guests certainly thought it was worth the ride.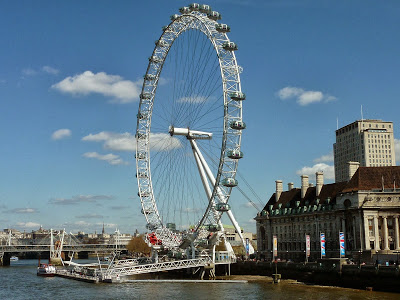 A stroll over Westminster Bridge gives great photo opportunities of Big Ben and from there we had a good look at the Houses of Parliament and Westminster Abbey and I went through some of the stories associated with both buildings including setting the record straight on what exactly is Big Ben. Everything looks so much more impressive and huge close up so it's always walking right up to these historic sights.
We reckoned that was enough for one day, as the lights were coming up to display Big Ben beautifully, so we headed back to Earl's Court for a  meal and a rest!
Day two saw an early start to catch the 9.30 Thames Clipper boat from Embankment to the Tower of London. Passing the sights we had seen from the bank yesterday, we saw these from a different angle and sailed beyond, passing close up to HMS Belfast with its huge guns.  It's best to arrive at the Tower by boat, just as people have for millennia, especially those entering through Traitors Gate which always gives me a bit of a shiver as once in you'd not be coming out again – alive!  We were lucky enough to watch a Tower Bridge lift from our vantage point on the massive defensive walls by the medieval palace. Some days there are several lifts but some days none at all so I was very pleased to show my guests another of London's iconic sights.  Our lunch stop was the Dickens Inn where they serve a decent fish and chips among the boats in St Katherine's Docks.
We hopped on the tube to Green Park to take through the greenery past many folk enjoying a rest on the deck chairs but we were on our way to our timed entry tickets for Buckingham Palace so no sitting for us. When the Queen goes on her summer holidays to Scotland, she allows her subjects, and other visitors, to have a look round the incredibly grand state rooms and galleries of fine paintings.  Each year there is a special exhibition and this year it is, of course, a celebration of the coronation which took place 60 years ago in 2013. As we'd visited the Crown Jewels in the Tower of London, we could join up some of the dots having seen the coronation crown and film of the event itself. In the palace, they have her coronation dresses and robes and the crown wore as she travelled to Westminster Abbey,  a beautiful sparkly piece which you can see on the Queen's head on every UK stamp, though I have to admit I'd not noticed it before I went to this exhibition…
A well-deserved coffee was on offer at the cafe in the Buckingham Palace gardens where they dust the cappuccino with a chocolate crown and decorate the cakes with chocolate crowns – nice touch!  The exit is via the excellent shop and the extensive gardens.
To complete the London Transport experience for my guests, we grabbed ourselves a trip on a red double-decker bus along Piccadilly, past the Ritz and along Pall Mall before hopping off to enjoy a wander through St James's Park and Horse Guards Parade. There is always something happening on the streets of London and we were not disappointed as we bumped into the Round Britain Tour Cycle and saw one group whizz past us at speed while trying to grab their drinks!
A short walk up Whitehall took us to Trafalgar Square to see Nelson's Column – I'd told my guests all about him when we saw his grave in the crypt of St Paul's – and to climb on the lions for the essential photo. We enjoyed the temporary artwork on the fourth plinth which is a massive blue cockerel, the same blue as the St Paul's trees strangely enough. We had just enough energy to pop into the National Gallery to see the impressionist rooms and marvel at the exquisite work by Van Gogh, Monet, and Degas.
As Covent Garden with its plentiful bars and restaurants was just next door we headed up to the balcony bar at the Brasserie Blanc for a well-earned glass of wine (or 2!) and a snack as the sun went down.
Phew – I must admit it was tiring but we saw so much and didn't have to rush around to fit it all in. My guests were full of energy and enthusiasm and really enjoyed their experience of London and the opportunity to some of the top sights that it has to offer with their own private tour from It's Your London.
Bye for now,
Sue
itsyourlondon.co.uk
@itsyourlondon