Saturday's 50th anniversary Dr Who show was brilliant, very confusing but brilliant! As a self-confessed David Tennant fan, it was great to see him back as the Doctor in a programme that gave us all the Doctors, including the one yet to come as we saw the eyes of Peter Capaldi. 
London has loads of Doctor Who references but 2 things you can go and are the Tardis in Earl's Court and the magnificent shop in West Ham. Here's what you'll find…
As you come out of Earl's Court underground station you'll do a double take as there it is, a Tardis, just sitting there. I looked around for quite a while but couldn't find the Doctor or any aliens but I'm sure they were around somewhere!
London is, of course, full of places that have appeared in Dr Who, not least Trafalgar Square where the Tardis was dropped into during the anniversary special with Matt Smith dangling off it. He really was hanging off it according to an interview I saw so no special effects there.  Big Ben was famously crashed into, the Thames Barrier was flooded when a giant spider alien was holed up inside and Buckingham Palace nearly destroyed by a flying Titanic!
If you want to get your hands on some memorabilia and your very own key to the Tardis, head out to West Ham where the Dr Who shop will satisfy your every need.  Your approach is via a long road,  the West Ham football ground, another long road, the monument to Bobby Moore and finally the shop appears disguised as an ordinary row of shops. But stepping inside you find a treasure trove of Dr Who stuff to buy and a secret museum.
I was visiting the shop back in August when we were waiting for the identity of the next Doctor to be announced so I had a good chat with the shop owner about it and he was right, it was to be Peter Capaldi – inside knowledge perhaps?
For the very reasonable fee of £3 you are given your own key to the Tardis which is the entrance to the museum and getting that all important photo is free!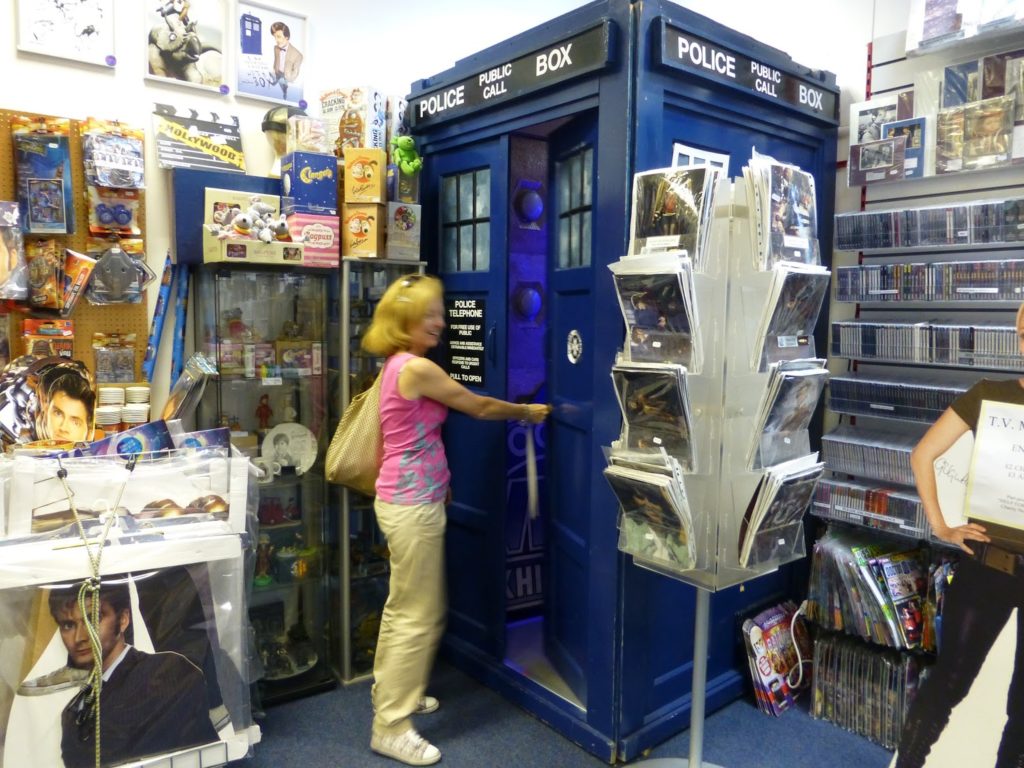 Inside the Tardis is a museum which is much bigger than you would imagine from the outside! Inside it is jam-packed full of genuine Dr Who monsters and outfits which have appeared in the shows themselves and often crop up at various fan events around the world and ComicCon.
And finally, of course, I couldn't resist including a photo of me with my favourite, the 10th Doctor (and so much more), David Tennant! We were at Comic Relief at BBC Television centre last March.
It's time to move on from Doctor Who so keep an eye open for my next blog about the Turner and Nelson exhibitions at the National Maritime Museum, Greenwich.