How many of you have your own coat of arms? Heston Blumenthal is clearly very proud of his and was rather taken aback to have several members of the audience raised their hands in response to his question! Well, he acknowledged, this was Kensington. We were gathered, with or without our own coats of arms, in the Victoria and Albert Museum to hear Heston in conversation with Dr Polly Russell, reflecting on his life and work.

Let's start with that coat of arms. After 7 years of planning, his design tells his story through the following elements you can see on the photo (apologies for fuzzy photos – it was a dark room!)
The duck at the top is for the Fat Duck, his world famous 3 Michelin starred restaurant
The senses, so important to his ideas about cooking are there: smell is represented by lavender; taste by the apple; sound by the lyres.
The 3 roses are his 3 Michelin stars
His motto is key to his approach to life: 'Question Everything'.
He couldn't quite squeeze his trademark glasses into the design and it sounded like the College of Arms gently vetoed this idea!
Heston is an entertaining, informal speaker and even though he must have told his stories many times, they are still fresh and his passion for cooking, history and science shine through along with his joy in telling an audience about British cooking and how it has reclaimed its rich gastronomic history.
Heston was born in London in 1966 at a time when British cuisine was seen to have 'a bit of an issue' and the most exciting new thing for those eating out was a meal in a basket!  One meal he experienced in his teens changed his life and it is not perhaps that surprising as it was in a Michelin 3 star restaurant in Provence, a far cry from his everyday meals.  He remembers vividly how this glorious place touched all his senses, the sound of the waiters' leather shoes on the gravel, the sound of the crickets, the sight of the cheese trolley and the huge fishbowl sized wine glasses and the incredible taste of the food. He describes this as falling down a multi-sensory rabbit hole, an Alice in Wonderland reference that returned later in the evening.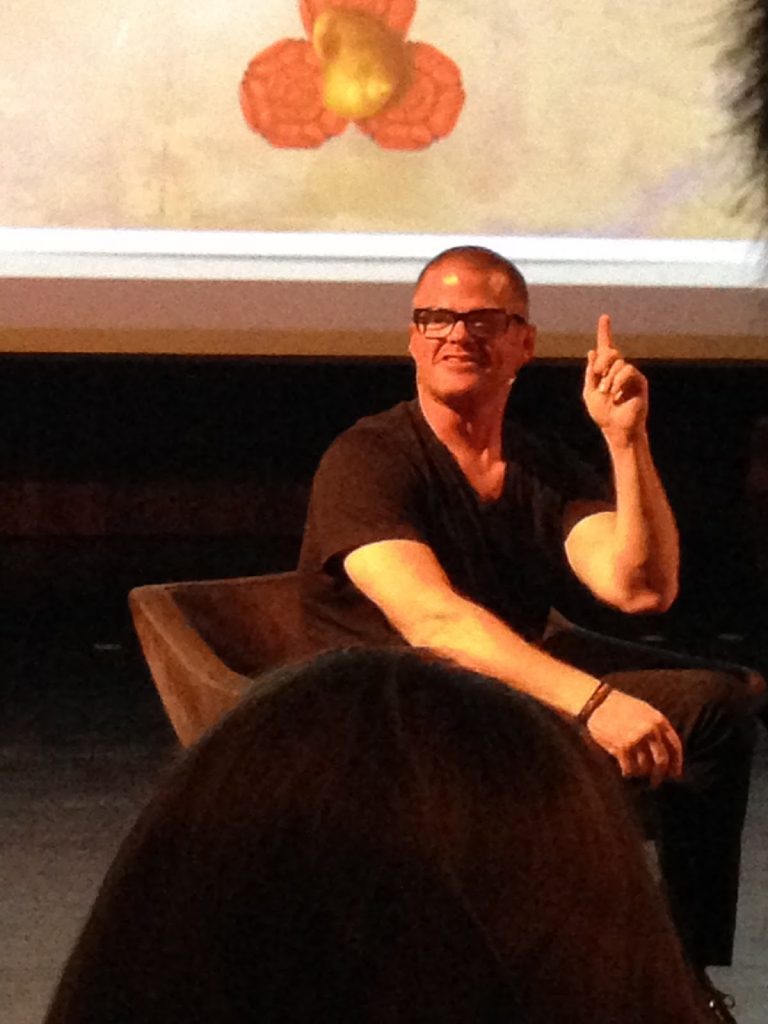 For many years he worked in unlikely jobs such as a photocopier salesman, debt collector and credit controller while he developed his cooking in the evenings, trying out dishes, wanting to learn more. He wanted to find out why chips went soggy and I was amazed to hear that he invented the triple cooked chip to solve this problem!  He studied classical French cuisine through books and it was another book by Harold McGee that was to set him on the path to becoming the chef we now know. Harold turned many of the accepted tenets of cooking on their head, such as you should always sear meat to seal the flavour in, showing them as false and encouraged a more scientific approach to what actually happens to meat when you cook it.  From this Heston developed the idea of Question Everything. So, yes, he has no formal, conventional training which is staggering given his success.
Heston started the Fat Duck in Bray serving French classics bistro style with just himself and a porter/pot washer and the dedication to work 120 hours a week. He experimented and was not bound by the constraints of other restaurants where conformity often rules. Gradually the food became more adventurous and the accolades followed.
Now, the dishes he works on are extraordinarily complex in their ingredients, construction and layers of meaning. He took us through 2 examples, a seafood dish called Sounds of the Sea and a Mock Turtle Soup. A beautifully shot video of the creation of the Sounds of the Sea showed us a wide range of fish and shellfish being assembled with numerous green vegetables and seaweeds, dressed with sauces and foam with a tapioca based 'sand'. Being a Heston dish this is an intricate dish not complete as he had not satisfied the sense of hearing so on the table is a large shell with an iPod inside playing the sound of waves lapping on the seashore to remind us of good times spent at the seaside!
Mock Turtle Soup is a dish that reflects Heston's fascination and depth of knowledge of historical cuisine as back in Victorian times this was a dish of high status. However, they were busy emptying the Caribbean of all its turtles to be able to impress by serving this luxurious dish so the inevitable shortage of turtles led to calves heads being substituted, hence the name 'mock turtle'.  Heston has created the most elaborate modern version, with reference to the Alice and the Mad Hatter's tea party and the fob watch which is dipped into the teapot. His version is too complicated to remember let alone explain but does involve shaping dried consomme into a fob watch, covering it in gold leaf, a beautiful thing in itself, only to dissolve it to form the soup element of the dish. There are so many gadgets reducing, centrifuging and sieve that you sit and watch in amazement as so much work and invention goes into one dish. The boldness, the pushing of boundaries, combining elements no one else would think of, the enormous work that goes into everything he does from researching a dish to its preparation, it's all wonderful to watch and hear him describe as if it's perfectly normal.  However, when asked what he would cook for his family given just half an hour he replied bbq cheeseburgers or pasta – so just like us really!
There were no sales pitches to push books or TV series or a new restaurant opening which was refreshing although I would have loved a signed copy of Historic Heston. The book which looks amazing, although I would never think of attempting any of his recipes as you'd need an army of sous chefs, a massive kitchen and acres of time. Instead, I can recommend trying out Dinner, his London restaurant where the menu tempts you with great dishes, each with their historic provenance.  Do try the 'meat fruit' and the 'tipsy pudding' if you get the chance…
To experience his multi-sensory thinking for yourself, click on this link from the Fat Duck website. The restaurant is closed currently and will reopen late 2015 so start saving up now!