Our famous astronaut Tim Peake may be back from space now, but you can take a trip there anytime at the National Maritime Museum in Greenwich.  Their exhibition Above and Beyond has lots of fun interactivity and is definitely one to put on the list for the school holidays.
The posters as you approach are very cool and the enormous sign as you enter really makes you think – could humans be setting foot on Mars in the lifetime of our children?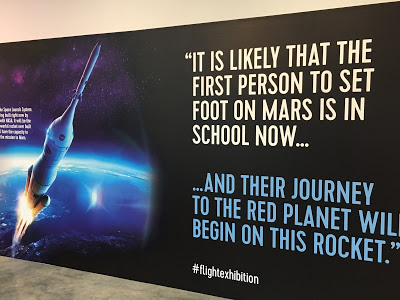 Before I ventured into space, I had a lot of fun flying with birds. It's hard to describe this interactive experience but you stand on a spot in front of the screen and you are linked to a bird on the screen, flying across a landscape.  You stand with your arms out like wings and if you don't move them properly the bird will crash – well it goes red for danger and you need to move sharpish to get it back on track. I found it quite compulsive and loved the scenery too. It's best if you have a small group or family as you can fill up all the spots and 'fly' together. It also taught us why birds fly in a V formation as there are nuggets of education built into every section but without being too obvious.
Hopefully, these photos will help give you a better idea of how it works:
There are lots of educational points thrown in where we see women scientist on screens, making it more inclusive and inspiring for girls visiting.  We even had a girl mini astronaut visiting with when we were there!
I loved the Space Elevator which takes you up in just a few seconds to way beyond the earth. Join me on my journey:
You can design your own full throttle jet and then test fly it through a tricky obstacle course, which I have to admit I was really bad at!  You can see the planes of the future, hear how scientists are pushing the boundaries. There is so much to enjoy and make you think.  How about seeing the world's lightest metal?  It's 100 times lighter than Styrofoam and yet is incredibly strong so could change how we build cars, aeroplanes and even homes.  How about the incredible shrinking satellite where you can see how these once sizeable pieces of metal are now something you could easily carry in your hand.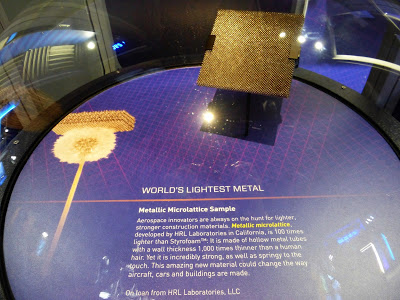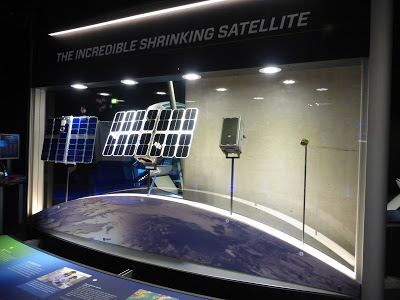 I should have mentioned the shop earlier as they do have great things for sale but the best bit for me was having my photo taken as an astronaut!  This goes well with my Mars passport from inside the exhibition.
So, with the school holidays upon us, it's well worth taking your family to Greenwich as there is so much to see and do there.  There's the Cutty Sark and the Greenwich Meridian and the Royal Observatory as well as the National Maritime Museum which has more than just this one exhibition.  It's a full day out and great fun if you take the Thames Clipper there to enjoy see the Thames all the way from central London.