Have you soon my last post on London's Christmas lights? Check it out here.  There are so many great lights cheering us up that I thought a second post was called for.
My favourite is the Tate Britain, not the most obvious place to look for festive lights but they do have some previous successes in the form of festive slugs a few years ago!  This year's display is a brilliant use of lights and packs in so many ideas.  The building looks great day and night and is really popular with people travelling just to see it – if they can while we are under the current regulations.
The display by Chila Kumani Singh Burman called Remembering a Brave New World  celebrates a range of cultures in swirling colour and neon light and is a message of hope at this difficult time. Can you spot the Hindu mythology, Bollywood imagery as well as British traditions?  This is a Diwali celebration, the festival of light and its message fits well with Christmas.   I loved the tiger and the ice cream van!
St Pancras station always brings us a dramatic and elegant tree and this year is no exception.  This pink beauty from EL&N is made up of thousands of ribbons with messages of hope from  NHS and key workers.  In the background you can see Tracey Emin's 'I want my time with you' in purple neon.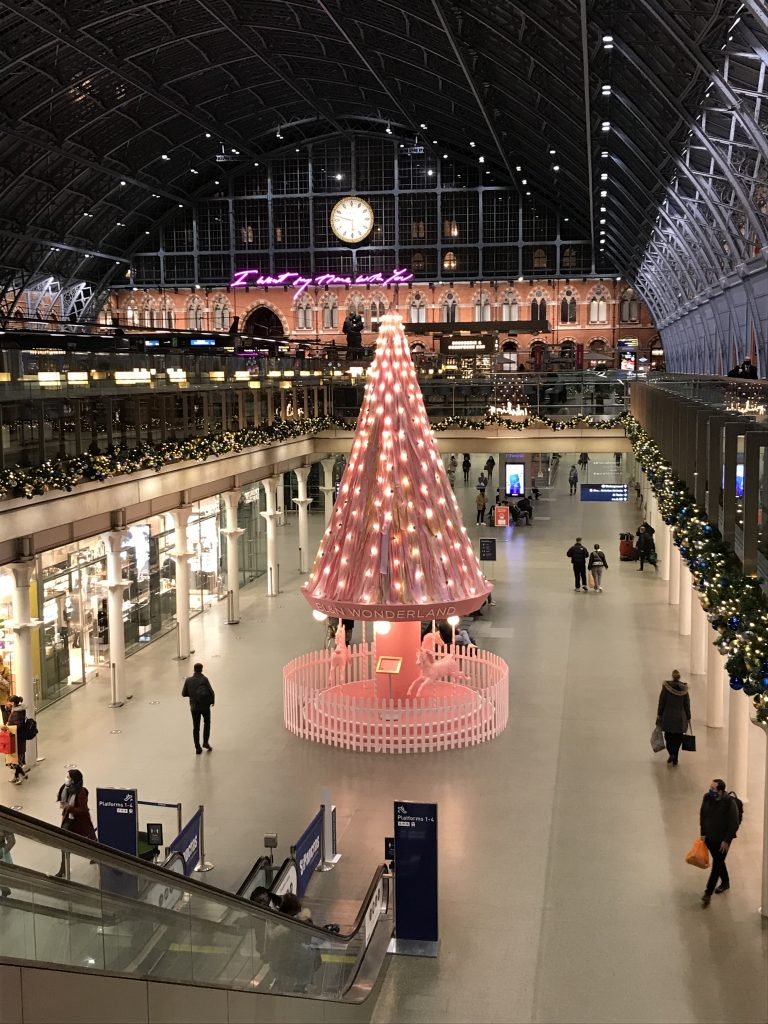 The Churchill Arms on Kensington Church Street is a riot of lights and they must take the prize for the most festive pub in London.  Sadly closed at the moment but still giving us joy.
Some lights manage to be impressive in daylight (see the Tate Britain above) and these reindeer, fox, bird combination by the Thames does just that.  In a great position with Tower Bridge in the background, they brightened a dull day in London.
Mayfair put up its usual elegant and dramatic crowns.
Covent Garden's mistletoe and disco baubles cheered up a visit during lockdown where everything was shut but the lights gave us hope that things would get better.
Hamley's famous and huge toy store went all Harry Potter on us with this traditional Christmas window.
I've saved the best for last.  In a side street near RIchmond park this nativity was made with such love and thanks to all the NHS and care workers .  Congratulations to this family for this great celebration of the Christmas spirit!
I send festive wishes to you all and all the very best for 2021.
Sue