As a lucky resident, I look forward to the Notting Hill Carnival every year and make sure I get out and about and enjoy the world's second largest street carnival right on my doorstep. It splits views in the neighbourhood with many residents making sure they are nowhere near and boarding up their houses against the feared hoards, while others, like myself, enjoy the vibe, the music, the food, the costumes and the all-round good time.
After London's troubles of late, it was great to see so many people out having a great time. There were more police around than ever before, there were fewer big floats and costumes but the weather was great, the atmosphere happy and calm and I thought it was one of the best carnivals for years.
The recent tragedy at nearby Grenfell Tower was clearly in the thoughts of many carnival goers and carnival planners.  We wore green for Grenfell, we held a one minute silence at 3pm each day and T-shirts, signs and photos on the floats were a constant reminder but not a mood dampener, instead, joy was the order of the day.
Do you fancy coming along or want to remember your own visit?  Join me through my favourite pictures of 2 days of sun filled partying…
All the fun of the parade:
Bars appear in the hoardings of closed shops and people's front gardens and boarded up shops become canvases for paintings:
I heard my favourite band, Batala, but did not see them, however, a new group captured the spirit of Carnival:
The characters:
Grenfell was on our minds: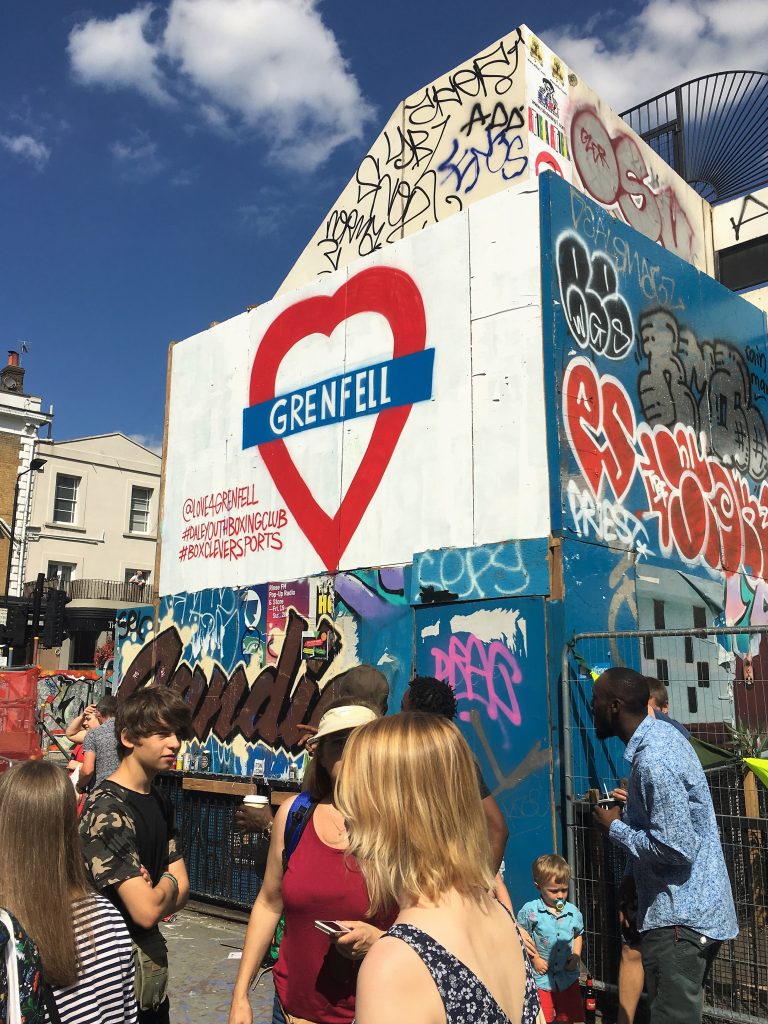 I'm looking forward to the Notting Hill Carnival 2018 already!