Was it the chilliest and wettest August bank holiday Monday ever recorded? It certainly felt like it as the rain poured down and soaked us to the skin but did it wash out the Notting Hill Carnival? Of course not! The crowds braved the weather and the dancers in parade carried on as if being completely drenched was perfectly normal for them.

As a resident of Notting Hill, I've been going every year for 12 years now and have never seen a day like it. The forecast was ominous and on the day the weather websites told me there was a 90-,100% chance of rain and the temperature would hover around 15-16 degrees (or 59-61 if you prefer). So we donned our rain macs, our sturdy shoes and headed out like the brave Brits we are. And there it was, the carnival, carrying on like nothing was wrong and we had a great time. Naturally, rum punch was required for medicinal reasons and a couple of well-earned breaks back at home to dry out were a local's privilege!  I was so happy to hear the mesmeric drumming of the group I see every year and always try to find them in the parade to follow their wonderful rhythmic beats. There they were, dripping wet but drumming up a storm hour after hour – well done guys!
Carnival Sunday had been an altogether different scene with sunshine and warmth so here is a series of pictures from a day of t-shirts and flip flops – a more traditional carnival look. The first day of carnival is billed as family day and the emphasis in the parade is on the brave kids who walk and dance alongside the floats hour after hour and withstand the hundred of photographers asking them to smile – well done kids!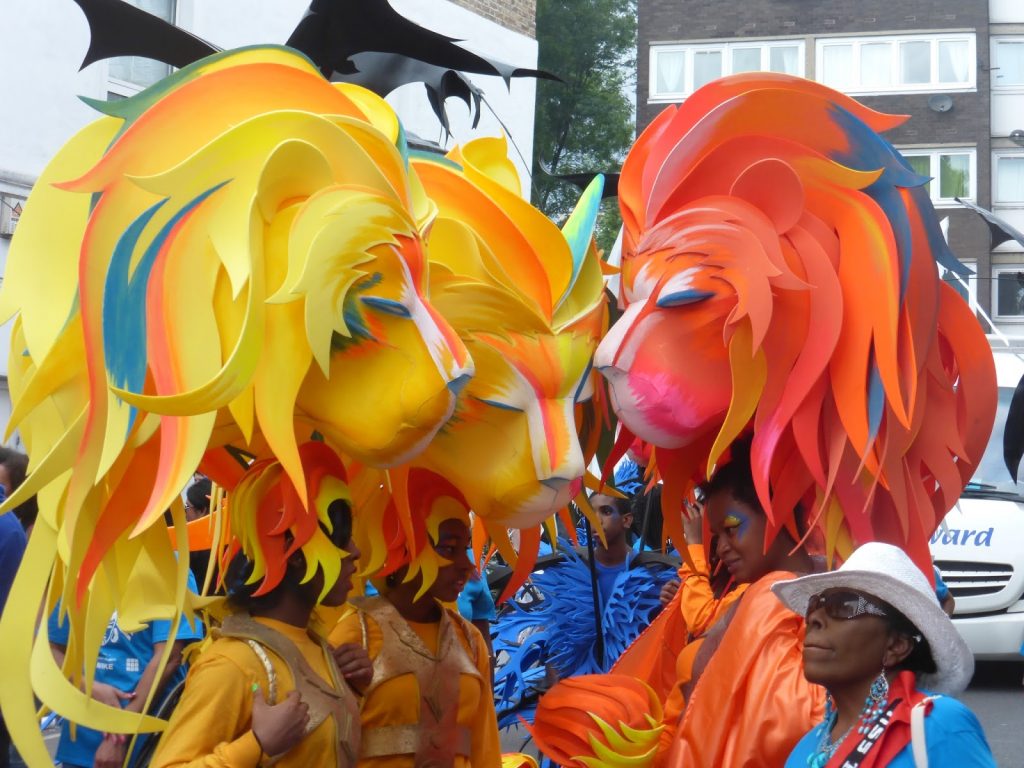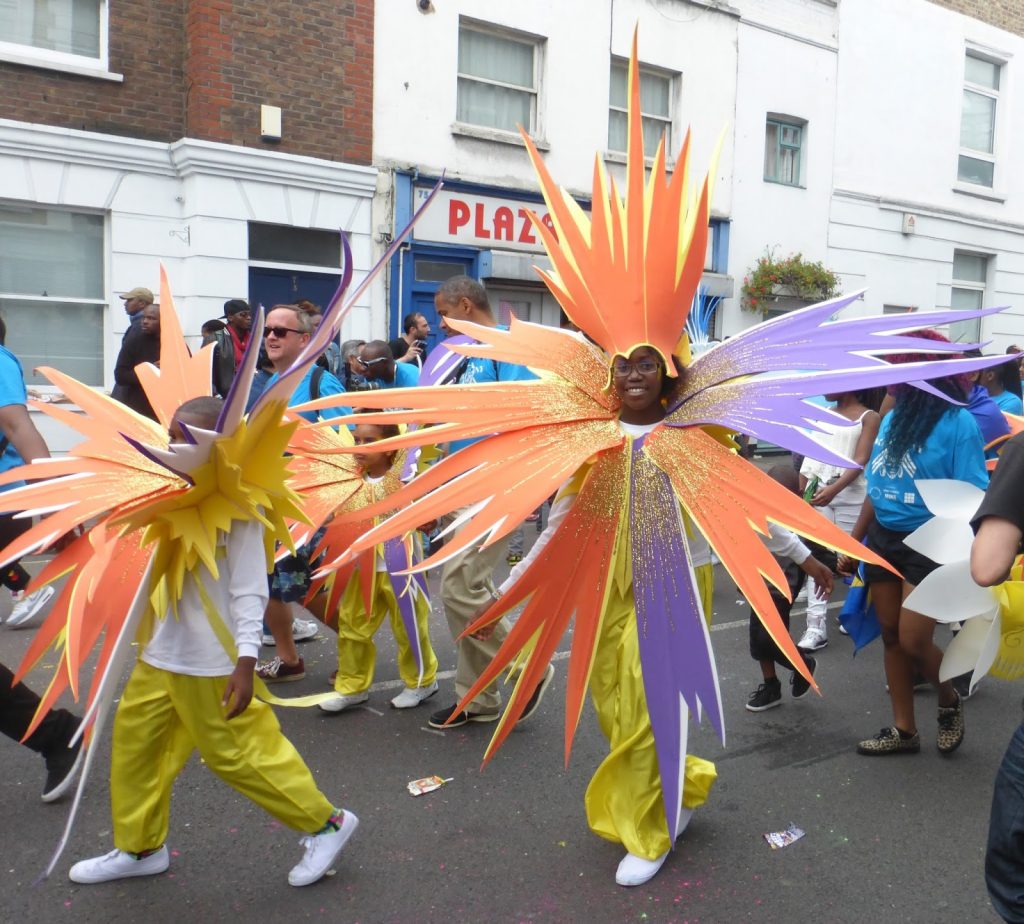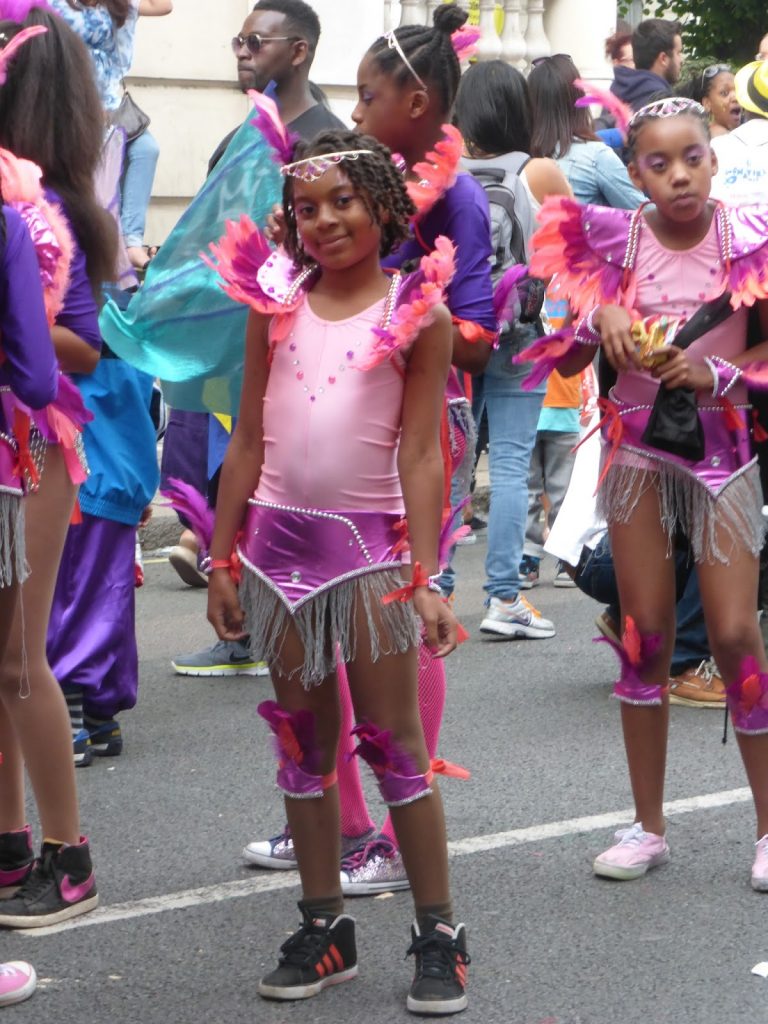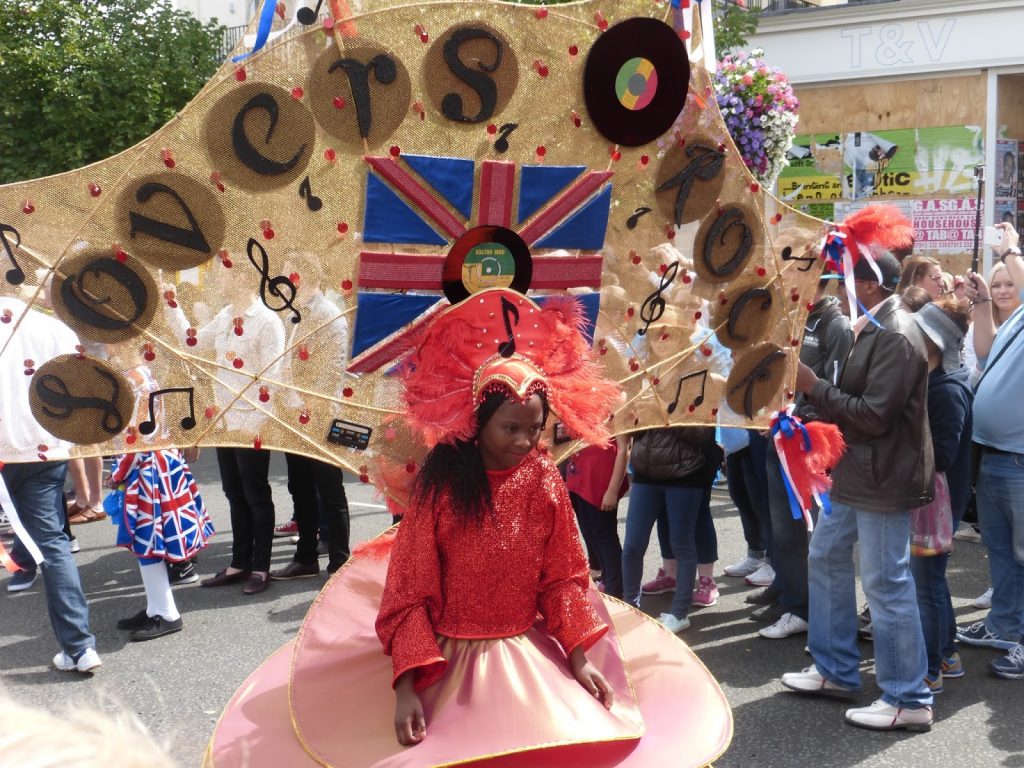 This was the 50th year of carnival, or so the T-shirts said, but was it? Exactly when carnival started is a matter of some debate as is finding the person to take the honour of setting it in motion. Two women seem to be the most likely candidates: Claudia Jones and Rhaune Laslett.  Claudia staged an indoor carnival in 1959 and further events followed until 1964 when she died. The original event was held in response to the Notting Hill race riots of 1958 to help heal these wounds and focused on the Caribbean community.   In 1966 the first outdoor event was held in Notting Hill organised by Rhaune and was a multi-cultural celebration to bring the diverse communities of the area together. So, just where 50 years comes from is anyone's guess but carnival is not the place to be asking picky questions but the place to go with the flow so let's carry on with more photos to enjoy.  The theme this year was the steel pans and there were great floats of pans treating us to their distinctive sounds.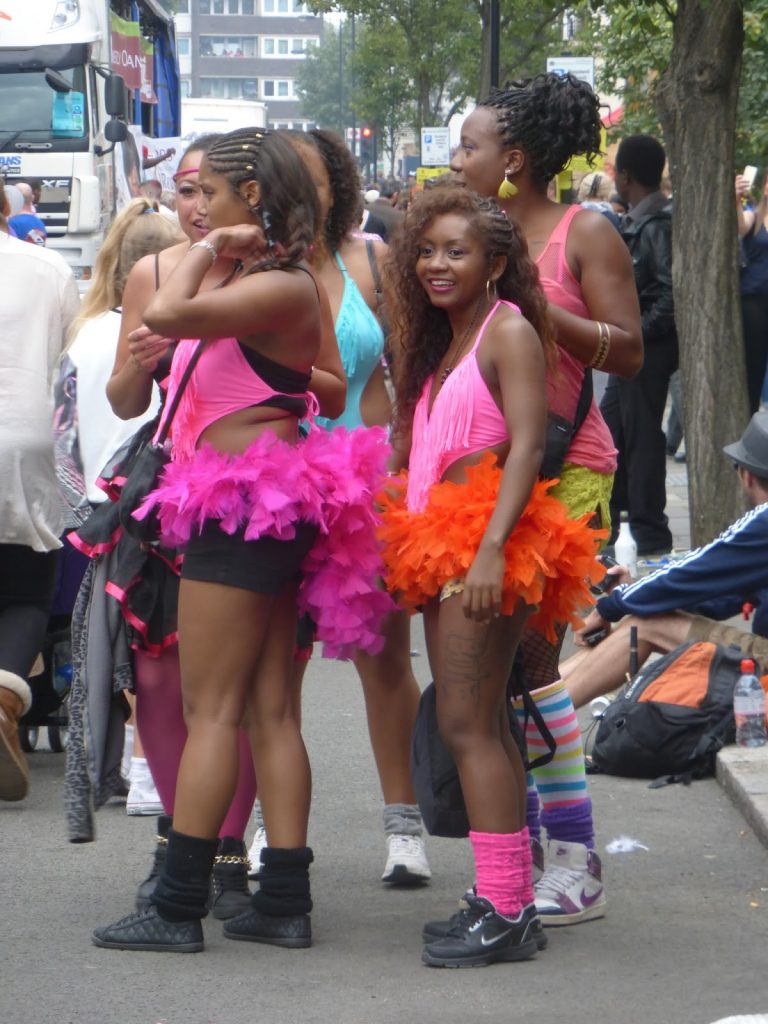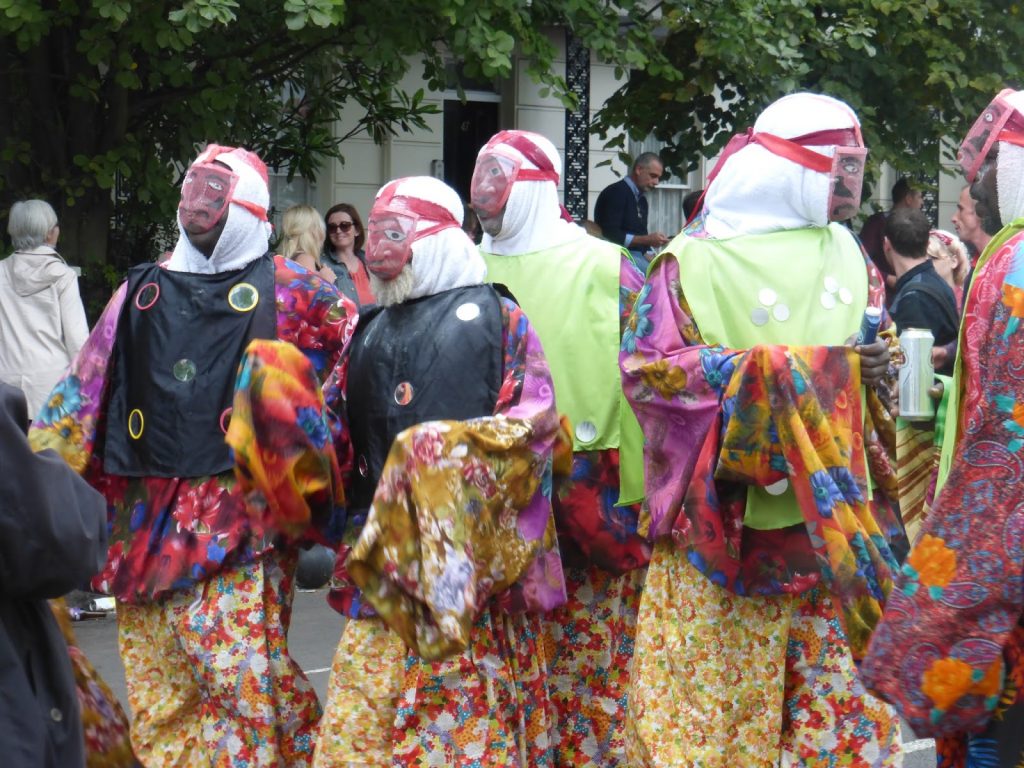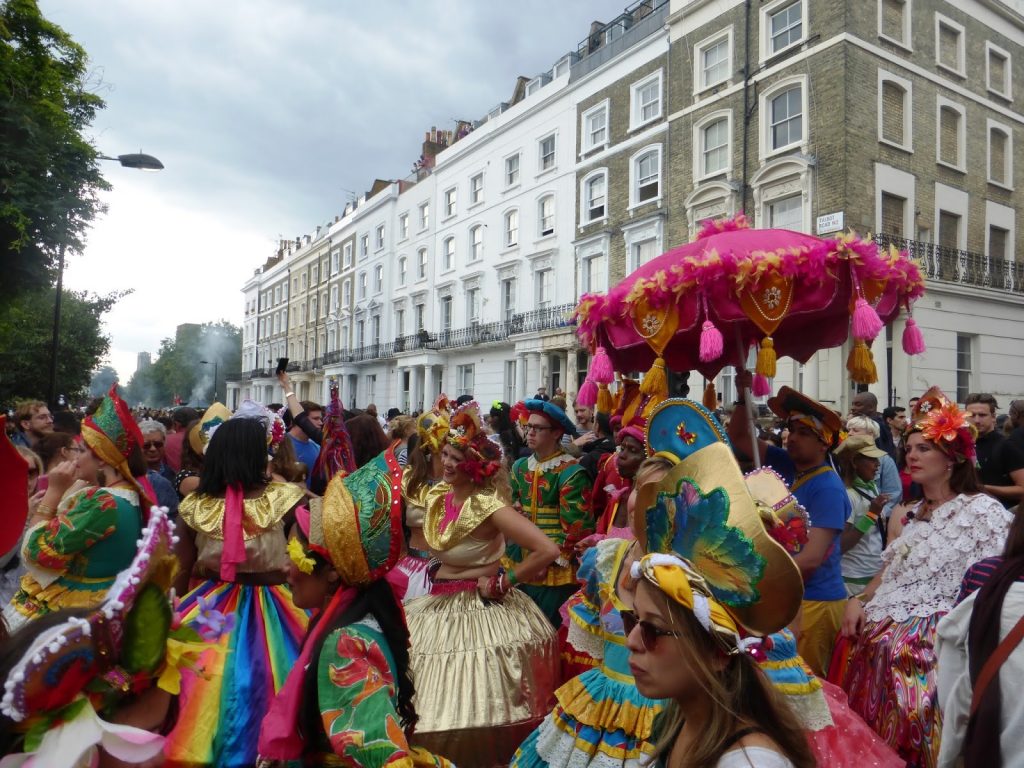 I'm always sad to see the end of carnival as it is such a great event to visit and also seems to signal the end of summer. This year's rain seemed to be telling me that summer really was over and it was going to soak me to prove that point!
If you've never been to carnival, put it in your diary for next year and make sure you come along and join the fun.