Martin Parr is one of our great British photographers with a career spanning over 40 years.  So I was excited to be invited to the preview of his new show, Only Human, at the National Portrait Gallery, especially as I knew Martin would be there himself.  It's a brilliant display of his observations of Britishness in all its eccentricities and variety with particular reference to a country after Brexit referendum.
I last saw his work at the wonderful 'The Great British Seaside' in Greenwich alongside David Hurn, Simon Roberts and Toby Ray-Jones – have a look at that show here.   I was really  looking forward to this solo show with new  and  previously unseen work.   The exhibition is much larger than I had expected with rooms focusing on themes such as celebrity, dance, the beach, grand slam, the establishment British abroad, at the races and the BBC One idents. Martin was amused to tell us that he is now the most watched film maker in the UK due to these short films that pop up between programmes.  He hopes to make more and interest groups around the country are writing in to request him to make a film made about them.
The show is fun to walk around, with unexpected settings such as a disco ball for the room about dancing. Martin loves to photograph people dancing, watching them let go and capturing that moment. My eye was caught by this picture  of a group of women really going for it at an outdoor venue in Margate back in 1986!
Martin is most famous for photographing so called ordinary people, although he often features the eccentrics who seem anything but ordinary.  In this show he also has a celebrity room but photographs them in unconventional settings or styles to put his own stamp on the shot portraying them as only  human, such as Vivienne Westwood in a toilet!  We are all familiar with Grayson Perry but I've never seen him with his family and him in less outlandish clothing than usual but in a sea of checks and prints.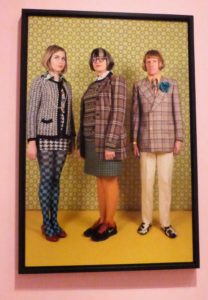 The seaside has been a popular theme for Martin and this shot of Tenby last year seemed very British with an orderly queue on the beach for the one ice cream van.   I also loved the energy of the 2 men preparing their lobster pots in Cornwall.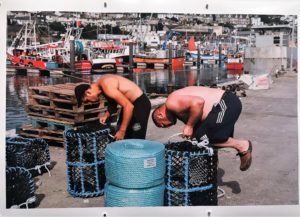 To add to the imaginative staging,  there is even a pop up cafe in the middle of the exhibition inspired by Martin's long standing interest in food photography and classic 'caffs', an interest he had  long before the current obsession with photographing our dinners as Martin joked in his introduction.  They serve retro snacks and cakes such as the four sectioned Battenberg and a tasty Bakewell pudding which the lovely woman behind the counter could tell me how it was different from a Bakewell tart,  impressive knowledge ! (one is more cake like than the other).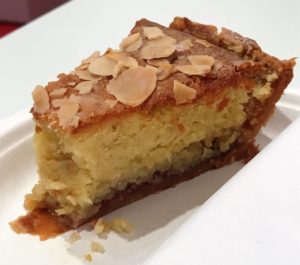 The cafe was the site of my favourite photograph of 2 women enjoying some fancy drinks, still wearing their coats with a painting of Venice on the wall behind them in an attempt to give the bar or cafe an exotic feel.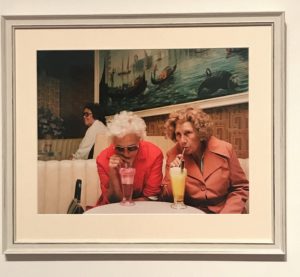 The British love their gardens so a couple of photos of proud gardeners with their massive vegetables were inevitable!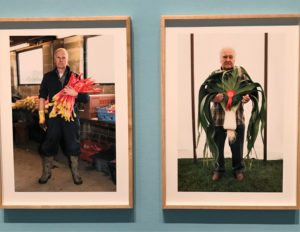 As well as the ordinary people, Martin has a long term study of the 'Establishment' and we are treated to behind the scenes shots in public schools and seats of power.  This shot of the toasting of the Queen at the annual Swan Upping ceremony near Eton, summed up the other worldliness of these rituals, so distant from everyday life.
Martin himself was fun, informal, inspiring and a delight to listen to .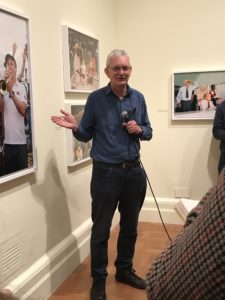 There is a room looking a Britishness in the context of the post Brexit referendum era,  with many photographs of people in extreme displays of patriotism but also the activities that still mark us out, like the patient queuing for entry at Lords Cricket Ground by men who look like they've been doing this ritual all their lives, and probably have.
There is much to enjoy and savour in this exhibition and it's well worth a visit before 27th May 2019.
More information about Only Human at the National Portrait Gallery, London here: https://www.npg.org.uk/whatson/only-human-martin-parr/exhibition/
Full disclosure: I was invited to this preview by the National Portrait Gallery to review the exhibition, this however has not impacted on my views.