Getting a table at London's no reservations restaurants can be a real pain but usually well worth it when it happens. Check out my review of The Barbary to see one recent success. Hoppers is another venue I'd been wanting to try out for months but their Frith Street site was always surrounded by crowds of people wondering whether 2 hours was a reasonable time to wait for a table. I decided not, so went right to the source and visited Sri Lanka instead! Hoppers there are everywhere, even on the breakfast buffet in our hotel and I found I really like them.
On my return I heard that a new Hoppers was opening on Wigmore Street, so having learned my lesson from the Barbary experience, we got there as they opened for the evening and secured a fine table by the window.  Would it be worth it, my expectations were high.
Located on the corner of Wigmore Street and James Street, just by the popular St Christopher's Place area, the exterior is as smart as the interior.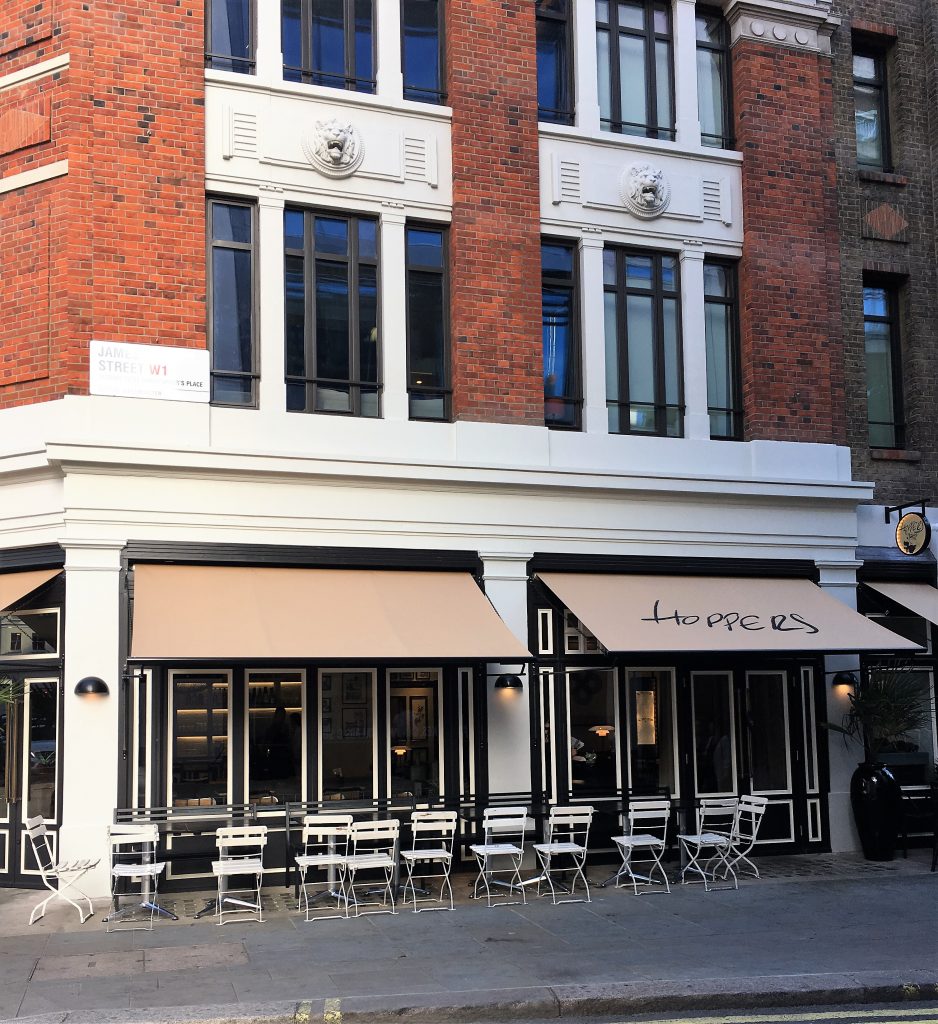 I ordered a glass of Colombo No. 7 Gin, while I worked my way through the extensive menu, a Sri Lankan beverage with a fascinating story and for the curious among you, here's a link.   
Apart from the hopper itself which was on the 'must have' list, we were torn between ordering the whole menu and thinking through how much we could actually eat.  The menu guides you through in sections such as 'short eats'. 'hoppers + dosas', 'karis' and 'kothu'.  Trying to remember my favourite dishes from my visit to Sri Lanka we picked 4 dishes, some I knew and some which were new to me.
Here goes…
Cauliflower kari turned out to be my favourite dish of the evening. Kari (or curry) is the staple dish in Sri Lankan and menus will list dishes with curry as the core so you'll find curry with fish,  curry with chicken or curry with any other option on every menu. This kari was special, the flavours were perfectly blended with a rich texture from coconut and bursts of coriander and the slight crunch of the cauliflower.  It was beautiful to look at as well!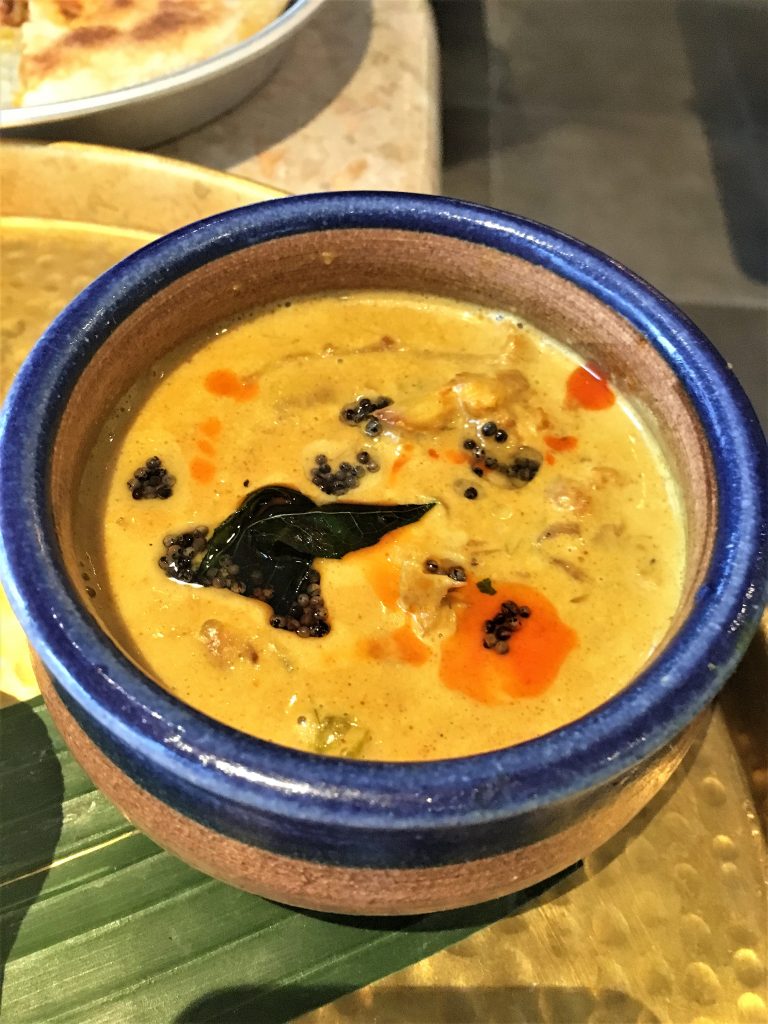 Lamb kothu roti was a dish familiar to me from Sri Lanka, consisting of shredded roti bread with lamb and vegetables.  It was good but not quite up to the standards of the ones I had eaten over there but perhaps I had been spoilt.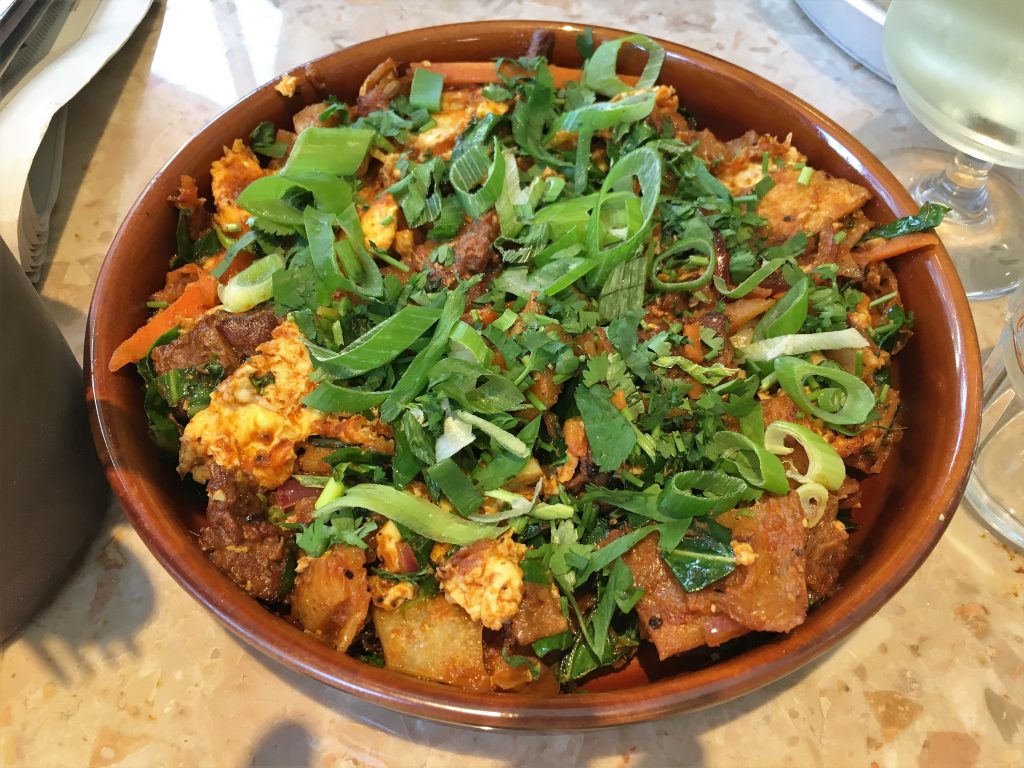 In contrast, the Goat roti was really good. The goat was perfectly soft and full of flavour, sandwiched in moist roti bread with a rich dip.  It was really satisfying and so tasty I will definitely order this again.
Last but not least the eponymous hopper and I chose the egg version as it gives the hopper extra body.  A hopper is a wafer-thin type of pancake cooked in a small pan called a hopper. The egg is added once the batter has begun to solidify. It is a light dish and mixed in perfectly with the richer dishes we had chosen.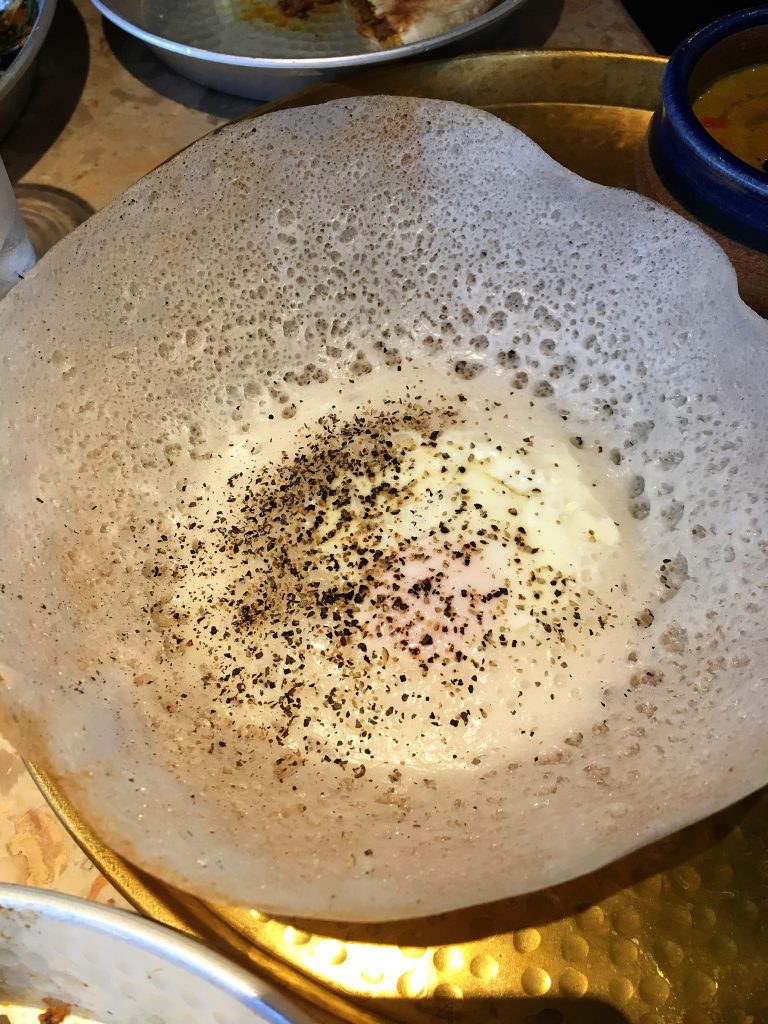 There was definitely no space for any dessert tho I was tempted by the 'Love Cake Ice Cream Sandwich' for its name alone. The one dish I did miss from my Sri Lanka culinary experiences was Lamprais, rice and meats wrapped in a banana leaf, so I'm hoping they will be featuring it in the future.
The bill came to £55.69 including the gin and a glass of wine.  For more information about Hoppers, their restaurant in Soho and this one their website is: www.hopperslondon.com
Full disclosure: I chose to go to this restaurant myself,  we paid for ourselves and I hope to revisit very soon!