The Wallace Collection is one of London's hidden gems, a small and beautiful museum with a wonderful collection of art, porcelain and armoury, housed in a fabulous London townhouse. I've been to visit many times and thought I was familiar with most items in their collection but their new special exhibition Gilded Interiors highlighted some stunning pieces I'd missed.
In their downstairs exhibition space, which you'll find after passing the lovely interior covered courtyard restaurant, they have one off collections on specific themes to showcase parts of the larger collection.  Their current one is called Gilded Interiors: French Masterpieces of Gilt Bronze and is a great opportunity to see a number of gilt bronzes together and enjoy them as wonderful pieces of art in their own right, rather than a side piece in a room of paintings.
It has stunning pieces of unbelievable skill and beauty which were made in the late eighteen century.   Gilt bronzes were commissioned by the wealthiest patrons and collected by the likes of Marie Antoinette and even George IV  and although it was all the rage from 1770-1790, it is now often overlooked as I discovered.  Here are a few tasters of what you can see
 A mantel clock made in 1771 by the master of gilt bronze work Pierre Gouthiere and a rare example as it was signed by him.  The design celebrates the retaking of Avignon, situated on the banks of the river Rhone, using classical themes popular at the time and the detail shows the river flowing out from an urn next to the river god. The clock and all the pieces are displayed with splendid lighting, reminding us that the time rooms would have been lit by candles and firelight so gilt bronze would magnify this light.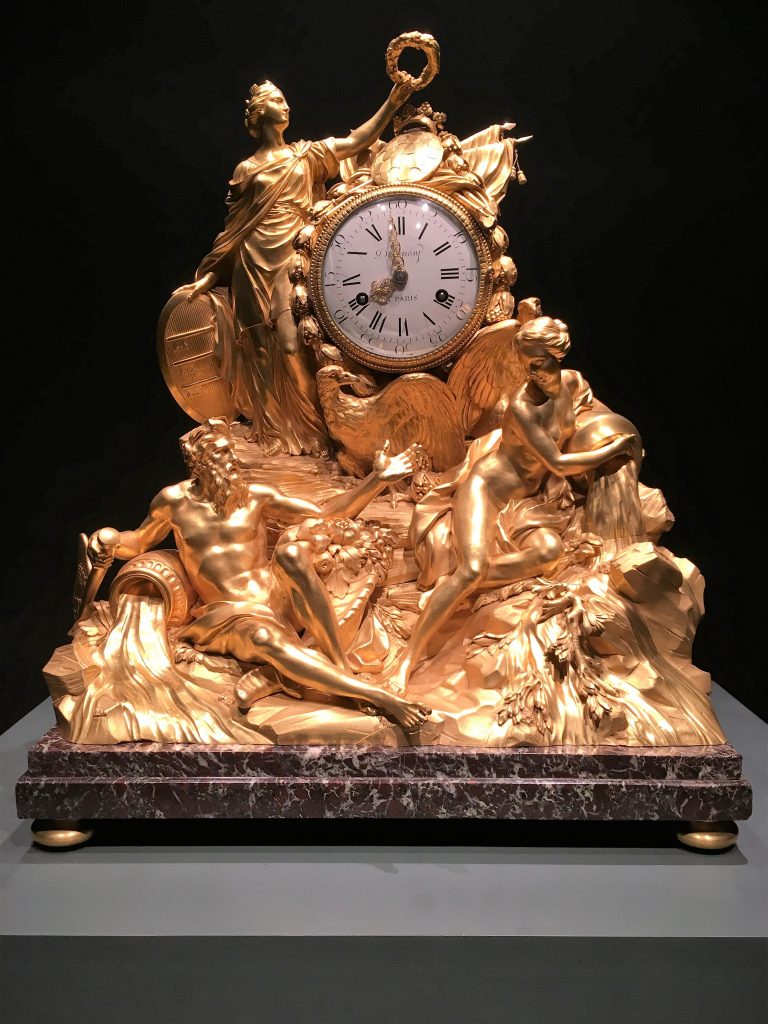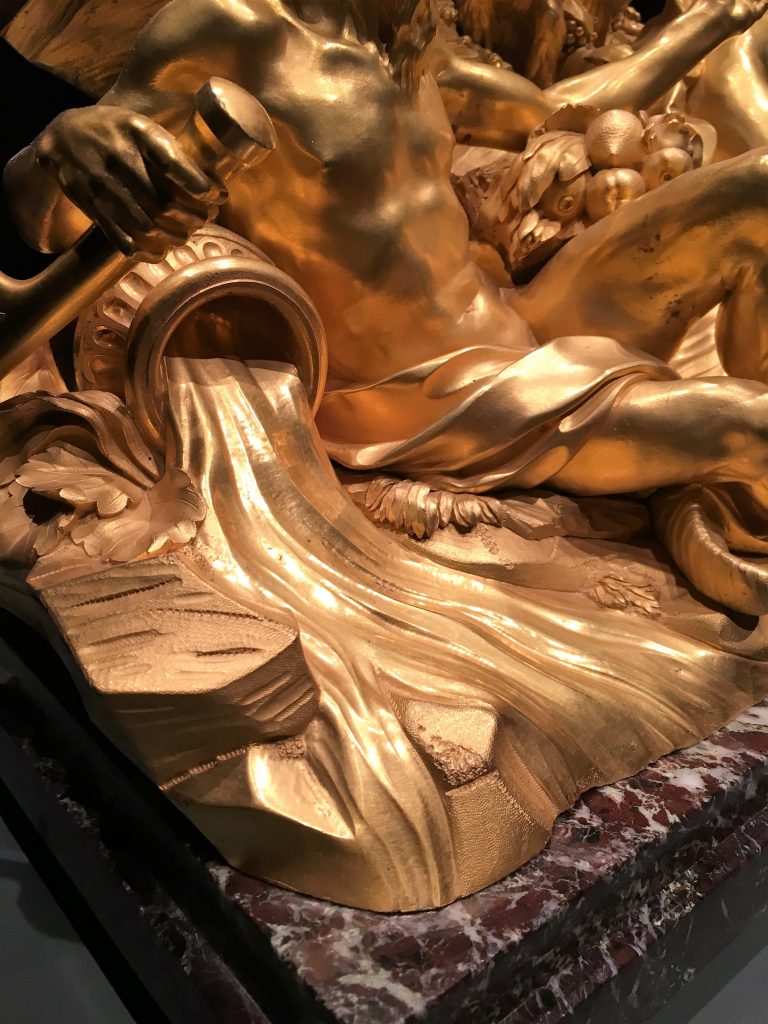 2. This perfume burner is one of the greatest pieces of its time with a masterful snake circling in the centre with naturalistic skin.  Marie Antoinette was very fond of this piece made of bronze and red jasper as she had a superb eye for decorative art.
3. These 2 vases from the late 18th century have a very art deco look to me!  These beautiful pieces, however, hide the story behind gilt bronze, which was made using vaporised mercury, clearly a dangerous method and it could be fatal to the workers.
4.  This second mantel clock has motifs alluding to love and abundance with Egyptian themes dates from 1781 and originally had a glass cloche to cover it.  The detail of the lion's foot and cushion's tassel is impressive.  It's worth mentioning that gilt bronze is in fact brass, which sounds less posh but it's just as lovely whichever word is used and in French the same word can be used for both.
5. The elaborate table has more classical motifs with the ionic capitals, taken from Greek architecture, particularly from the Acropolis.  It was made by Etienne Levasseur, one of the finest cabinetmakers of his time, using a porphyry top which shines and forms a contrast of colour against the gilt bronze and woods.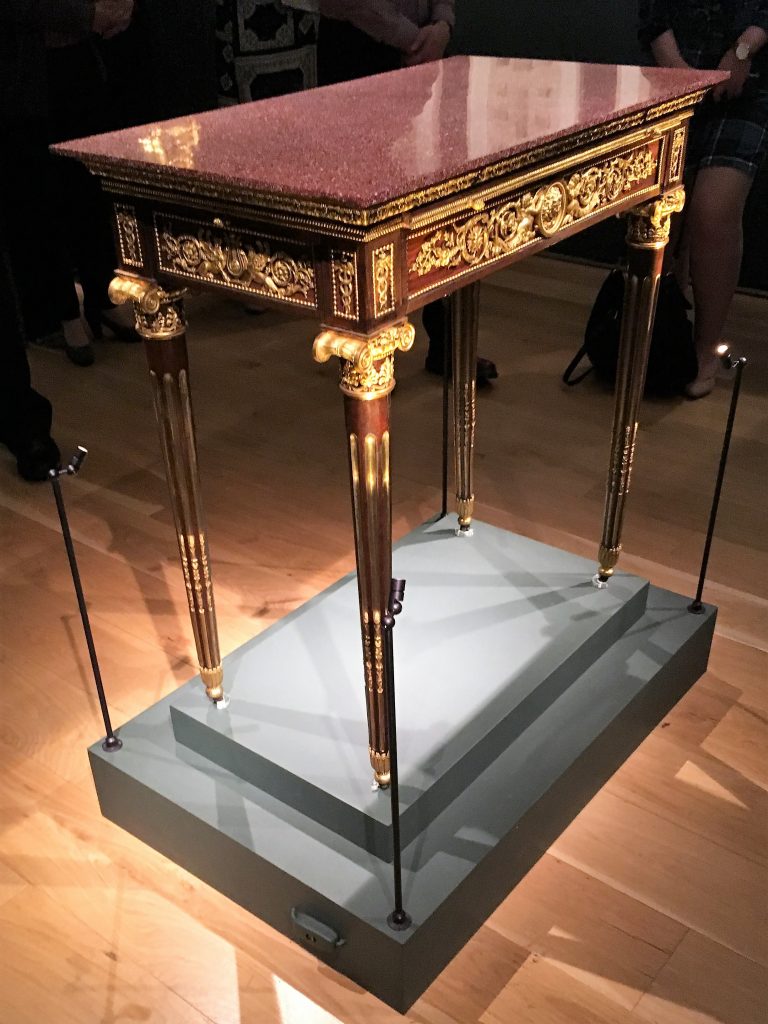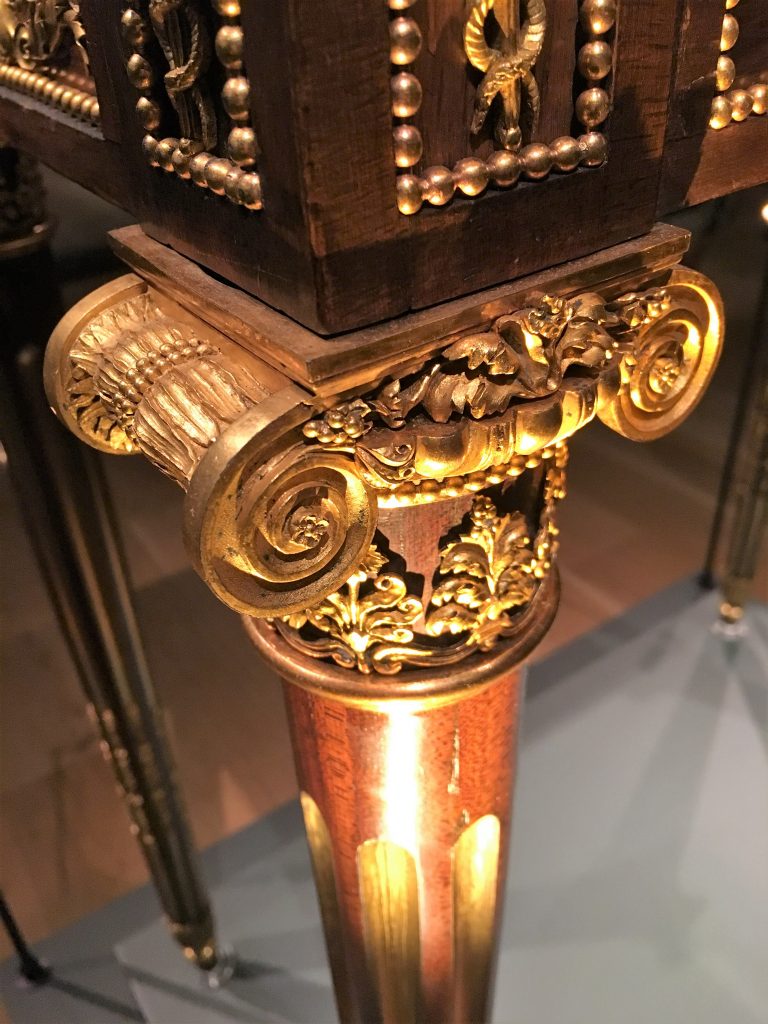 These are just a few of the pieces on display until the end of July 2017 in this room but available to see around the Collection at any time.
I was lucky enough to be shown around by the Curator of the exhibition Helen Jacobson but Gilded Interiors is free to visit as is the whole of The Wallace Collection.
Find out more about The Wallace Collection here.