I'm not a fan of the no booking fad that restaurants in London are so keen on.  I'm not a fan of queuing nor of wandering around to find a restaurant that has a table. But The Barbary in Covent Garden has been on my list of 'must visit' restaurants for a while now so when I was in the area early one evening for a play at the nearby Donmar Warehouse, I  thought I'd give it a try and hurrah there was space at the bar for 2! Top tip is to arrive at 5.15pm and to do so before Time Out makes it their number one restaurant in London as I fear it will be even more busy now!
Seated at the counter you have a perfect view of the chefs at work on the grill and are greeted by the friendly staff explaining cheerfully the menu and concept. Just  24 seats give it an intimate feel and the cooking spans north African through the Mediterranean to Israel giving it plenty of scope a wider one than its sister restaurant Palomar near Chinatown which focuses more on the city of Jerusalem.
Firstly the bread, the Naan e Barbary,  comes hot, puffy and ready to scoop up the other dishes.
As you will see from what follows, we slightly over ordered but we both wanted to try different dishes and it gave us plenty of variety to test out.
Despite being someone who loves Mediterranean and Middle Eastern food, unfortunately, I don't like aubergine, particularly when smoked so the next dish was not for me although my friend loved it. Baba Ghanoush, the roasted aubergine dish came with lots of nuts and some raspberries on a tahini dip,  looking so lovely I was almost tempted.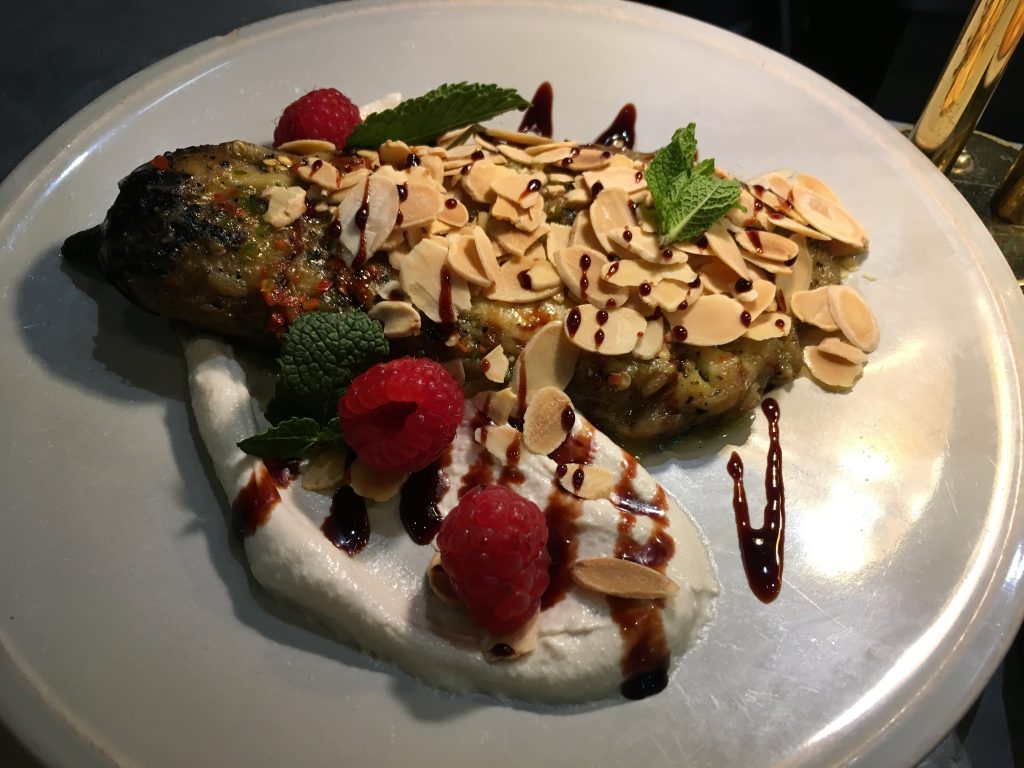 Chicken Abu Kalmash was also my fellow diner's choice and was voted a success too, marinated to give extra spice to deepen the flavour and cooked on the open grill right in front of us. The bed of tahini balanced well with the spices and a small garnish worked well.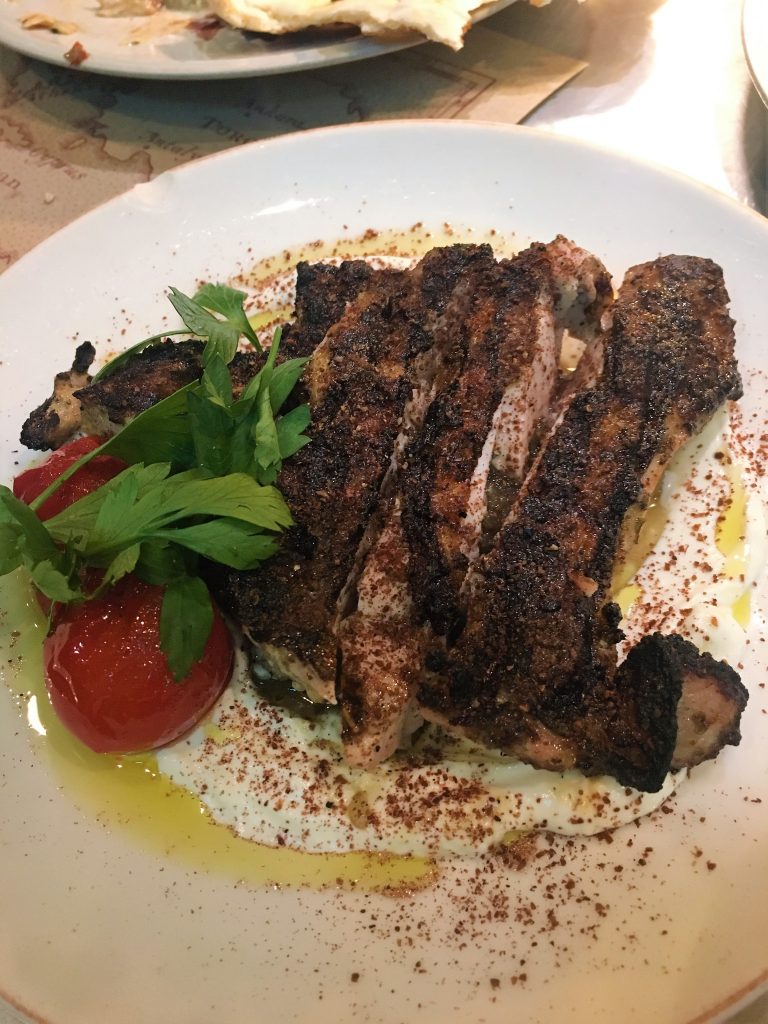 Beef Batata was one of my choices, it was very lightly cooked but the quality of the beef meant it was full of flavour and with a hearty sauce to balance the meat.  It was a large portion than I was expecting but delicious and I somehow managed it!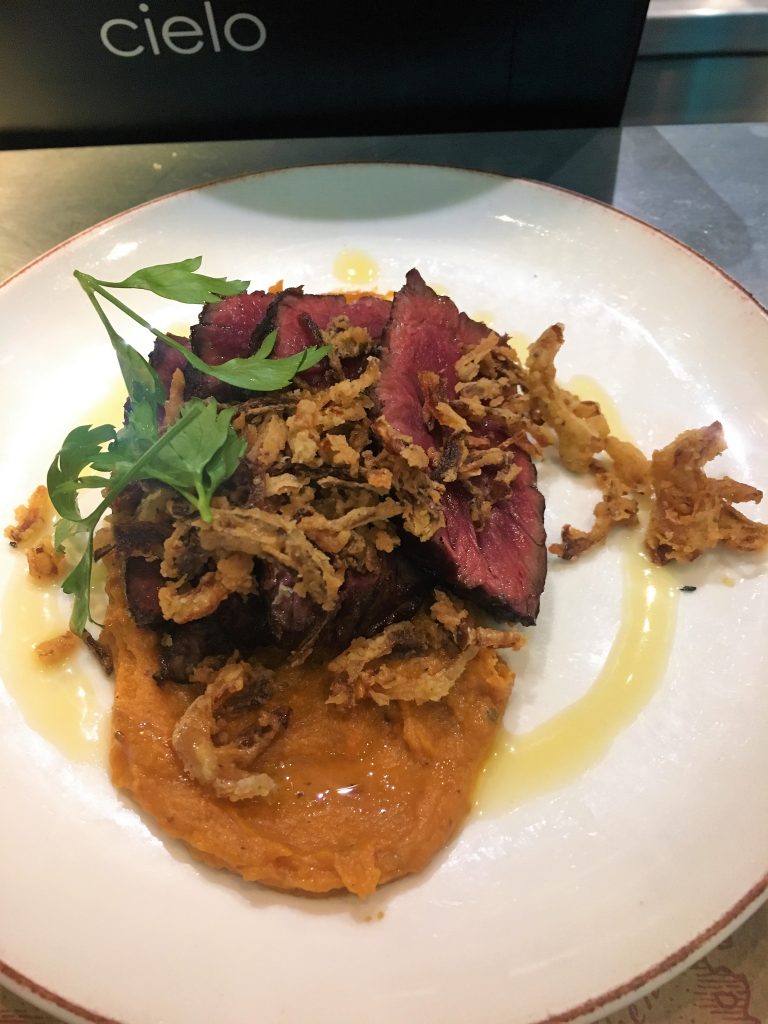 Cauliflower Jaffa, again on a bed of tahini dip, was a favourite as it was deeply spiced with a crispy crunchy texture balanced with the freshness of the tomato dressing. A real delight.
There was really no room for any more dishes but then I spotted someone having the Baklawa so that was it, I had to have a mouthful and it was fabulous. Light, nutty, syrupy and great to share with a piece each.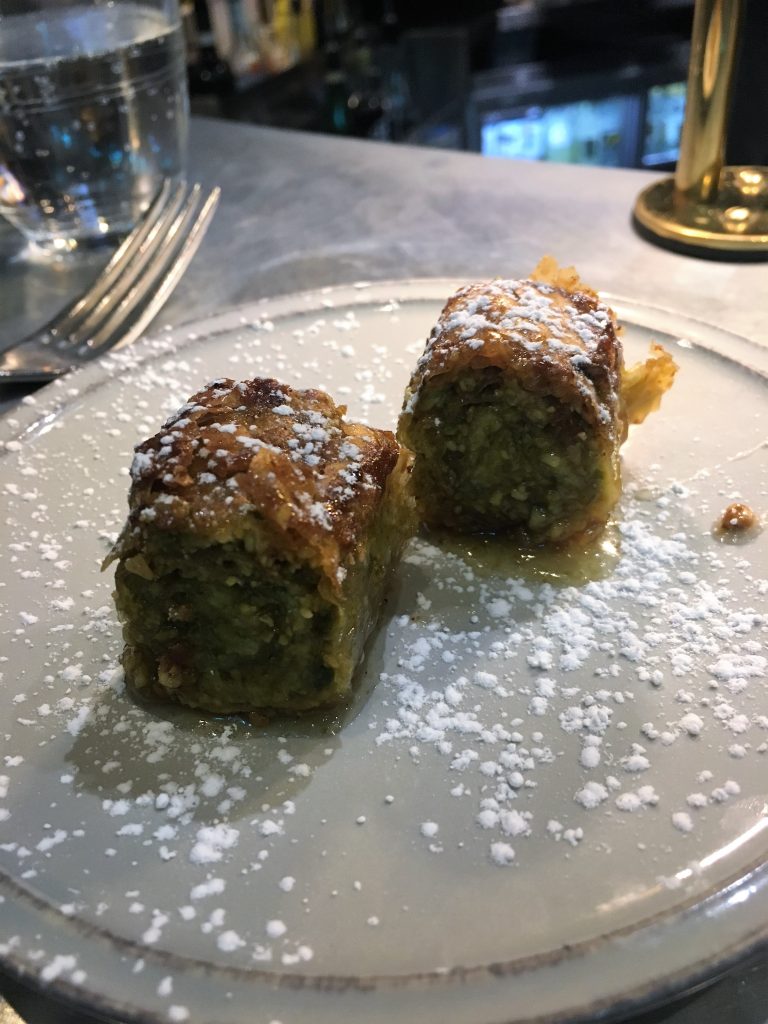 By the time we were leaving at about 6.30pm and there was a queue forming so get there early to take lots of patience with you.
Our meal cost £62 for 2 plus wine, which we both thought was a good price for the quality of the food and the fun of the experience.
To find out more about The Barbary check their website thebarbary.co.uk
Full disclosure: We paid for ourselves and it was well worth it!